Ivanka Trump's "Support" For LGBTQ Americans Rings Hollow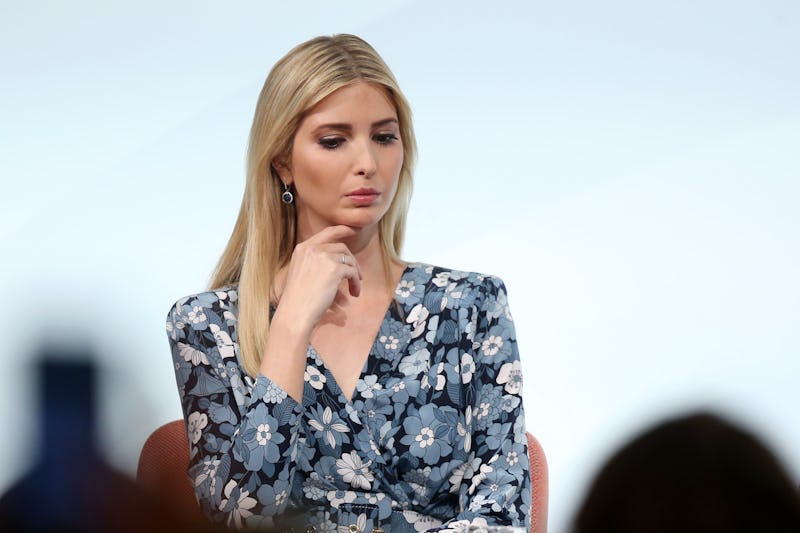 Sean Gallup/Getty Images News/Getty Images
Ivanka Trump has tried to craft an image as the lone voice of reason in her father's inner circle. During the campaign, she insisted that working women and maternity leave policies counted among his chief concerns. And on Thursday, Ivanka Trump tweeted in support of LGBTQ Pride Month — but as with other examples of apparent liberalism, this did more to benefit her personal brand than it did to support marginalized communities.
Take maternity leave, for example. Trump's views on paid family leave may have evolved over the years, but her repeated claims that her father truly cares about women sound far-fetched at best, considering his history of sexist comments and the sexual harassment allegations made against him (all of which he's vehemently denied).
On the subject of climate change, Trump was at the center of reports alleging that she worked behind the scenes urging her father to stay in the Paris accord. It wasn't improbable; after the election, Trump did set up a meeting between Al Gore and her father to talk about climate change, after all. But her impact on her father's considerations is dubious; outside of anonymous reports, there was no evidence. And President Trump did, after all, withdraw from the agreement. In fact, she has never spoken publicly about the deal, yet her brand has only benefited from these reports.
Trump's tweets about Pride are yet another example of this. She is quick to claim that she supports LGBTQ Americans, but she has been noticeably silent as protections for transgender people have been restricted, as Vice President Mike Pence allegedly advocated for "conversion therapy."
It is entirely possible that Trump really does care about queer and trans people, and it is also entirely possible that she simply knows what to say to perfect her image. However, her silence on issues like the murders of transgender women of color makes it all too easy to doubt her sincerity.
One could argue that it is not Trump's responsibility to hold her father and Pence responsible for every single bigoted view they hold, but if that's the case, then she should not feign support for LGBTQ people in the first place. Trump has money, power, and influence; if she can't act on her tweets of "support," then they are meaningless, as Twitter users rightly pointed out.
It has taken little effort on Trump's part to create a palatable personal brand. She knows what to say to appeal to her father's political rivals, and she knows how to make Americans feel like there's at least one moderate voice in the White House. But her claim of supporting LGBTQ Americans should not give us any kind of hope, because it likely will not result in any tangible policy changes or new protections. If Trump truly cares about queer and trans people, it isn't Twitter she should be addressing. It is her father.
If Trump did not play an active and important role in her father's administration to the degree that she did, it would perhaps be unfair to put this much pressure on her. But Trump campaigned for her father and his openly homophobic running mate. She tried to sell a more tolerant version of him that was completely inaccurate. Her refusal to hold her father publicly accountable is evidence that she cares more about her brand and her family's power than she does about LGBTQ Americans, working women, or the environment.
To put it more explicitly: Ivanka Trump will not save us from her father. She is a master at crafting a personal image that will appeal to as many people as possible, but no matter how liberal a brand she puts forward, her tweets are not going to end the oppression that LGBTQ Americans face at the hands of the current administration.