Ivanka Trump May Be Tangled Up In Her Own Email Controversy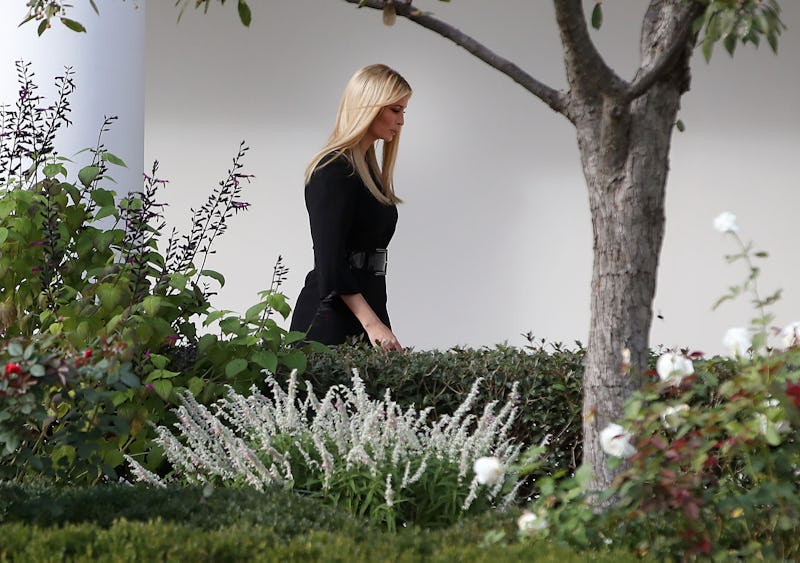 Mark Wilson/Getty Images News/Getty Images
According to a review by White House ethics officials, the Washington Post reported, Ivanka Trump's personal email account was used to discuss government business on more than one occasion. As relayed by the publication, Ivanka supposedly discussed matters related to the White House on an email account with a private domain that she shared with her husband, Jared Kushner. This news comes a couple of years after POTUS repeatedly called out Hillary Clinton's personal email use throughout the 2016 presidential campaign; the "lock her up" chants he inspired are still a staple at MAGA rallies to date.
In a statement to The Washington Post, a spokesman for Ivanka's attorney and ethics counsel, Abbe Lowell, said,
While transitioning into government, after she was given an official account but until the White House provided her the same guidance they had given others who started before she did, Ms. Trump sometimes used her personal account, almost always for logistics and scheduling concerning her family.
The spokesman further asserted that Ivanka has since turned over all government-related emails to the White House for records. What's more, he insisted that her use of her personal email was different than Clinton's because "Ms. Trump did not create a private server in her house or office ... there was never classified information transmitted, the account was never transferred or housed at Trump Organization... and no emails were ever deleted."
Bustle has reached out to the White House for comment.
In another statement to The Washington Post, Austin Evers, executive director of the liberal watchdog group American Oversight, argued that it "strained credibility" that Ivanka wouldn't have known about the rules around personal emails, given that her father "ran on the misuse of personal email as a central tenet of his campaign."
Evers added, "There is no reasonable suggestion that she didn't know better. Clearly everyone joining the Trump administration should have been on high alert about personal email use."
Ivanka's personal email was reportedly created under the domain name "ijk family.com" that she shared with Kushner through a Microsoft system in 2016 when they were preparing to move into the White House. The number of emails that she sent on this personal email which were related to her official position in the Trump administration was around 100, according to the report.
In addition to those emails (which reportedly discuss policy and official business), Ivanka also sent a slew of emails from her personal account that revealed details about her official work schedule and her travel schedule. These emails were reportedly sent to her personal assistants and the people who take care of her children. Just under 1,000 emails containing that type of content have been found on her personal email.
The official law that both Clinton and Ivanka reportedly broke is the Presidential Records Act, which requires government employees to use their government emails to conduct official affairs so that the communication is properly recorded and archived.
Neither POTUS nor Ivanka have yet to make a direct public statement on the matter.