Ivanka Plugs Her Book On Instagram While Trump Toys With Nuclear War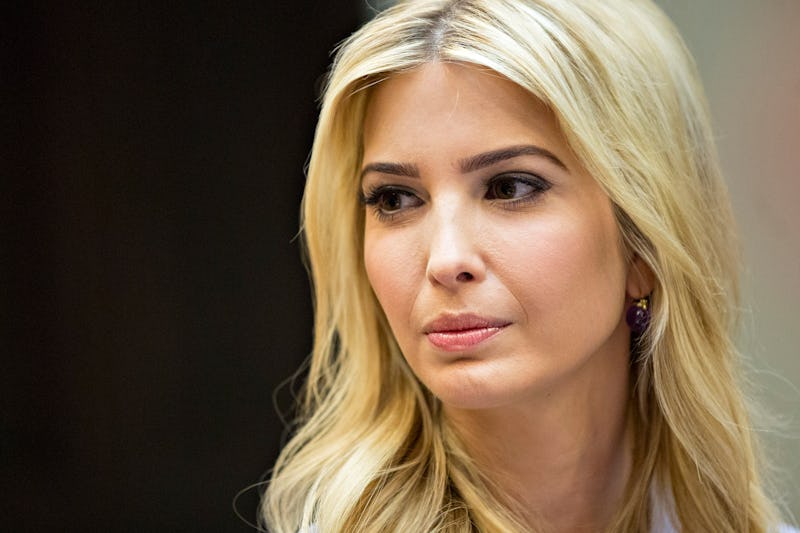 Pool/Getty Images News/Getty Images
If you take a look at President Donald Trump's Twitter, the "fire and fury" of nuclear war with North Korea is front and center. But not so with Ivanka Trump. If you take a look at her social media, she clearly has something else on her mind. As her dad provokes nuclear war with North Korea, Ivanka Trump promoted her book on Instagram.
The self promotion happened Wednesday afternoon. Ivanka was responding to a young woman's review of Women Who Work, the latest book that the president's daughter penned, released in May of this year.
She writes, "Thank you for the kind words @gabrielleseunagal! I am so glad you're enjoying my #WomenWhoWorkBook as much the second time around!" with an emoji of books. Ivanka goes on to say, "his project was a true labor of love and I'm grateful that it has made an impact in your life," with the hashtag #BookLoversDay.
The post was a "regram," or reposting, of an Instagram photo from Gabrielle Seunagal, a blogger and YouTube vlogger. Seunagal originally wrote:
I love @IvankaTrump's #WomenWhoWorkBook! It's been so inspirational to me as I build my writing career. I'm only 19 years old, but have learned so much from the book! I am reading it for a second time and looking forward to getting additional takeaways!
This is the second endorsement of Women Who Work from Seunagal. Her first words of praise came May 4, just hours after the young freelance writer "raced" to her local Barnes & Noble to buy the book.
"As a woman who works as a freelance writer, I was deeply moved by Ivanka's devotion and sincere ambition to help women build lives that honor their dreams and fulfill their passions," Seunagal wrote for Investment Watch Blog after reading the introduction.
Something to point out about Ivanka's timing is that Seunagal posted her Instagram photo back on July 7. Only now has Ivanka decided to repost it, seemingly to celebrate National Book Lovers' Day. But given the threat from North Korea, that seems like something that could be skipped in deference to possible nuclear annihilation.
Even Seunagal has been writing and vlogging about North Korea in these recent days. In a YouTube video posted Aug. 8, Seunagal references an article of hers on USA Herald (that doesn't seem to be posted yet). "Trump pretty much said, 'OK, if you guys don't stop the threats you're going to see fire and fury like the world has never seen before.' I think that's so awesome," Seunagal says.
She admits she's a Trump fan and notes her Trump t-shirt that she has on and a Trump tattoo (that's not visible). So Seunagal's in favor of the president's strong language. "I really think that's a strong position to take, and I really, like, if a country is threatening you, to launch nuclear bombs, ya, the president needs to say like, 'Get your shit together, stop making threats against our country, otherwise there's going to be consequences,'" she explains.
In the YouTube video comments she also writes about Trump's threats:
That's badass and I love it. The Obama days are over. I'm glad to have a President who will stand up and defend America. People who are acting like we're on the brink of a nuclear war need to chill out. I seriously doubt that WWIII will break out over this.
So rest assured. Ivanka, the special adviser to the president has nothing to say on the matter. But the vlogger she reposts on Instagram does.