Ivanka Trump Is Pushing For A Job Training Bill & Here's What It Could Mean For Women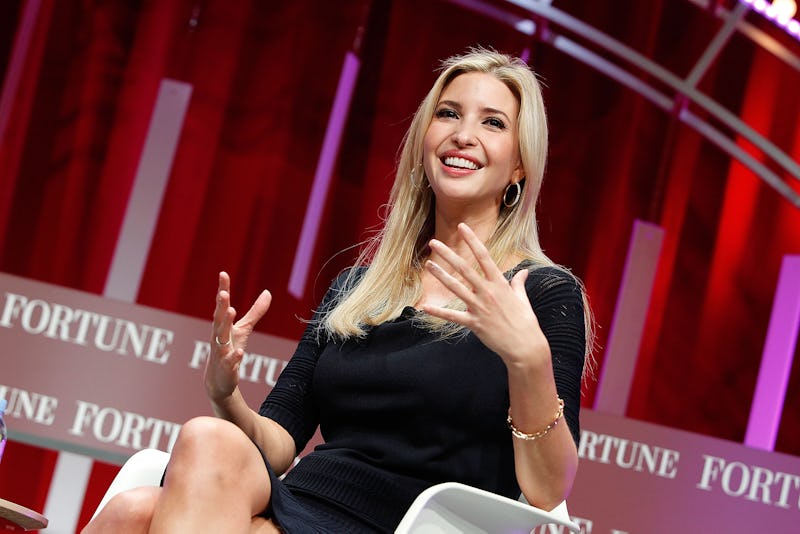 Paul Morigi/Getty Images Entertainment/Getty Images
Ivanka Trump is taking her work to Congress this week. The first daughter will help a bipartisan group of senators update and reauthorize a 12-year-old law that's waiting on an extension. According to its supporters, the vocational training bill that Ivanka wants reauthorized will help American workers adapt to a rapidly changing economy.
The Carl D. Perkins Career and Technical Education Act came into being in 2006, when it was passed nearly unanimously by Congress and signed into law by President George W. Bush. The law gives grants to states to fund career and technical education programs in secondary and postsecondary schools. It also includes specific provisions meant to target disadvantaged populations and prepare them for high-skill, high-wage jobs.
Deputy White House press secretary Hogan Gidley told The Hill that reauthorizing the act is crucial as many occupations — particularly those that require a low level of skills — begin to be automated and workers need to learn new skills to survive. "Thanks to the robust economic environment and historically low unemployment rates, there is a record number of unfilled jobs," Gidley told The Hill, "and we are committed to ensuring current and future American workers have access to the high-quality vocational education needed to secure family sustaining careers and thrive in the modern economy."
It's an issue that Ivanka is spotlighting right now. Earlier this week, she tweeted about how women will be disproportionately affected by the trend toward automation.
A World Economic Forum (WEF) study released in January indicated that 57 percent of the jobs we're most at risk of losing due to automation are held by women, including many retail and administrative occupations. "The narrative tends to focus on male, blue-collar factory workers," WEF's Saadia Zahidi told HuffPost in January. "But there are also a number of very female-dominated roles like secretaries and administrative assistants that are facing displacement."
The Carl D. Perkins Career and Technical Education Act's authorization technically expired in 2012, though Congress has temporarily extended it multiple times. One proposed reauthorization bill was taken up in the House of Representatives last year but never addressed in the Senate.
Now the Senate is working on its own bill. According to The Hill, Lamar Alexander (R-TN) and Patty Murray (D-WA) are spearheading the effort, and Michael Enzi (D-WY) and Bob Casey Jr. (D-PA) are also involved. The process hasn't been without obstacles; according to Education Week, disagreements have surfaced over how the U.S. Secretary of Education should oversee the program. But Alexander hopes that the bill can move forward on June 20.
"There are many bills we could vote on, on June the 20, if we reach agreement on the language which will take some cooperation and compromise," he said last month. "Hopefully we can apply Senator Enzi's 80-20 rule — if we can agree on 80 percent of it we can get the other 20 sometime later."
"At a time when many families are struggling to find good paying jobs and many companies are struggling to find skilled workers, there is broad, bipartisan support for the Perkins Career and Technical Education Program," Murray told The Hill, "so I certainly hope that a small number of Republicans don't try to turn this into just another partisan fight."
If the bill is indeed at risk of stalling, there's a chance that Ivanka could help stop that from happening. Her support might sway conservatives who are unsure about the act — including, conceivably, her own father, who would need to sign the reauthorization. President Trump doesn't seem to have commented on the bill, but Education Week notes that several of his budget proposals have included cuts to the program.