Ivanka Trump's Women Empowerment Book Reportedly Lost Her Publisher A Whole Lot Of Money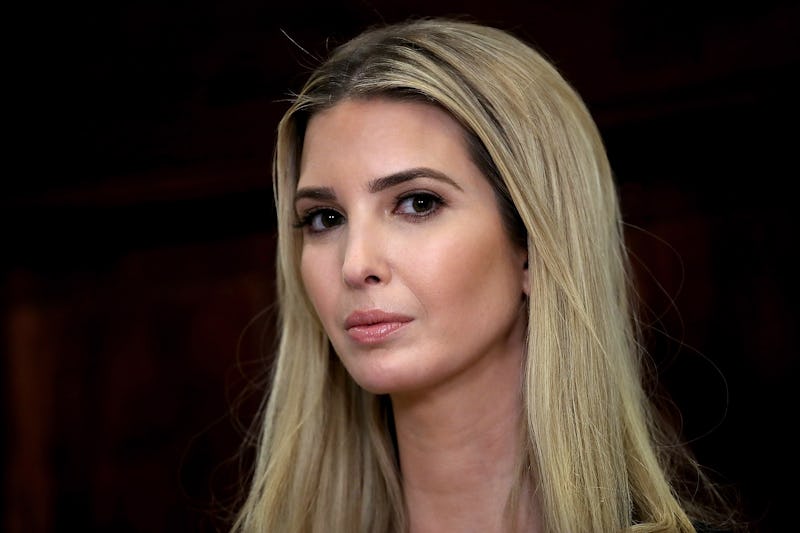 Win McNamee/Getty Images News/Getty Images
An investigation by Forbes' Deniz Cam suggests there's a major possibility that Ivanka Trump's book, Women Who Work, has cost her publisher $220,000. The reason? The book, published by a division of Penguin Random House and marketed as a women's empowerment memoir, just didn't sell.
"This is not a moneymaker for [Penguin Random House]," an anonymous publishing executive reportedly told Forbes, of Trump's book, describing the publishing giant as "so under water."
The book, which came out in May of 2017, is reportedly selling so poorly that the first daughter would have to increase her sales fivefold in order to exceed her advance, which still hasn't been entirely doled out. (Trump got a $787,500 advance prior to her taking up an official role in her father's White House, Forbes reports.)
In April, Trump announced that the rest of her advance payout, including any potential royalties, would be donated to charity via a trust set up for that purpose. She also declined to participate in a book tour. While that was understood to be an attempt to avoid any potential conflicts of interest associated with promoting her personal brand, the decrease in overall publicity might have an impact on the memoir's underperformance commercially.
Specifically, Forbes reports that Women Who Work sold 31,900 copies since its May 2017 release date. Estimates indicate that 201,923 books would have to be sold before Trump surpassed her advance.
Historically, Trump has positioned herself as a purveyor of goods intended to uplift and empower women, which she directly mentions in her memoir. "I designed a company around a larger mission, so whether you're trying on a pair of my heels or perusing my Web site for interviewing tips, my 'why' is to provide you - a woman who works - with solutions and inspiration," she wrote. "It's the 'why' behind the Women Who Work initiative and my brand that gets me out of bed at the crack of dawn every morning." She then urges her readers to evaluate the "why" of their own companies.
However, Trump received pointed criticism after the book's release, much of which argued that the heiress was out of touch with the average working woman. ("The imagined audience for the book is so rarefied that Ivanka confidently calls paying bills and buying groceries 'not enormously impactful' to one's daily productivity," wrote The New Yorker's Jia Tolentino. She also pointed out that, while Trump refrained from most overt promotion, she tweeted freely about the book following its release.)
And generally speaking, Women Who Work received a lot of negative criticism. Writing for NPR, Annalisa Quinn highlighted what she described as, "Trump's lack of awareness, plus a habit of skimming from her sources."
"Ostensibly a business guide for women,Women Who Work is a long simper of a book, full of advice so anodyne...you could almost scramble the sentences and come out with something just as coherent," Quinn wrote. She also said that reading the book felt "like eating scented cotton balls."
Women Who Work was Trump's second major publication. Her first book, The Trump Card: Playing to Win in Work and Life was released in 2009. Similarly, that book was also marketed as a bastion of advice for career-minded women. (We've all been dealt a winning hand," Ivanka reportedly wrote at the time, "and it is up to each of us to play it right and smart.")
Since Trump said she would not personally make any more money off of the book, whether or not sales ever increase will likely have little impact on her. Instead, the cost falls on the shoulders of her publishers.