I've Relaxed My Hair For 12 Years & Michelle Obama Reminded Me I Don't Have To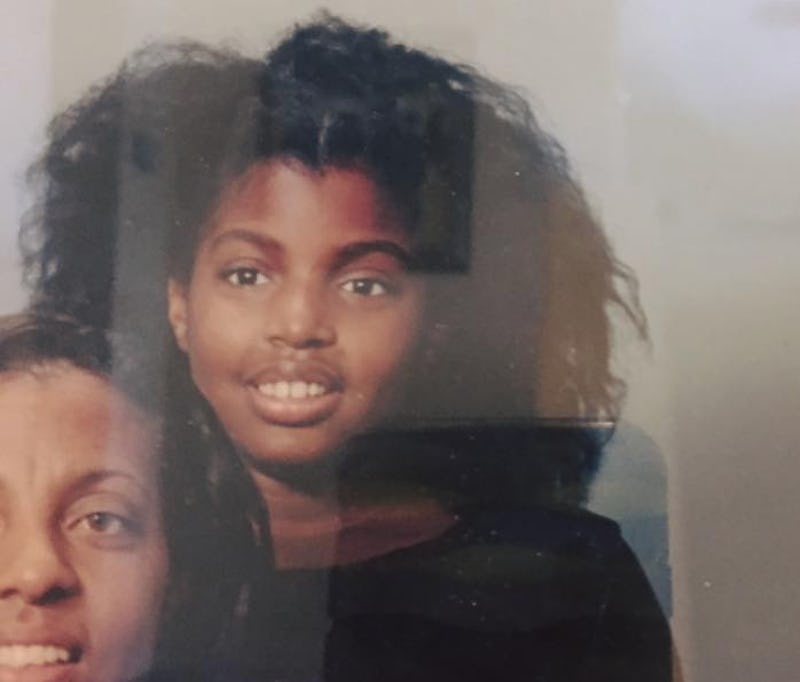 Ayana Lage
Sometimes it's hard to believe that I haven't seen my hair's natural texture since I was 11 years old. When I saw a picture of former first lady Michelle Obama wearing her natural hair, I texted my mom, my grandmother, my female cousins and sisters, look who went natural!
As much as I adore the former first lady, I didn't expect something as seemingly simple as her hairstyle to affect me on a personal level. But it did — it was, frankly, A Moment.
When I was a kid, huge curls were tamed by plaits and ponytails. I begged my mom to let me get a perm, and she obliged. I'm 23 years old now, and I go to a salon four times a year to get my hair relaxed and keep it straight and tidy. When my hair starts to feel knotted and fuzzy, I know it's time to pony up $100 and put chemicals in it. In a sense, chemically relaxing my hair is natural to me. I also have no qualms about relaxing my hair — it's easy, manageable, and low-maintenance. I certainly don't attach any moral value to how a black woman decides to wear her hair; using relaxers is just as valid of a choice as wearing an Afro.
Over the past few years, I've seen fellow women of color turn away from weaves and perms and embrace their natural hairstyles. My 19-year-old sister went natural around Thanksgiving, and has urged me to consider doing the same. Even my hairstylist has pushed me to ditch relaxers.
In truth, I've realized how scared I am of my natural hair. What if people look at me differently? What if it's frizzy and doesn't frame my face well? What if I'm thought of as unprofessional or unkempt? One recent study on hair bias found that white women think of textured hair as less professional than straight hair — I work with white women, so is that what they would think of me?
Despite the fact that I shouldn't have to think about these things, I do. I think about the absurdity of being afraid my hair is only professional if it is chemically straightened, that it is only acceptable if it reflects European beauty standards. I can't be sure, of course, but I have to wonder if Michelle Obama felt that way when she was in the White House. How would America have reacted to a first lady with natural hair? Did she question her ability to be taken seriously? Did she worry the media would perceive her differently?
Still, there's power to be found in speculating on whether or not Michelle Obama asked herself these questions, like so many other black women have asked ourselves before. Obama is a role model to many people for a variety reasons, but her decision to go natural is, for me, a reminder that black women can be graceful, strong, and professionally successful — and we can be all of those things with the hair that naturally grows from our heads.
I can't believe it's taken me this long to consider giving my natural hair a chance (and I won't make too many drastic changes any time soon), but seeing that photo sparked the beginning of change of heart within me — not to mention a boost of confidence. If Michelle Obama can wear her natural hair as she pleases after years of not doing so, maybe I can, too. More importantly, if Michelle Obama is comfortable presenting herself —her natural, outspoken, unapologetically black and proud self — to the world, there's a bit more room for all of us to do the same.