Jack Antonoff Has Responded To Those Lorde Dating Rumors — And Called Out "Heteronormative Gossip"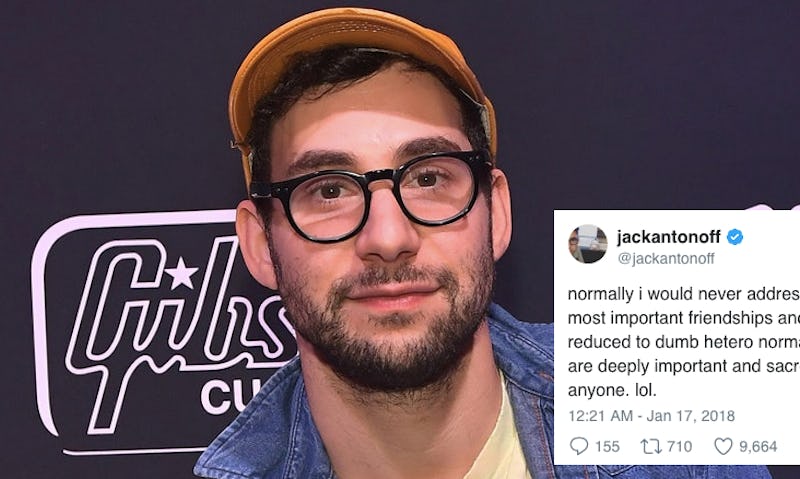 Bryan Steffy/Getty Images Entertainment/Getty Images
Despite recent claims to the contrary, Lena Dunham's former beau has now confirmed: He's not seeing anyone. And he's definitely not seeing Lorde. In a markedly candid tweet, Jack Antonoff addressed the Lorde dating rumors, saying, point-blank, "I'm not seeing anyone." In the aftermath of his breakup from Dunham earlier this month, the 33-year-old Bleachers musician took to Twitter Tuesday night, Jan. 16, to confront this week's surging bout of whispers concerning his personal life, including rumors that suggest Antonoff has been seeing fellow singer-songwriter Lorde.
"Normally I would never address rumors but i resent having the most important friendships and working relationships in my life reduced to dumb hetero normative gossip," Antonoff wrote.
The musician didn't specify which of those "friendships" and "working relationships" he was alluding to, exactly. But a bit of garden-variety conjecture suggests that the message refers to Antonoff's relationship with 21-year-old pop singer Lorde, which has recently become subject to some serious speculation. Regardless, Antonoff's tweet made one thing crystal-clear: He's not interested in the hearsay and the gossip needs to stop. "Those relationships are deeply important and sacred," he continued in the tweet, which was also retweeted by Lorde.
Hammering in his point, Antonoff closed the tweet with a statement that will hopefully prove difficult for fans to misinterpret: "With that said, im not seeing anyone. lol," he wrote. Plain and simple.
Just a few days after the news broke of Antonoff's breakup from Girls creator Dunham (the split was announced Jan. 8, though the couple had reportedly been broken up since December), whom he'd been dating for the past five years, Us Weekly reported that he'd already "moved on ... as in he is seeing someone else," according to an unnamed "insider" source. The vague tidbit of maybe-information was followed by a whirlwind over the next few days, giving rise to dozens of headlines all contemplating the same dilemma: Are Antonoff and Lorde an item?
Hopeful fans have had their inquisitive eyes set on the pairing for quite some time now, since Antonoff and Lorde have never made much of an effort to hide their friendship from the public. Antonoff served as a producer on Lorde's breakout sophomore album, Melodrama (which dropped last June), a musical collaboration that seems to have given rise to a full-fledged, real-life friendship.
During an appearance on Late Night with Seth Meyers last June, Lorde cheerily sang Antonoff's praises, fondly referring to him as her "work husband." There's also this mushy Instagram post, which Lorde penned for Antonoff's birthday last year. At the tail-end of a several-paragraphs-long caption (it was her BFFs birthday, after all), Lorde closed the message with a sweet sign-off: "JA + EYO forever and always." (Lorde's given name is Ella Yelich-O'Connor.)
But, judging by Antonoff's recent tweet, it seems that enthusiastic fans might have read a little too deep into the nuances of his and Lorde's relationship. After all, he is weathering the beginning stages of a conceivably painful breakup from someone with whom he shared a life for the last five years. Antonoff turned to Twitter immediately following his and Dunham's "official" breakup announcement last week, and the series of posts definitely suggested the musician was going through something. On Jan. 9, Antonoff shared with his followers that he was listening to the Red House Painters' uber-sad song, "Have You Forgotten."
So, that settles it, then. Unless Antonoff has managed to pull off some kind of masterful social media-fueled ruse, it looks like he hasn't quite bounced back from his former romance just yet. He's still listening to sad rock music and grappling with the very, very recent dissolution of his five-year relationship.