Jack Nicholson Will Return To Film At Long Last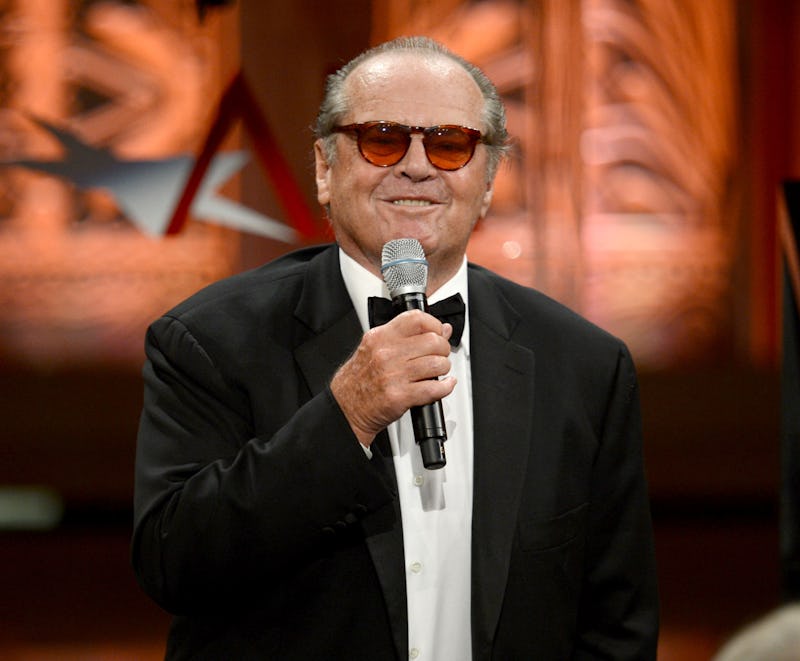 Kevin Winter/Getty Images Entertainment/Getty Images
Can you believe it's been ten years since we've seen Jack Nicholso n in a new movie? I know. Crazy, right? Variety broke the story on Feb. 7 that Nicholson would be returning to the silver screen for an English-language remake of the 2017 Oscar-nominated Toni Erdmann. It's certainly exciting that the Academy Award-winning actor is gracing us once again with his acting chops. The film calls for Nicholson's character to have a daughter, but not just any actor can star alongside someone as iconic as Nicholson. Whoever is cast will have to shine just as brightly, and with as much ease, at the older actor, so I have to wonder, which actor should star alongside Jack Nicholson in Toni Erdmann?
Toni Erdmann follows a dysfunctional European father-daughter duo. The daughter, Ines Conradi, is a hard-working corporate strategist in Bucharest who's organized life is turned upside down when her prankster father, Winfried, comes for a visit. Winfried spends his stay playing practical jokes and mocking his daughter for her routine lifestyle as a young professional. When the stress becomes to much for Ines, her father "leaves" and returns to Germany. Instead of actually leaving, Winfried takes on the alter ego of Toni Erdmann, claiming to be the life coach of his daughter's CEO. Despite it all, or perhaps because of it, the two become closer and their fragile relationship begins to heal and grow stronger.
I can totally see Nicholson killing the role of the zany Winfried/Toni, but the idea of who can play his straight man (woman) is up in the air. The following are a few suggestions.
1. Natalie Portman
If anyone can go head-to head with Nicholson's acting chops it's Portman. She has proven in the past with both Black Swan and Jackie to be able to handle the role of an extremely straight-laced person on the verge of melting down. She could totally do that same sort of thing alongside Nicholson.
2. Rashida Jones
On Parks and Recreation, Jones must play the straight man to Amy Poehler's antics as Leslie Knope. She nails it with grace and poise. I have no doubts she could play an equally impressive straight man in this film.
3. Kristen Bell
Kristen Bell oozes sass in an adorable package. Her inherent presence as a sass-monster could easily be on the same playing field as Nicholson's inherent presence as a loose cannon.
4. Ellen Page
Page may be small but she is mighty. This quirky actor truly becomes her characters but still leaves a piece of herself in each role. She could totally go toe-to-toe with Nicholson.
5.Olivia Munn
Olivia Munn has done everything from serving as a correspondent on The Daily Show to starring in the HBO drama series Newsroom to appearing as a superhero in X-Men: Apocalypse. She brings her A-game to each role and would continue to bring said A-game and push her limits in this role.
6. Ruth Negga
Negga manages to harness a quiet intensity while performing that makes it impossible to look away from her. No matter what crazy antics Nicholson's character might be diving into, no one would be able to forget Negga.
7. Anne Hathaway
Remember when Hathaway acted alongside another Hollywood icon, Meryl Streep, and crushed it in The Devil Wears Prada? Methinks a similar sort of crushing would occur if this phenomenal actress took on Jack Nicholson.
I know I'm just a lowly entertainment writer, but I think I've got some pretty good ideas going on here. No matter who gets cast, it will be exciting to see Nicholson back in business!