Congress Has Reportedly Paid MILLIONS In Harassment & Discrimination Settlements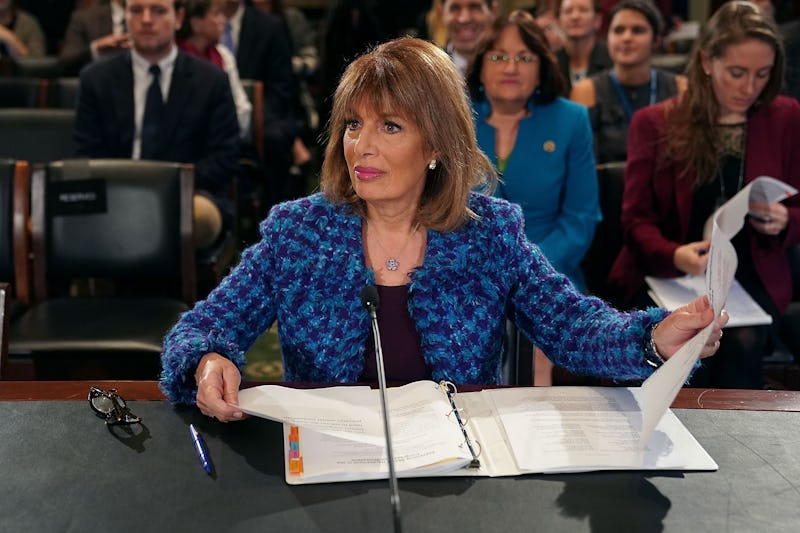 Chip Somodevilla/Getty Images News/Getty Images
Rep. Jackie Speier is calling out the U.S. House of Representatives for allowing sitting congressmen to get away with harassment. During a Tuesday hearing on how to prevent misconduct in Congress, the California Democrat joined Republican Rep. Barbara Comstock in telling stories of staffers were allegedly harassed. The following day, she went on MSNBC's MTP Daily to continue the discussion, and Speier claimed the House spent millions settling harassment complaints over the past decade.
"One member of Congress has settled a claim and there has been a taxpayer settlement," Speier told MTP Daily. Although Speier initially claimed the House paid about $15 million "on behalf of harassers in the last 10 to 15 years," that $15 million was paid by the Office of Compliance (OOC) for all types of complaints from 1997 to 2014. The office does not currently provide a report on the number of sexual harassment claims settled, the OOC confirmed to Bustle. But, the $15 million would include sexual harassment settlements, as well as other types of workplace discrimination, it said.
The problem with the way congressional harassment settlements are paid (aside from the fact that they need to be paid at all) is the lack of transparency, Speier believes. The Treasury Department actually distributes the funds for a settlement, not the member of Congress accused of wrongdoing. And because House employees sign nondisclosure agreements when filing a complaint, Speier said Tuesday, settlements funded by taxpayers remain untraceable.
She noted that not much can be done about past settlements, but called on Congress to create more transparency moving forward. "I don't know that we can retroactively deal with it, because that's a contract that's been signed by both parties," Speier said.
During Tuesday's hearing, Speier and Comstock both claimed they knew of congressmen still in office who had sexually harassed junior employees. Although neither named the alleged harassers, they detailed a story of a congressman allegedly exposing himself to a female staffer, leading her to quit, and they claimed there's at least one Republican and one Democrat in office who have sexually harassed someone.
Speier said she had talked to multiple men and women who experienced sexual harassment on Capitol Hill at some point, suggesting the alleged incidents weren't isolated. "All they ask in return, as staff members, is to be able to work in a hostile-free work environment," she said. "They want the system fixed, and the perpetrators held accountable."
According to the OOC's most recent annual report, confidential counseling is the first step in the formal complaint process, and harassment and/or a hostile work environment is the top issue raised in counseling, tied with discipline. Complaints of discrimination and harassment based on sex, gender, or pregnancy are the most common, after race.
Along with Sen. Kirsten Gillibrand, Speier introduced legislation to combat sexual harassment in Congress. The Member and Employee Training Oversight On Congress Act, which abbreviates to "METOO," would require more transparency and overhaul the complaint process to better support victims, as well as require annual sexual harassment training for everyone working in Congress.
House Speaker Paul Ryan also announced a new mandatory training for all House members and staff, saying in a statement Tuesday that the goal is to "make abundantly clear that harassment in any form has no place in this institution." Still, Gillibrand's and Speier's bills would make it legally binding and create systematic changes beyond annual trainings.
Female members of Congress' action on sexual harassment is part of the international movement to speak up about harassers and protect women after the downfall of Hollywood exec Harvey Weinstein. Like women in every industry, female politicians want to work in a safe environment.