'Bachelor' Alums Jade & Tanner Just Welcomed Their Second Child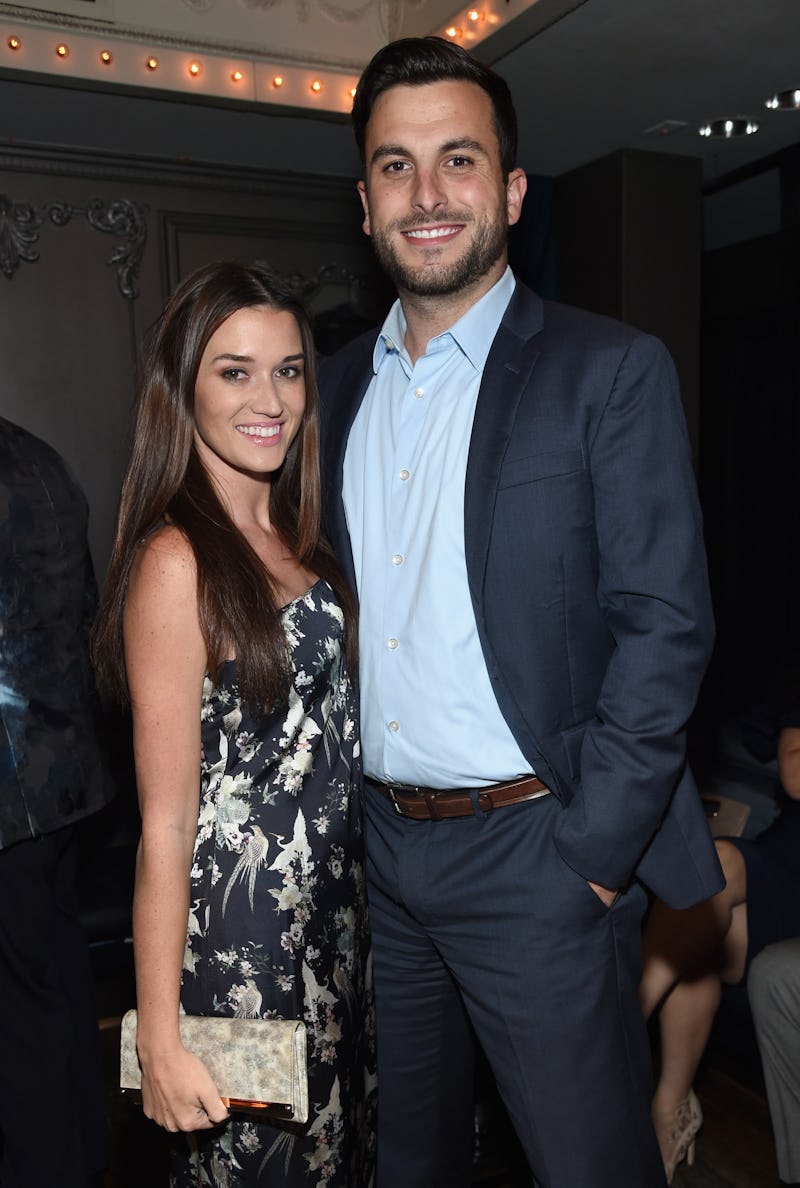 Jamie McCarthy/Getty Images Entertainment/Getty Images
There's been another adorable new addition to Bachelor Nation. Jade and Tanner Tolbert welcomed their second child, a baby boy, as the couple exclusively revealed to People on Tuesday, July 30. The couple has not revealed their son's name just yet, but they provided a few other details about their new addition. The baby was born weighing 7 lbs., 9 oz. and he already had a sweet bonding moment with his big sister, Emmy (who turns 2 next month).
"We are over the moon for our little guy," Tanner told People in the exclusive interview. "Mom and baby boy are doing great. Emmy just met her little brother — she greeted him with a kiss on the head, so I guess that means she will allow us to bring him home! We are officially a family of four!" Awww.
UPDATE: At around 8:30 p.m. ET, Jade posted a photo of her first moments with her baby boy with the following caption:
I accidentally gave birth at home last night, in our master closet. I've been still processing the shock of this all, as this was not all at what I had planned, but I am so so thankful for each person who helped bring our son into the world safely. I'll share my whole birth story soon, but long story short, my waters broke and 75 minutes later I gave birth to our healthy baby boy while clutching a bench in our closet. It was one of the scariest moments of my life because I felt so out of control, but Tanner, Tanner's mom, my mom and the medics and firefighters kept me going when I felt like the world was caving in on me and my unborn baby. I was going to share the happy, cute Instagrammable pics first, but this felt right to me. So incredibly grateful for the support system we had and for this beautiful boy I get to hold in my arms.
EARLIER: Just 2 days ago on July 28, Tanner posted a black & white photo of Emmy pointing to Jade's pregnant belly while lying down, captioning the pic, "On baby watch... #anydaynow." That day just happened to be July 30, as reported by People.
Jade revealed in a January 28 Instagram post that she and Tanner were expecting their second child. She captioned the photo:
Baby #2 is adding to our crew!! We are overjoyed our bundle of love will be joining us in August! We've been dreaming of you for a while now, and you are already loved beyond imaginable, sweet baby. ❤️
Jade and Tanner welcomed their daughter Emerson "Emmy" Avery in 2017. Earlier this year, Tanner told People that he was hoping that their second child would be a son. "I want to at least have one [son]," Tanner, 31, told the publication in April 2018. "We joke and I tell her that she's going to have to keep on trying until we get that boy."
But in a January interview with the publication, Jade said, "Tanner definitely would still love a boy, but now that we have Emmy, he loves being a girl dad." Jade added that, personally, she was "happy either way — just hoping for a healthy babe!"
The couple found out they were having a baby boy during a surprise skydiving party attended by lots of Bachelor Nation alums, including Ashley I., Jared, Carly, and Evan. The whole thing was filmed for their webseries, What Now? Two skydivers emerged from a plane holding a "It's a boy!" banner, surprising all those who waited down below on the ground.
Jade and Tanner celebrated the news with their family, friends, and silly string, as seen in the video.
The new baby is here and already, the little one seems very welcomed into the Tolbert family and Bachelor Nation. Jared was among the first to tweet his congrats to Jade and Tanner referencing the "due date" salad Ashley gave Jade on July 27: "Yay!!!!! I give 5% of the credit to the salad. Congrats guys. Can't wait to meet him!"
And soon, hopefully Bachelor Nation will learn its new members name.