The Fiancee Of A Missing Saudi Journalist Urges Trump To Find Out What Happened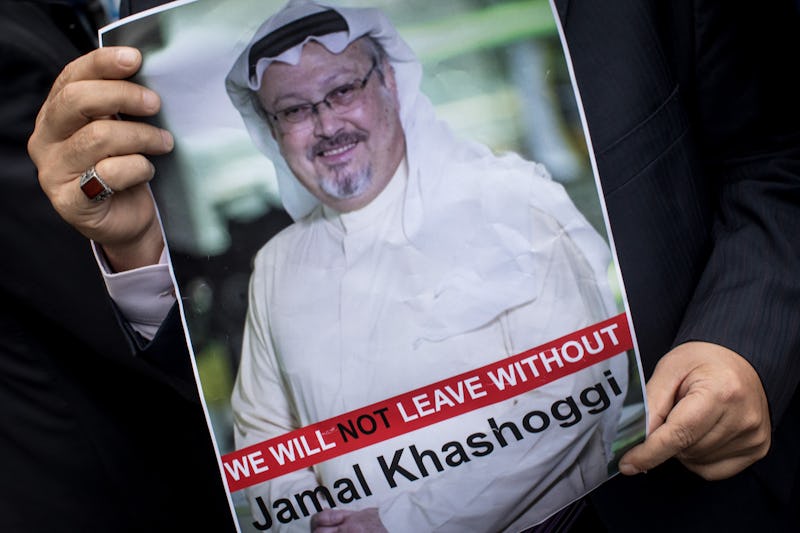 Chris McGrath/Getty Images News/Getty Images
A Saudi journalist and Washington Post columnist went missing after entering the Saudi Arabia consulate in Istanbul last week. After days of agony, Jamal Khashoggi's fiancee urged President Donald Trump to help get to the bottom of Khashoggi's disappearance in an op-ed published by The Post on Tuesday.
"Although my hope slowly fades away each passing day, I remain confident that Jamal is still alive," Hatice Cengiz wrote in The Post. "Perhaps I'm simply trying to hide from the thought that I have lost a great man whose love I had earned. As an individual who believes that life and death are in the hands of God, I pray to God alone for Jamal's safe return."
As a well-known critic of the Saudi government, Khashoggi's disappearance was immediately suspect. He had lived in self-imposed exile in the United States for the past year, but went to the consulate in Istanbul, where Cengiz lives, to obtain a document certifying that he had divorced his ex-wife so he could marry Cengiz. When he went to the consulate a second time, Cengiz waited outside for hours but he never returned.
"This much is true: He entered the consulate, and there's no proof that he came out," she wrote in The Post.
Turkish officials believe the journalist was killed at the Saudi consulate and his body was later removed, but they haven't provided definitive evidence, BBC reports. The Saudi government has denied this.
The United States doesn't have an official theory, though U.S. intelligence intercepted Saudi officials discussing a plan to lure Khashoggi back to Saudi Arabia and detain him, a U.S. official familiar with the intelligence told CNN. When it became clear Khashoggi wouldn't return to Saudi Arabia, the plan reportedly shifted to the consulate. The official believes it's possible that the Saudis planned to kidnap Khashoggi, but something went wrong that resulted in his death, although they said it's also possible that he's still alive.
Khashoggi's fiancee has held out hope that he's alive, and called on world leaders to get involved:
At this time, I implore President Trump and First Lady Melania Trump to help shed light on Jamal's disappearance. I also urge Saudi Arabia, especially King Salman and Crown Prince Mohammed bin Salman, to show the same level of sensitivity and release CCTV footage from the consulate. Although this incident could potentially fuel a political crisis between the two nations, let us not lose sight of the human aspect of what happened.
The day after Cengiz's op-ed was published, Trump told reporters that he had talked to Saudi officials "at the highest level" about Khashoggi's disappearance, the BBC reports. "We're demanding everything. We want to see what's going on there," Trump said.
The president told Fox & Friends the following day that U.S. relations with Saudi Arabia are "excellent" and U.S. investigators are working with Turkey and Saudi Arabia to get to the bottom of the disappearance. He later added in the Oval Office, "This took place in Turkey and, to the best of our knowledge, Khashoggi isn't a U.S. citizen."
Cengiz's op-ed made it clear that she doesn't believe that should stop Trump from finding the truth.