James Comey Admitted To Liking John Green's Books & The Author's Response Is Everything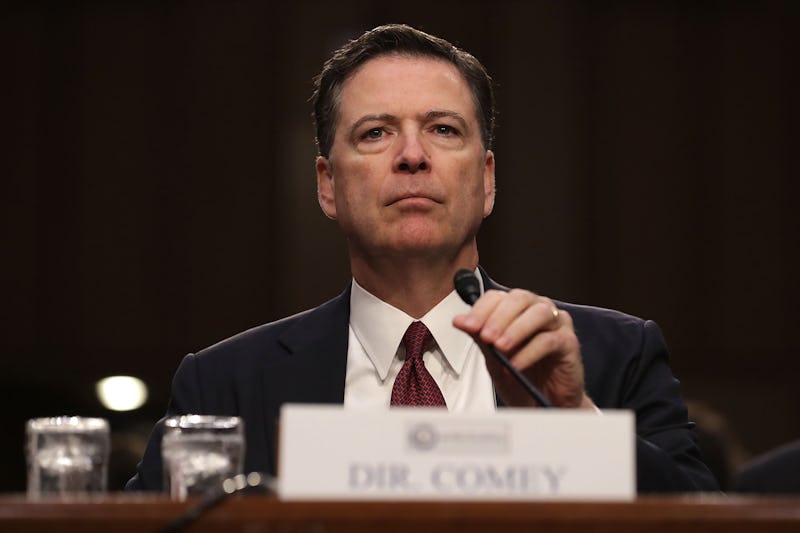 Chip Somodevilla/Getty Images News/Getty Images
The book world has been abuzz with news of James Comey's forthcoming memoir, A Higher Loyalty: Truth, Lies, and Leadership, for a while now, but this week, the former FBI director gave book nerds another reason to talk about him. In an interview with The New York Times, Comey admitted to liking John Green's books, and as if that truth bomb isn't enough, the author himself reacted to the news, and his response is everything.
In an interview in The New York Times Book Review's "By The Book," Comey opened up about his reading habits, his favorite genres, his literary inspirations, and more. For most readers, it's probably unsurprising to learn that most of his TBR pile is filled with nonfiction titles like Grant by Ron Chernow and The Last Lion: Winston Spencer Churchill, Defender of the Realm 1940-1965 by William Manchester and Paul Reid. It's also probably not that shocking to learn that he's drawn to biographies and social psychology titles, and that his literary hero is the honorable and honest Atticus Finch. What is shocking, however, is Comey's apparent love for John Green's The Fault in Our Stars, which the former FBI director listed as one of the books readers might be surprised to find on his bookshelf. He also named Brandon Sanderson's Mistborn series and Pierce Brown's Red Rising series, but those admissions pale in comparison to the fact that, like so many of us, Comey probably cried his eyes out over Hazel's heartbreak and Augustus's death.
As it turns out, no one was more surprised than The Fault in Our Stars author John Green. In a tweet, he reacted to Comey's admission with the appropriate amount of shock and awe, saying "James @Comey thinks people might be surprised to see The Fault in Our Stars on his bookshelf. INDEED, I AM SURPRISED."
Clearly, the rest of Twitter had a lot to say about Comey's love of John Green's modern classic. Many were quick to point out how incredible The Fault in Our Stars is and explain it isn't all that shocking he would like such a powerful and popular book. Others were happy to welcome Comey to the John Green fan club, and wanted to know if his love for the author stopped with Hazel and Augustus's story, or if he had also read Looking for Alaska, Paper Towns, or Green's most recent title, Turtles All the Way Down. A few even wondered if he read it so he could "pretend to be cool" in front of his kids, a reading habit Comey admitted to later in his interview.
Clearly, all of book Twitter is excited to welcome Comey to their ranks, and have not been afraid to show it. One of the best responses to Comey's admission and Green's surprise came from the Kenyon College official Twitter account. "Director Comey P'16 must have been impressed by your Commencement address at #KenyonCollege!" they tweeted, along with a photo of John Green giving a speech to a large audience that included Comey himself.
Green had a sly response to to Kenyon College's tweet, saying "We did actually meet on that day. I'd say there's no way Mr. Comey remembers me, but he seems to have quite a good memory." It would appear that Green is just as excited to read about Comey's more recent memories about the Trump White House as the rest of us. Maybe the two authors can swap books and trade each other a copy of Turtles All the Way Down for A Higher Loyalty.
Hey, a book nerd can dream.