Fun Fact: Martha Stewart Went To Prison Because Of One James Comey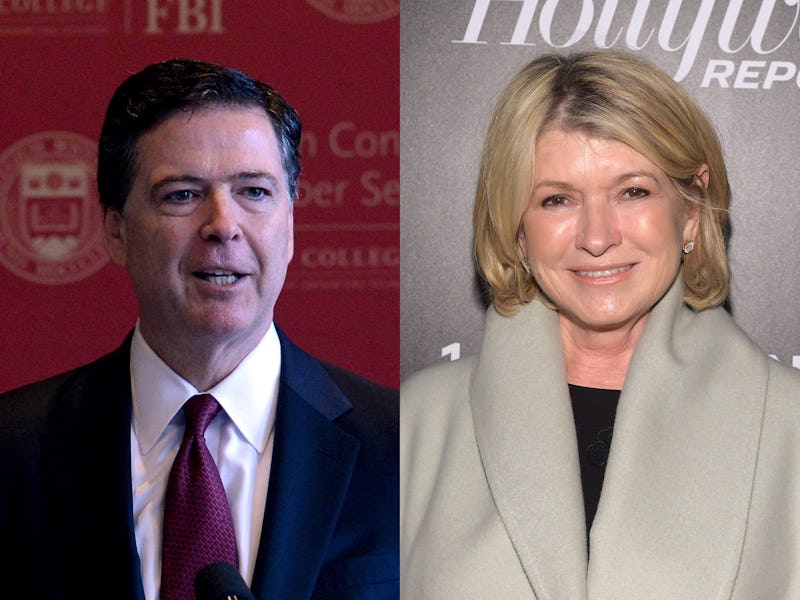 Darren McCollester/Getty Images News/Getty Images; Ben Gabbe/Getty Images Entertainment/Getty Images
Years ago, before there were any infamous Trump memos or Hillary Clinton emails, and well before he even became FBI director, James Comey prosecuted Martha Stewart. As excerpts from the fired FBI chief's forthcoming memoir, A Higher Loyalty, come out in the press before its release on April 17, most of the attention has been paid to Comey's descriptions of his interactions with President Trump. But the book also reportedly shares Comey's thoughts on the Stewart case, one of the more under-the-radar moments in his long law enforcement career.
In 2003, Comey was the U.S. attorney for the Southern District of New York, and he brought felony charges against Stewart for her too-well-timed handling of a personal stock sale in 2001. A jury ultimately found the queen of domesticity guilty on charges of conspiracy, obstructing justice, and lying to investigators in March 2004.
"This criminal case is about lying — lying to the F.B.I., lying to the [U.S. Securities and Exchange Commission] S.E.C., lying to investors," Comey said in early June 2003 when announcing the charges. "Martha Stewart is being prosecuted not for who she is, but because of what she did."
For her part, Stewart has said she believed Comey was making an example out of her because of her fame. "I'm sure I was an example," she told TMZ's Harvey Levin in an October 2017 episode of Fox's OBJECTified. "And that's it."
In a 41-page indictment, federal prosecutors alleged Stewart had attempted to conceal the circumstances behind her sale of nearly 4,000 shares of stock in ImClone Systems, a biopharmaceutical company. Stewart had sold her stock shares in the business after hearing the company's founder and his family were selling theirs, according to the indictment.
"As a client of Merrill Lynch and as a former securities broker, Martha Stewart knew that information regarding the sale and attempted sale of the Waksal shares had been communicated to her in violation of the duties of trust and confidence owed to Merrill Lynch and its clients," the indictment read. Sam Waksal, ImClone's founder, was a friend of Stewart's.
The charges Comey brought against Stewart related more to what prosecutors alleged was a cover-up than the stock trade itself. According to the New York Times, Comey claimed he could have pursued insider trading charges against Stewart, but ultimately used his "discretion" because he felt such charges in her case would have been ''unprecedented.''
Stewart went on to serve a five-month jail sentence at a minimum security federal prison in West Virginia. "Please know this change is only an unfortunate reflection of my current circumstances, and in no way diminishes my commitment to my life's work or to the friends, colleagues, customers and supporters who make it possible," she wrote in a statement shared with fans via her website on the day she reported to prison.
While Stewart hasn't exactly dished the dirt on how she feels about Comey since leaving prison, it was clear from her interview with Levin that he's not in her good books.
"Dear James," Stewart said with what appeared to be a sarcastic smile. "He's a complicated person, isn't he?" When Levin asked Stewart if she thought Comey had gone after her because he was sexist, though, she said no. Rather, Stewart said she thought Comey hoped to make an example out of her.
By the time Stewart was convicted, Comey had already left the Southern District of New York to become deputy U.S. attorney general in the George W. Bush administration. As we all know, he went on to be nominated as FBI director by former President Barack Obama. In that capacity, he oversaw a controversial investigation into Democratic presidential nominee Hillary Clinton's use of a private email server as secretary of state. He was later unceremoniously fired by President Donald Trump last year, six years before his 10-year term as FBI director was set to end. The forthcoming memoir promises to give us the inside track on all those events, so even fans of Stewart can expect to glean a juicy new insight or two.