James Comey Says He's "Horrified" By His Own Reaction To Trump's Twitter Attacks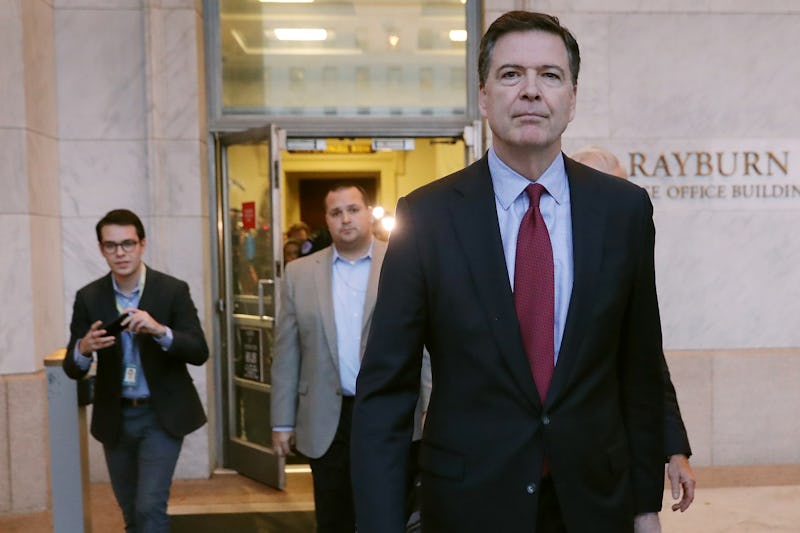 Chip Somodevilla/Getty Images News/Getty Images
As the president continued to lash out at him online, former FBI Director James Comey implored voters to "make sure the lies stop" by voting Trump out of office in 2020. While speaking in New York on Sunday, Comey said Trump's response to his testimony was proof Democrats "have to win" the White House back in the next presidential election.
"All of us should use every breath we have to make sure the lies stop on January 20, 2021," Comey told MSNBC's Nicolle Wallace during a live interview at the 92nd Street Y in New York City on Sunday, as ABC News reported. "I understand the Democrats have important debates now over who their candidate should be, but they have to win. They have to win."
Over the weekend, Trump attacked Comey over Twitter not once, not twice, but at least three separate times. In each tweet, the president, without citing any evidence, accused Comey of lying in his recent House testimony. "Leakin' James Comey must have set a record for who lied the most to Congress in one day," Trump wrote in one tweet. "His Friday testimony was so untruthful! This whole deal is a Rigged Fraud headed up by dishonest people who would do anything so that I could not become President."
But while Comey has become a frequent target of Trump's, the former FBI directer said Sunday that by now he's inclined to "shrug ... smile and laugh about it," a reaction that's actually come to disturb him.
"My reaction to it is actually disturbing to me," Comey said Sunday. "[My reaction] is kind of, 'Eh, there he goes again.' I thought I was 'Lyin' James Comey,' now I'm 'Leakin' James Comey'. But I kind of shrug and sometimes smile and laugh about it and then I have a secondary reaction, which is to be horrified at my own numb reaction."
Comey went on to suggest the president's behavior was far from normal. "We have to remind ourselves, the president of the United States of America is publicly announcing that people are committing crimes, they should be in jail — private citizens," Comey said. "That's not OK and if we become numb to it, we risk surrendering the norm."
More than anything else, however, Comey said it was the American people's job to hold Trump accountable for his actions, including his lies and false accusations. "The people who can hold him accountable for that, is us. That's not the Department of Justice's job, that's our job," Comey said. "So, we're going to have an election in less than two years — we must hold him accountable. It's not a Republican thing or a Democratic thing, it's an American thing because this is unacceptable behavior for the leader of our country. It's not anyone else's job but ours."
While the former FBI director wasn't prepared to explicitly label Trump's tweets as evidence of witness tampering, he said the president's tweets would "catch his attention" if he were prosecutor. "I'm a witness, potentially," Comey told Wallace. "I don't know how the special counsel thinks about it, but if I were a prosecutor and a public figure started attacking the credibility of one of my witnesses in a pending investigation that's something I would look at very closely."
"I'm not prepared to judge it," Comey continued. "[But] it would catch my attention."