James Comey's Book Promises "Unheard" Stories From His Career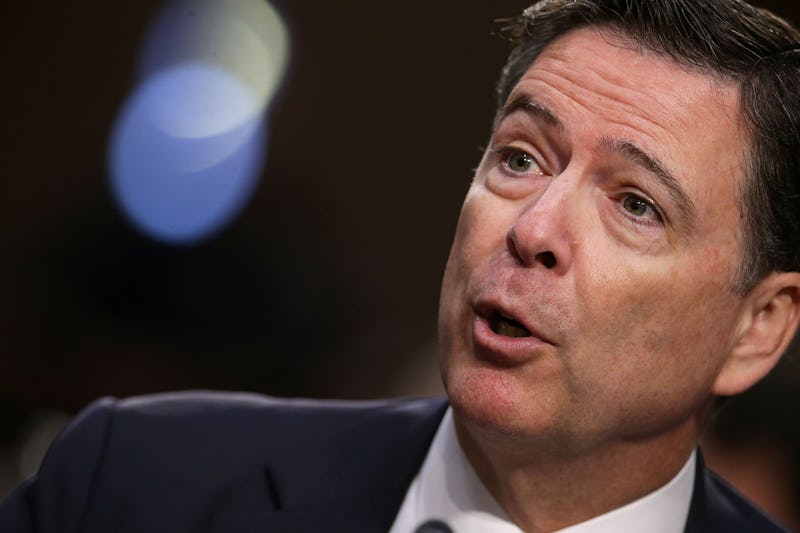 Chip Somodevilla/Getty Images News/Getty Images
Prepare for some serious tea to be spilled, because former FBI director James Comey has a book deal. Back in May, Comey was fired by Donald Trump amidst claims that Trump was concerned about Comey's prioritisation of honesty over loyalty to the president. Now, Comey has free rein to put all of that honesty into a book — and he promises to include "yet-unheard anecdotes" from his career.
James Comey's book, to be published by Flatiron Books, will be about leadership and decision-making, and will draw from Comey's experience throughout his long career in government. According to the publishers, Comey will cite "examples from some of the highest-stakes situations in the past two decades of American government," in all of which Comey played a key role. The President of Flatiron Books released a statement saying that "Throughout his career, James Comey has had to face one difficult decision after another as he has served the leaders of our country. His book promises to take us inside those extraordinary moments in our history, showing us how these leaders have behaved under pressure. By doing so, Director Comey will give us unprecedented entry into the corridors of power, and a remarkable lesson in leadership itself."
Comey makes no promises to dish any dirt on Donald Trump, but as his experiences with Trump must have formed some of the "highest-stakes situations" that he's faced, I'm sure this as-yet-untitled book will give insights into Trump's government when it's released next spring.
The Associated Press reported that the bidding war for James Comey's book topped $2 million. Whatever James Comey has to say, we're waiting to hear it with bated breath.