James Franco Has Been Accused Of Sexual Misconduct By Two Women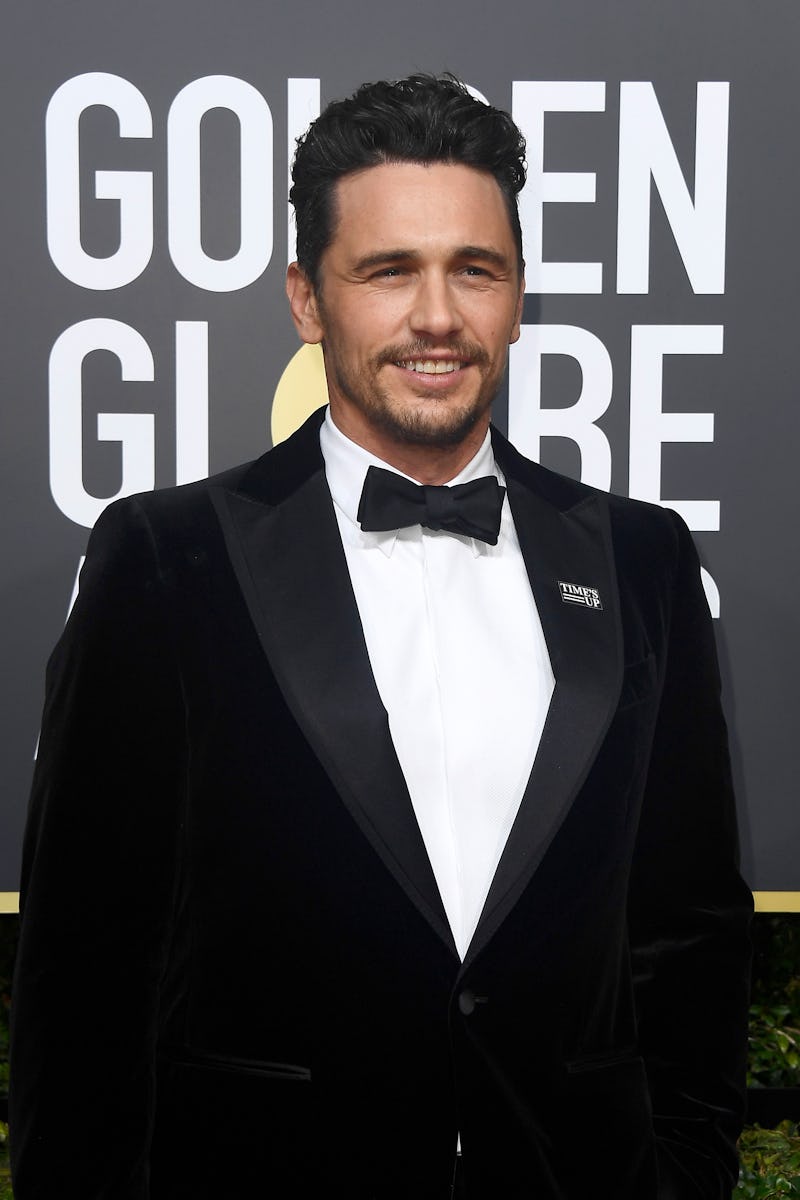 Frazer Harrison/Getty Images Entertainment/Getty Images
Just days after he won a 2018 Golden Globe, James Franco is facing new allegations. On Monday, actor Violet Paley accused Franco of sexual misconduct in a series of tweets about the actor, and since then, another woman has also come forward to share her claims. Bustle has reached out to Franco's rep for comment, but did not receive a reply at the time of publication.
Update: On Tuesday night, Franco responded to the allegations during an appearance on The Late Show with Stephen Colbert, calling them "not accurate." He said, in part,
"Look, in my life I pride myself on taking responsibility for things that I've done. I have to do that to maintain my well-being. I do it whenever I know that there is something wrong or needs to be changed, I make it a point to do it. The things that I heard that were on Twitter are not accurate, but I completely support people coming out and being able to have a voice because they didn't have a voice for so long. So, I don't want to shut them down in any way. It's a good thing and I support it."
Earlier: Sunday night, Franco took home the Golden Globe for Best Actor in a Motion Picture Musical or Comedy for The Disaster Artist while wearing a pin supporting #TimesUp, a movement that helps fund legal defense for women who claim sexual abuse. After seeing that Franco was pushing the initiative, Paley — who has appeared in several shows and shorts over the last few years — called him out for wearing the pin and claiming that he is guilty of the kind of abuse the movement is trying to work against.
Her first tweet, which was addressed directly to Franco, claimed that the actor "pushed my head down in a car toward your exposed penis." She also claimed that he invited her 17-year-old friend to meet him in his hotel room, not long after allegedly doing the same with a different 17-year-old girl. (She may be referring to Franco admitting speaking with a 17-year-old on social media. Seventeen is the age of consent in New York.)
Later, Paley clarified that she herself wasn't underage when the alleged incident with Franco happened. Paley also said in her tweet that "there are a lot more details that will be out soon," once she and the people she's working with are able to find the best way to make that happen.
In another tweet she shared later Monday night, Paley claimed that she and Franco did have a consensual relationship, which made her hesitant to make these allegations.
Amid Paley's accusations, another woman named Sarah Tither-Kaplan, who says she's pursuing a career in film and TV, also tweeted her own set of allegations against Franco, claiming that he had her do full nudity in two of his movies while paying her $100 per day and told her it "wasn't exploitative."
Tither has worked on two of Franco's movies, The Long Home and Actor's Anonymous, while also working with him in Making a Scene with James Franco. In later tweets, she said that, as a struggling actor, she "doesn't have the luxury of turning down jobs."
"I rely on powerful people to help me, because I don't have access to opportunities without them," she wrote. "If they choose to abuse their power and take advantage of my need to work, that isn't my fault. It's the fault of the abuser."
In 2014, text messages between Franco and a 17-year-old girl surfaced where he appeared to be inviting her to come to his hotel room. During an appearance on Live With Kelly & Michael, he admitted that he had sent those messages, adding that he was "embarrassed" and chalked it up to social media being tricky.
On Tuesday, Paley tweeted about Franco again, claiming that he had issued an apology to her and "a few other girls" over the phone, and suggested that he donate his salary from The Disaster Artist to RAINN.
On Sunday night, Franco opened up about #TimesUp to reporters backstage at the Golden Globes. According to the LA Times, he said:
"Whenever any group is treated differently or given less rights or less equality than any other ... it's everyone's responsibility to stand up and make change."
If you or someone you know has been sexually assaulted, call the National Sexual Assault Telephone Hotline at 800-656-HOPE (4673) or visit online.rainn.org.