Director James Gunn Has Been Fired From 'Guardians 3' After Offensive Tweets Resurface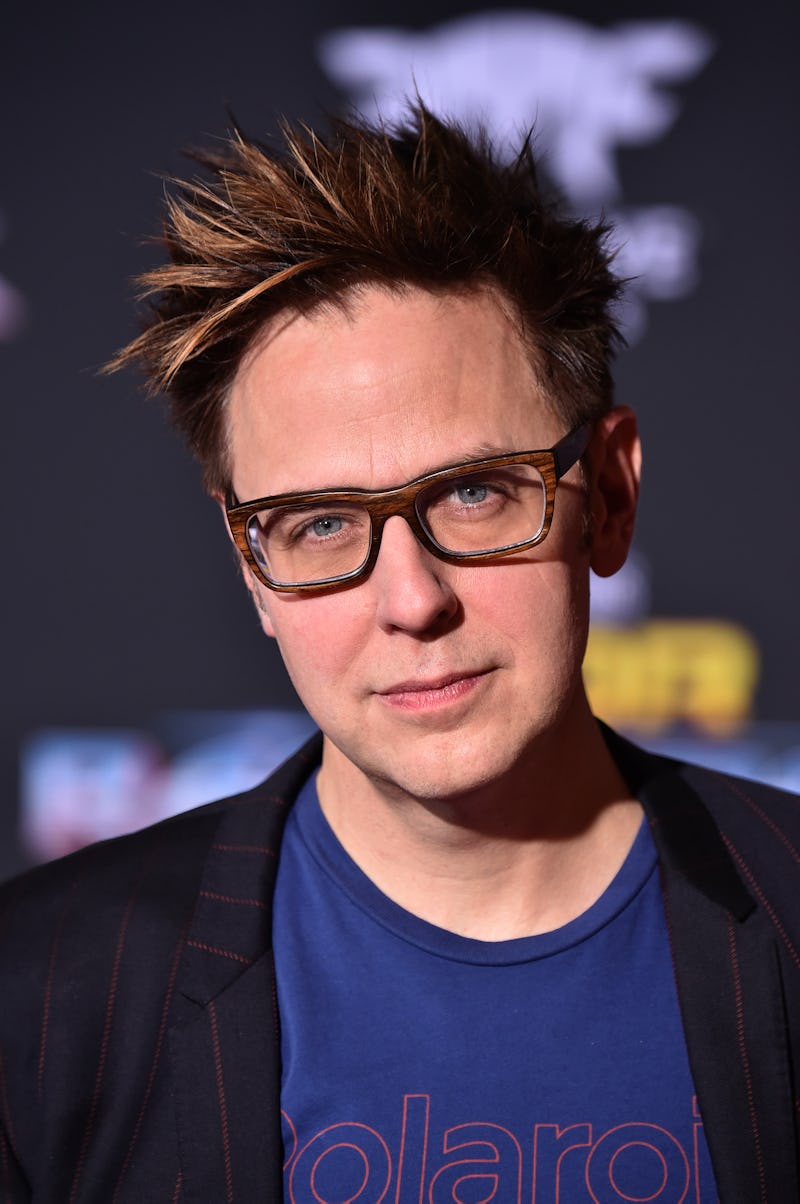 Frazer Harrison/Getty Images Entertainment/Getty Images
Guardians of the Galaxy Vol. 1 and Vol. 2 writer-director James Gunn has reportedly been fired from Guardians of the Galaxy Vol. 3. According to a report from The Hollywood Reporter, Walt Disney Studios made the decision to part ways with Gunn after a series of offensive, old tweets allegedly shared by Gunn resurfaced late on Thursday, July 19. "The offensive attitudes and statements discovered on James' Twitter feed are indefensible and inconsistent with our studio's values, and we have severed our business relationship with him," said Walt Disney Sudios Alan Horn in a statement. Bustle has reached out to James Gunn, but had not heard back at time of publication.
UPDATE: Bustle obtained the following statement from James Gunn:
"My words of nearly a decade ago were, at the time, totally failed and unfortunate efforts to be provocative. I have regretted them for many years since — not just because they were stupid, not at all funny, wildly insensitive, and certainly not provocative like I had hoped, but also because they don't reflect the person I am today or have been for some time.
"Regardless of how much time has passed, I understand and accept the business decisions taken today. Even these many years later, I take full responsibility for the way I conducted myself then. All I can do now, beyond offering my sincere and heartfelt regret, is to be the best human being I can be: accepting, understanding, committed to equality, and far more thoughtful about my public statements and my obligations to our public discourse. To everyone inside my industry and beyond, I again offer my deepest apologies. Love to all."
EARLIER: Gunn has not yet issued a response to the news. Earlier on Friday, however, he did issue what seems to be an apology in a series of tweets. He wrote:
Many people who have followed my career know when I started, I viewed myself as a provocateur, making movies and telling jokes that were outrageous and taboo. As I have discussed publicly many times, as I've developed as a person, so has my work and my humor.
According to his still active Twitter account, he was planning on attending the Sony Pictures Panel at San Diego Comic-Con Friday evening, tweeting out a teaser image for fans. It is unclear if he is still expected to attend the event.
A call to fire Gunn from the Disney and Marvel Studios franchise began, it seems, with tweets from alt-right media figures including Mike Cernovich and Jack Posobiec. On Thursday night, they began sharing screenshots of offensive tweets allegedly written by Gunn. (Gunn has reportedly deleted many of the tweets.) One tweet shared by Posobiec, allegedly published by Gunn on Sept. 19, 2011, reads, "I'm doing a big Hollywood film adaptation of The Giving Tree with a happy ending - the tree grows back and gives the kid a blowjob." Posobiec shared a photo of the tweet with a message address to Disney: "Hi @Disney! Why did your employee @JamesGunn delete this tweet about a pedophile tree?"
Overnight and into Friday morning, the tweets kept on coming, with Posobiec sharing screenshots of various offensive tweets allegedly written and shared by Gunn from as far back as 2009. Many of the alleged tweets were homophobic, crude, and generally unsavory. One tweet, as reported by Variety, allegedly read, "The best thing about being raped is when you're done being raped and it's like 'whew this feels great, not being raped!'" Gunn appears to have deleted all of his tweets from before 2013, so the tweets can no longer be verified. However, in his apology, Gunn did not deny writing any of the tweets being reported on, though it is important to note that he did not admit to writing all of them either, admitting, "I used to make a lot of offensive jokes."
As the tweets got picked up by more users and fans, calls to fire Gunn from Disney's highly profitable Guardians of the Galaxy franchise got louder. And, it would appear that sometime in between Gunn's apology tweets at 11:53 a.m. ET and the Hollywood Reporter piece published at 3:19 p.m. ET, Disney made the decision to answer those calls.
It is unclear what will happen to the third film in the planned Guardians of the Galaxy trilogy. Gunn was already working on the GOTG 3 script when he was fired from the project. In fact, he was already teasing fans about possible Guardians 3 plot lines. Disney could very well choose to keep parts of his work, which would mean giving him a screenwriting credit on the project. Or they might decide to start from scratch. Thus far, representatives from Disney and Marvel Studios have not elaborated on how they plan to continue the franchise without Gunn, nor have any Guardians of the Galaxy Vol. 3 stars, including Chris Pratt and Vin Diesel, commented on Gunn's firing.