Jamie Lee Curtis' Response To A 'Halloween' Fan's Survival Story Will Warm Your Heart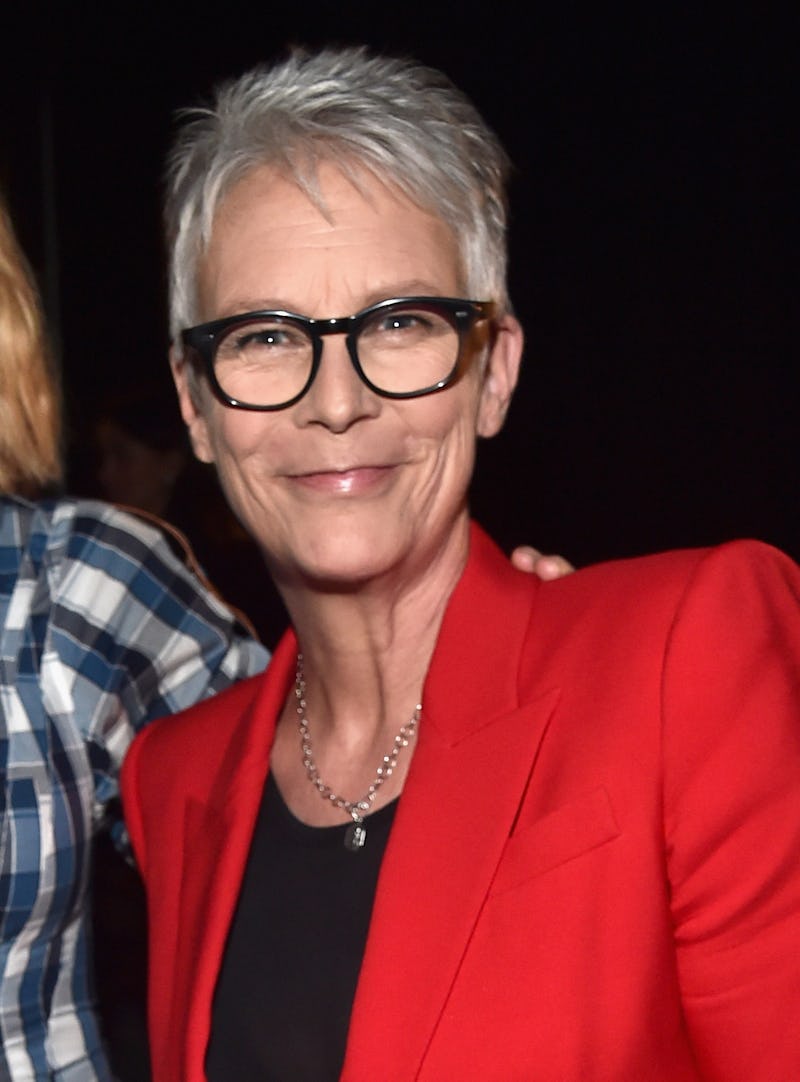 Alberto E. Rodriguez/Getty Images Entertainment/Getty Images
Laurie Strode's survival in the classic 1978 horror flick Halloween, may have saved another life — off-screen. In an emotional moment, Jamie Lee Curtis comforted a fan at Comic-Con in San Diego on Friday, July 20, after the man explained how her portrayal helped him live through a home invasion, as seen in videos posted on social media from the event.
During the question and answer session of the panel discussion about the upcoming Halloween film, the fan recounted the story of a stranger cutting his phone line and then breaking into his home, according to Variety.
"I was scared out of my mind and out of nowhere this thought inside of me went, 'Well, what would Jaime Lee Curtis do?'" the man said in a Comic-Con attendee's Twitter video. "I saw the guy with the knife on one side of the house. I ran out, ran down to the neighbors, started screaming like you did in the movie."
While the first part of the man's story elicited some laughter from the audience, as heard in the online clips, the mood seemed to quickly change as he continued. "To make a long story short, I'm here today because of the way that you portrayed Laurie Strode," said the man, who also confessed that Curtis is the only reason he came to Comic-Con, as his voice began to break. "I'm a victor today instead of a victim."
In the clips posted online, the Halloween panel's moderator, actress Yvette Nicole Brown could be heard several times saying, "That's amazing" and telling the man to approach the stage. Curtis could be seen seemingly struggling to fight back tears and left the stage to give the man a long embrace and also kissed him on the cheek. "These kind of emotions are real," said an emotional Curtis, who also posed for a selfie with the man.
According to People, Curtis also answered fan questions about what it was like to return to the role four decades after Halloween debuted. And it turns out, she thinks Laurie is someone that many people can relate to — much like the man who shared his terrifying experience.
"She's the same girl 40 years later, she's just been through a heck of a lot, like we all have," shared the actress at the panel, according to the videos. "You peel the onion of any person in this room, you will find trauma, you will find issues of sadness and loss and grief and great joy and happiness and drunkenness and misbehavior but it's human interaction."
She added: "That's what makes going to the movies so powerful. We look up [at the screen], we relate and we let out all the anxiety that we're carrying."
In the new Halloween movie, which is slated to hit theaters on October 19, just in time for, well, Halloween, infamous masked killer Michael Myers is back to do what else but terrorize a neighborhood. Curtis' Laurie, (understandably) suffering from PTSD, is living "off the grid, having turned her home into a safe house, complete with a mini-arsenal," per Variety.
"She lives in complete isolation, waiting for [Michael Myers] to come back because she knows he's going to," Curtis said, according to the website.
In another video taken at Comic-Con, an excited Curtis reflected on giving new life to the horror film that launched her storied career.
"When I was 19 years old, on the streets of Los Angeles and Pasadena, we made this little movie," she said of making her big screen debut in 1978. "Now 40 years later we're at Comic-Con announcing a new movie in 2018. It is mind-blowing and I am privileged beyond measure."
The Halloween fan's emotional story at the San Diego convention was proof that her life isn't the only one that was changed by the movie.