Jane Doe Got An Abortion, But Jeff Sessions Still Won't Let It Go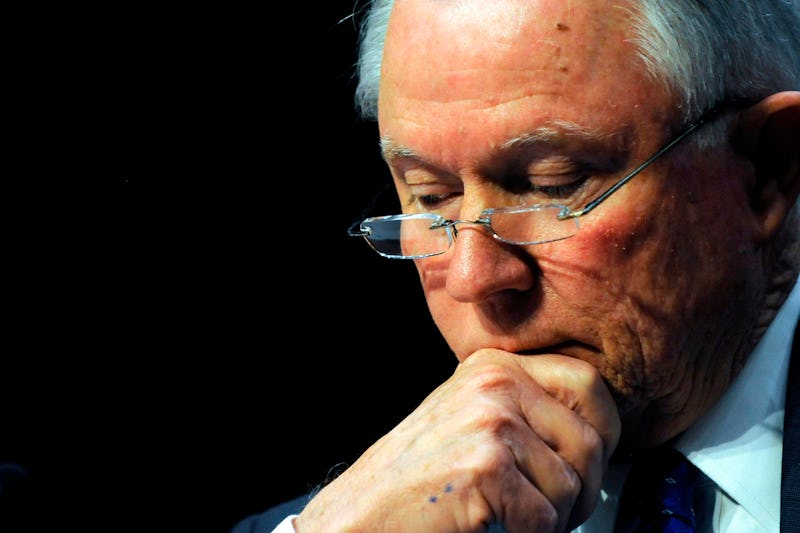 JASON CONNOLLY/AFP/Getty Images
Attorney General Jeff Sessions is reportedly not happy about the fact an undocumented pregnant teenage immigrant, known simply as Jane Doe, was able to obtain an abortion last week after a weeks-long court battle. And from remarks Sessions recently made to Fox News, it appears as if the attorney general is not quite ready to let this issue go.
In an interview with Bret Baier of Fox News, Sessions said the Justice Department was "disturbed" that Jane Doe had been able to obtain an abortion before the Justice Department could file a brief, or legal argument, to appeal or block the procedure.
"She was determined to do that and the lawyers that were representing her were determined to have that abortion," Sessions told Baier. "They were able to have the abortion at 4:30 in the morning before we were [set to be] filing a brief the next morning."
Throughout the case the Trump administration had argued it had a policy of not "facilitating" abortions for unaccompanied minors who cross the border illegally. Additionally, the US Department of Health and Human Services has said it felt undocumented pregnant minors had "no constitutional right" to "get an elective abortion while in federal custody."
Sessions claimed his lawyers were told by the legal team representing Jane Doe that they would not seek to immediately obtain an abortion. "This was a total surprise and really a breach of the kind of confidence that lawyers should be able to have with one another," Sessions said in his interview with Baier. "We are very upset about it. I think it's a serious problem [and] should not have happened." Sessions also said that the Justice Department was "disturbed about it."
Sessions is right about one thing: the 17-year-old undocumented immigrant known as Jane Doe was determined to have an abortion. "I made my decision and that is between me and God," the girl said in a statement released by the ACLU. "Through all of this, I have never changed my mind."
However, when asked by Baier if he thought we'd seen the last of "this issue" or if it might go all the way to the Supreme Court, Sessions implied he may not be ready to drop things just yet. "We'll look at that and pursue it in any way possible," Sessions said. "I don't believe that we should be using taxpayers' dollars to fund abortions and I think, in this case, it certainly was not justified. We've resisted it steadfastly and I am very disappointed that these lawyers were able to take the client around the law to avoid a court hearing at least to see that we were filing."
Except that taxpayer dollars weren't used to fund Jane Doe's abortion. Multiple media outlets have reported that Jane Doe was not looking for the federal government, or taxpayers, to pay for her abortion. According to Politico, the ACLU had said Jane Doe "obtained private funds" to cover the cost of her abortion. And the New Yorker reported an undisclosed nonprofit organization had raised the money needed for the procedure.
It's unclear if the Justice Department really is planning to continue to pursue Jane Doe's case even though she has a) already obtained an abortion and b) did not use taxpayer dollars or government funds to pay for the procedure. The Department of Justice declined Bustle's request for comment.
But even if the Department of Justice doesn't choose to pursue the case, other officials within the Trump administration may persist in pushing an anti-abortion agenda. At a hearing before the House Judiciary's Subcommittee on Immigration and Border Security, Scott Lloyd, the Health and Human Services' official who holds legal custody of detained unaccompanied minors like Jane Doe, refused to give a direct answer as to whether he believed a woman's constitutional right to an abortion was dependent on her immigration status. Lloyd also refrained from providing a direct answer when asked if he believed immigrants had constitutional rights. Lloyd is reported as having played a key role in the government's efforts to hinder Jane Doe from obtaining an abortion.
In fact, Brigitte Amiri, senior staff attorney for the ACLU Reproductive Freedom Project, recently argued Jane Doe's case was actually "part an overall war being waged by the Trump Administration against reproductive rights and immigrants' rights" in a blog post for the ACLU.
But will Sessions and the Department of Justice continue their war on abortion rights by targeting Jane Doe or other marginalized women like her? During his confirmation hearing before the Senate Judiciary committee in January Sessions said he'd "respect" and "follow" Roe v. Wade despite personally feeling it was "one of the worst, colossally erroneous Supreme Court decisions of all time."