Jane Fonda Sleeping In Her Red Carpet Dress Because She Couldn't Get It Off Is All Of Us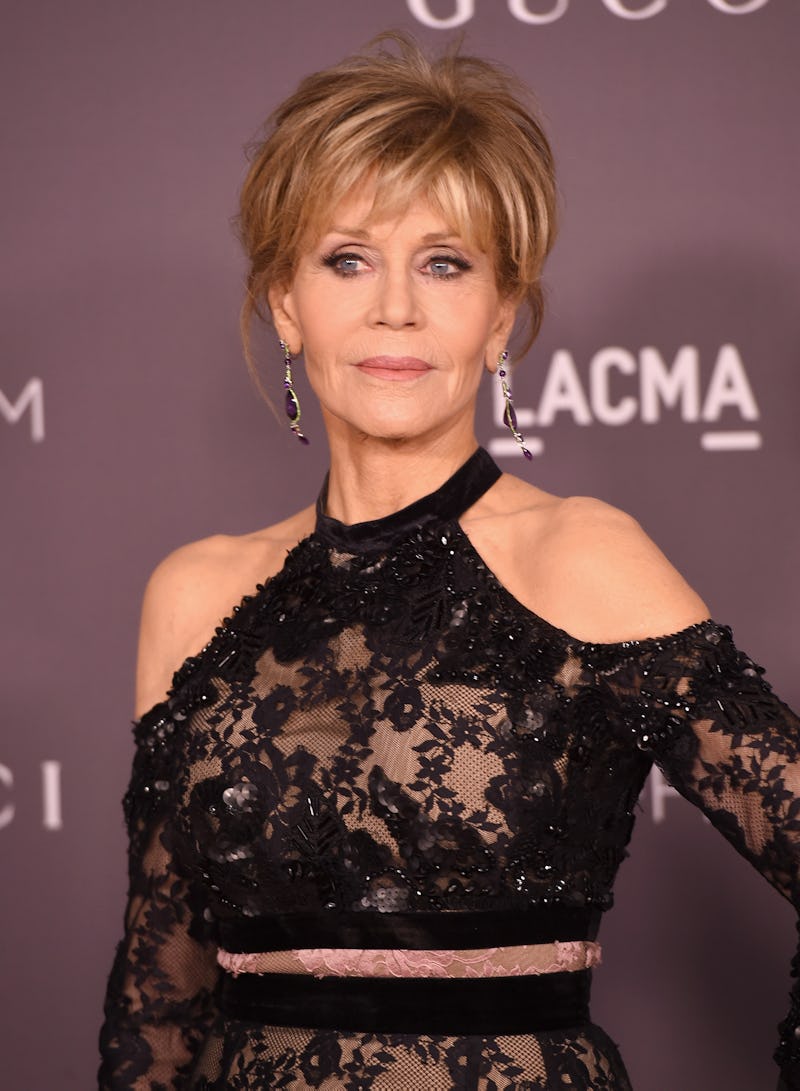 Kevin Winter/Getty Images Entertainment/Getty Images
When we see our best and most famous stars swanning down the red carpet, we know that hours of work went into perfecting that one single, flawless look. But even though we know teams of people huddled over their hair, buffed on their smokey eyes, and zipped them into their free designer dresses, it's still super easy to forget the reality of it all and, instead, get swept up in the fantasy of the moment. That's why when Jane Fonda posted her "day of" and "morning after" comparison photos on Instagram, her fans were left laughing.
Jane Fonda slept in her gown, and she didn't care who knew it.
She started off our journey by posting a photo of herself on the red carpet of the L.A. Museum of Modern Art Gala, with her falsies perfectly crowned with cat liner, her hair beautifully piece-y, and her lace halter dress looking immaculate. Unaware of the side-by-side comparison that will soon follow, her fans jumped into the comments to tell her how much they loved her lewk.
But this wasn't one of those photo-op moments on Instagram where celebs share where they went and which designer they were wearing. No, this post had a purpose. And it was to show us the not-so-glamorous side of going to big Hollywood events — and how the image behind the glossy photos usually isn't as perfect as we think it is.
The second photo followed soon after the glamour-shot, and it was Fonda standing in her kitchen, looking bewildered and making what looks like a sandwich. Her hair is deflated and tousled, and her makeup is washed off, like it's the morning after the event and she had scrubbed off last night's look. But she's still wearing last night's gown — though now it looks a little rumpled.
The caption simply read: "Here's me the next morning. I couldn't get my dress unzipped so I slept in it.. never wanted a husband in my life until now." Dead.
Fonda couldn't get her dress off of her, so instead of fighting a losing battle she just went to sleep. What a legend. Honestly, I can't imagine doing anything else if I were in her shoes. I'd just swan dive into the covers and think, "This is tomorrow's problem."
The question remains: Did she ever get out of it?! Or is she forced to wear this lacy dress for the rest of her days. That's where the story abruptly ended! Her fans loved how relatable it was, though, and they took to the comments to tell her. "ICONIC," one follower wrote. "You are a single woman's inspiration! Cheers to the nights we can't remember in the dresses we can't take off!" another shared.
The replies got even funnier on Twitter, as you could imagine.
One person asked who took the photo that was posted to IG if no one was around to unzip her. "Fire department" someone guessed.
Others were lamenting over how friggen hard designer evening gowns were to take off. You would have to be a real escapist to manage it on your own.
Others saw themselves pulling the same move if a zipper gave them too much trouble. Like realistically, how long are you going to stand there and struggle when the siren song of the bed is right there?
If you have ever had a long night and came back from an event at a later time than you'd like to, chances are you have had one of these same moments. Fonda is all of us, which is what makes her fans love her so much — that and the fact that she isn't afraid to poke fun at herself. Queen for life.