Janelle Monáe Believes In The Power Of Saying "No"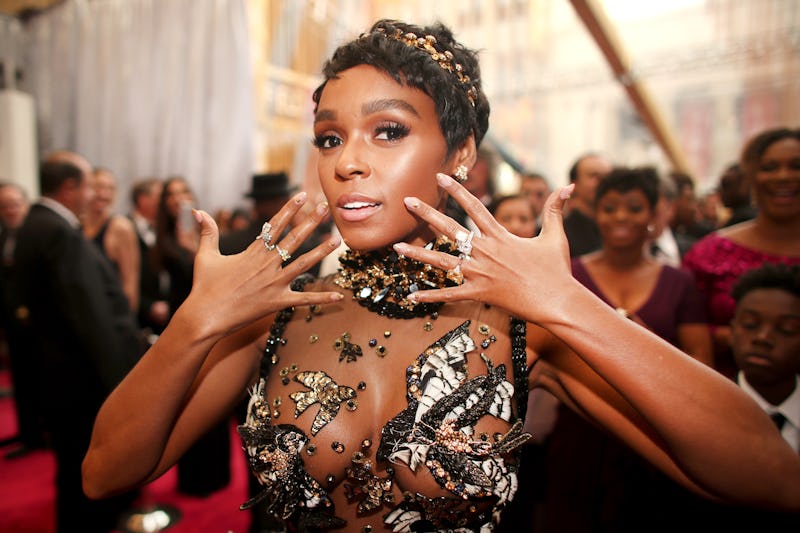 Christopher Polk/Getty Images Entertainment/Getty Images
The Women's March was arguably the greatest visual representation of the power of women in recent memory. On that day, our voices could not be ignored. Our presence could not be overlooked. However, the dream for women and people who do not subscribe to the gender binary to be viewed and embraced as equals has yet to be realized. But one celebrity believes women are already armed with a pretty simple strategy to get our point across by just saying, "no." Actor and singer Janelle Monáe said that women should reject the binding confines of gender norms and insufferable banality of conformity and take control of our own narratives in an interview with Marie Claire. "I believe in embracing what makes you unique even if it makes others uncomfortable," she told the magazine. "I have learned there is power in saying no. I have agency. I get to decide."
The Hidden Figures star, who said her creativity is her "superpower," is known for her out-of-the-box style and outspoken stance on civil rights issues. Not only is she in control of her signature black and white look, but Monáe also unapologetically declares her authority in the interview by stating her expectations for men and goals for women. "If you're going to own this world and this is how you're going to rule this world, I am not going to contribute anymore until you change it. We have to realize our power and our magic."
She also told Marie Claire that women should go on a sex strike until "every man is fighting for our rights" and people are "respecting the vagina," and while not everyone is going to agree with that, her message about having agency should be heeded and practiced.
Realizing your power sounds pretty abstract and seemingly unattainable if you ask me. Saying "yes" to saying "no" is especially challenging for those of us who struggle to speak up for ourselves — myself included. However, a passive mindset cannot and will not bring about the change women need to be seen as whole beings. Saying we deserve respect is one thing but putting that into practice is another.
Whether a celebrity, a parent, or a friend tells you how capable and strong you are, it's up to you to believe it. And the ability to say "no" is indeed powerful. That simple word proves you have a voice. Will simply saying "no" overthrow the patriarchy? No — but it's a start.