Janelle Monae Wore The Perfect Pride Dress To The BET Awards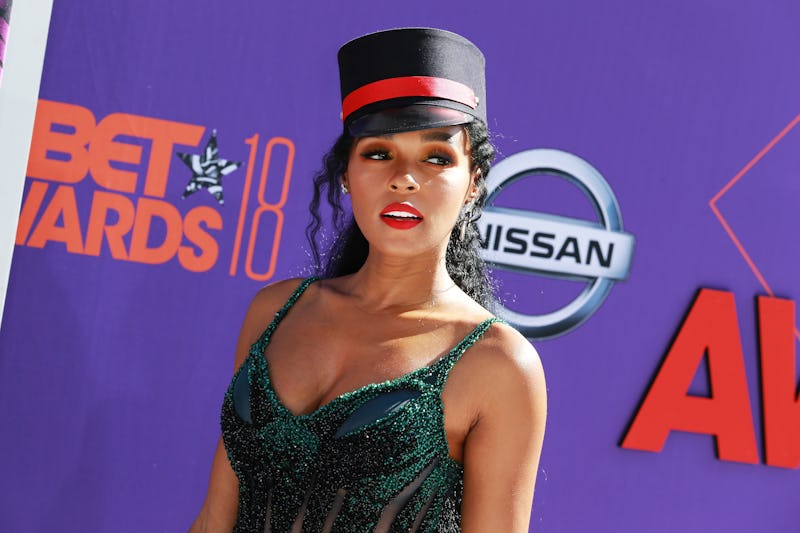 Leon Bennett/Getty Images Entertainment/Getty Images
Janelle Monáe has the coolest, funkiest style. She can rock gender fluid outfits like no one else and she always keeps us guessing with her unique and memorable ensembles. Janelle Monáe's 2018 BET Awards dress was perfect for pride month. The singer, who came out as queer in her Rolling Stone cover story, opted for a frilly dress with a tiered, fluffy, and rainbow-hued skirt. The colors clearly and obviously represented the colors of the Pride flag.
The singer and actor recently grabbed headlines by wearing vagina pants in her "Pynk" music video. While we sort of hoped she would resurrect those bottoms for the red carpet or for her performance, her actual pre-show outfit was equally statement-making.
Since Monáe often has fun with suits that show off her fly style and can be counted on to rock red lips that channel Old Hollywood glam, we were also expecting her to go with a two-piece set or a jumpsuit paired with a scarlet-painted pout. But she selected an epic dress by Nicolas Jebran that demonstrated her Pride.
It was a flawless execution of a message!
Monáe's hair was swept off her face in a low ponytail, while her makeup featured her familiar red lips. Monáe has been a CoverGirl spokesperson for years — so it's no wonder her makeup always looks fabulous.
It was pretty hot in Los Angeles before the show began — Monae certainly upped the temps on an already sweltering day with her high impact ensemble.
Her train conductor-style hat was an excellent addition to her overall presentation. But that skirt was everything. The dress will go down as one of the best looks of the night and certainly as one of the singer's most unforgettable frocks.
You cannot help but love this blockbuster dress. You cannot help but love the way Monáe chose to express her support of the LGBTQ movement. The singer paired her rainbow dress with earrings from the Tiffany Paper Flowers Collection and colorful Tiffany rings.
At the 2016 edition of the show, Monáe crushed a black and white striped suit with flared legs and top hat. Don't you dig how the stripes change direction on the bottom half of her pants? It was a simple but effective touch. Her full curls were super lush, too.
The singer's 2015 BET Awards outfit was markedly different. She opted for anything-but-basic black, adding a long, floor-sweeping cape to her fitted LBD. The cape added a major dose of drama yet it still showed off her toned legs, which were accented by snake-like strappy heels. Her super long fishtail braid sat on her shoulder and called attention to her crimson lips. It was one of her most sophisticated looks to date.
At the BETs in 2013, Monáe turned up in a fitted white pantsuit with strappy silver heels. The high-collar shirt was dosed with some major bling, while her suicide roll hairstyle was incredibly chic and retro. Her signature scarlet smile was in full effect. It was an excellent and striking contrast to her monochromatic, crisp, and summer white suit.
As you can see from this waltz down "Janelle Monáe at the BET Awards Memory Lane," she loves to wear suits and different silhouettes. She can go monochromatic or with a bold print. Her accessories are always an essential and elevating element of her ensemble. Her 2018 BET Awards outfit was no different. But it made quite a voluminous statement — and not just because the skirt was full and had flow.
Here is a closer look at the sparkly and crystalized emerald top half of the dress. It was a subtle contrast to the chiffon-ness of the skirt.
Monáe remains one of the best-dressed and most stylish stars of her generation.