Janet Jackson Just Confirmed Whether Or Not She'll Perform With Justin Timberlake During The 2018 Super Bowl Halftime Show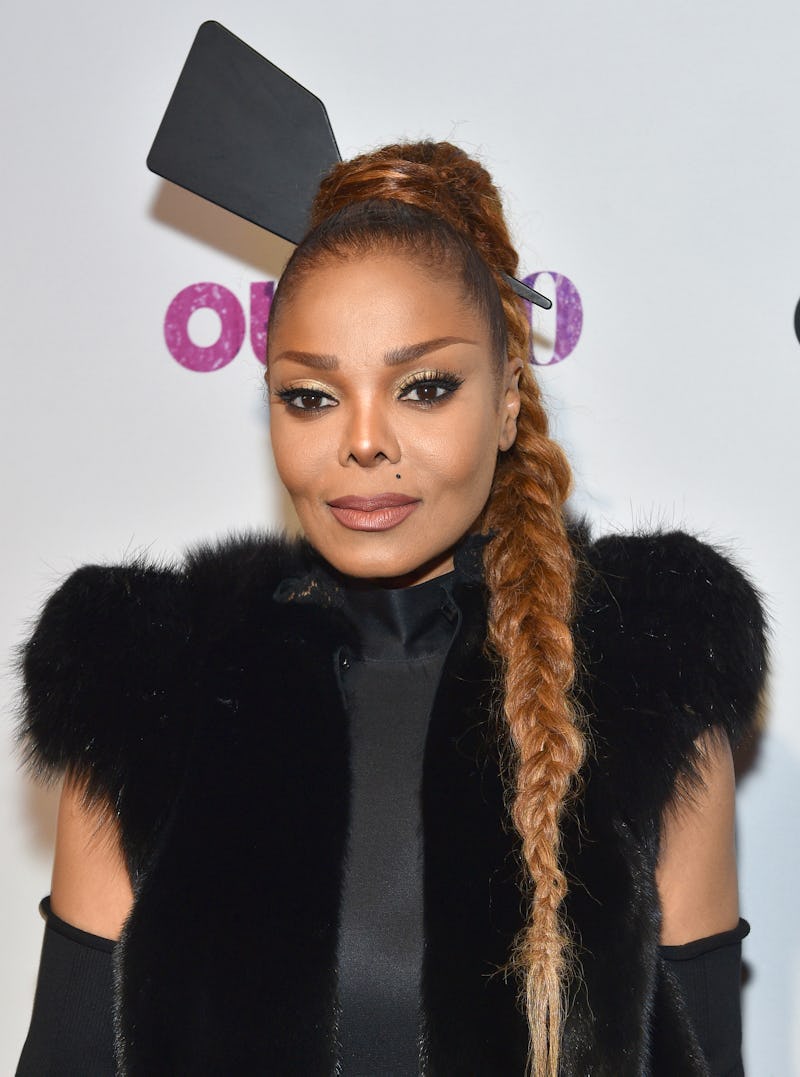 Bryan Bedder/Getty Images Entertainment/Getty Images
On Sunday, the New England Patriots will take on the Philadelphia Eagles at the Super Bowl LII in Minneapolis. While fans tune in to to support their favorite teams, many watch for the halftime show performances. This year, Janet Jackson will not perform with Justin Timberlake during the 2018 Super Bowl halftime show, even though the two appeared together in the past. Jackson issued an official statement on Instagram and Twitter late on Saturday night, shutting down rumors that she might make an appearance. In the post, she wrote:
"To put to rest any speculation or rumors that I will appear at the Super Bowl tomorrow; I will not. Thank you for your support and I do look forward to seeing you all very soon."
While the singer might not appear on the Super Bowl stage, she is releasing a new album and future performances are scheduled — notably, Jackson will be headlining the Essence Festival in July.
Timberlake was revealed as the halftime show act in October 2017, and the choice is controversial. The announcement reminded many people online of the pop star's last Super Bowl appearance in 2004, where the infamous wardrobe malfunction took place. Timberlake tore off part of Jackson's corset at the end of their duet, and revealed her breast. The incident started a major uproar dubbed "Nipplegate" by the press, and CBS was reportedly sued by the FCC, according to Rolling Stone. At the time, Jackson issued a written statement about the incident, according to MTV.
"The decision to have a costume reveal at the end of my halftime show performance was made after final rehearsals. MTV was completely unaware of it. It was not my intention that it go as far as it did. I apologize to anyone offended — including the audience, MTV, CBS and the NFL."
Timberlake issued the following statement in 2004 after the incident, according to Digital Spy.
"I am sorry that anyone was offended by the wardrobe malfunction during the halftime performance of the Super Bowl. It was not intentional and is regrettable."
Jackson was largely held responsible for the mistake by the media, and lots of fans want that mistreatment to be recognized. After the announcement of Timberlake's performance, #JusticeforJanet started trending on Twitter.
It seemed only right that Timberlake would bring Jackson back on stage to make amends, but both stars have confirmed that this will not happen. In a press conference in Minneapolis, Timberlake mentioned considering extending an invite to Jackson but the halftime show ultimately went in a different direction. "To be honest, I had a ton of grand ideas about special guests. There's a whole list. I think Vegas has a lot of odds on it, from 'NSYNC to JAY-Z to Chris Stapleton to Janet," he said. Instead, the artist chose to perform solo and highlight the accomplishments of his background band, the Tennessee Kids. "I feel like they're my special guests and I'm excited to rock the stage," he said.
The treatment of Janet Jackson versus Timberlake following the 2004 wardrobe malfunction was undeniably unfair. According to Rolling Stone, CBS uninvited Jackson from the Grammy Awards, where she was scheduled to present an award, yet Timberlake was still allowed to attend and even accepted several honors and gave speeches. The article also stated that Jackson was also blacklisted from media outlets, meaning that VH1, MTV other Viacom stations wouldn't play her music videos and radio stations wouldn't air her songs or invite her on shows as a guest. Her album Damita Jo was released and it initially didn't do as well as her previous releases because of the blacklist. For some reason, Timberlake's work wasn't banned from these channels.
Over the years, Timberlake publicly apologized for the accident multiple times but he's never acknowledged how Jackson carried most of the blame at the time. He also failed to stand up for her in the face of the harsh media treatment. For fans, the fact that he was invited back to perform once again when both singers have new albums to promote emphasizes this injustice. The Man of the Woods singer claims he met with Jackson after and they made up. "I don't know that a lot of people know that," Timberlake said on radio host Zane Lowe's Beat 1 show. "I don't think it's my job to do that because you value the relationships that you do have with people."
According to People, Janet Jackson's family also wanted Timberlake to bring Janet back for the halftime show. "Justin's solo career took off after that and Janet was blackballed," an unidentified family member reportedly told the New York Post. "He says they are good, but let's see him prove it and bring her out." The family allegedly hasn't forgiven the pop star, and is still waiting for him to make good with Janet.
Jackson didn't comment on where she stands with Timberlake, and instead promised future performances. The singer will headline the Panorama festival in New York and the 2018 Essence Festival. On Twitter, fans have also declared Super Bowl Sunday an unofficial #JanetJacksonAppreciationDay. If Timberlake won't bring the singer justice on the halftime stage, fans have been trying to do so online using the hashtag #JanetJacksonAppreciationDay, which is currently trending on Twitter on Feb. 4.