Jared Kushner Asked His Newspaper To Scrub Certain Articles About His Friends — REPORT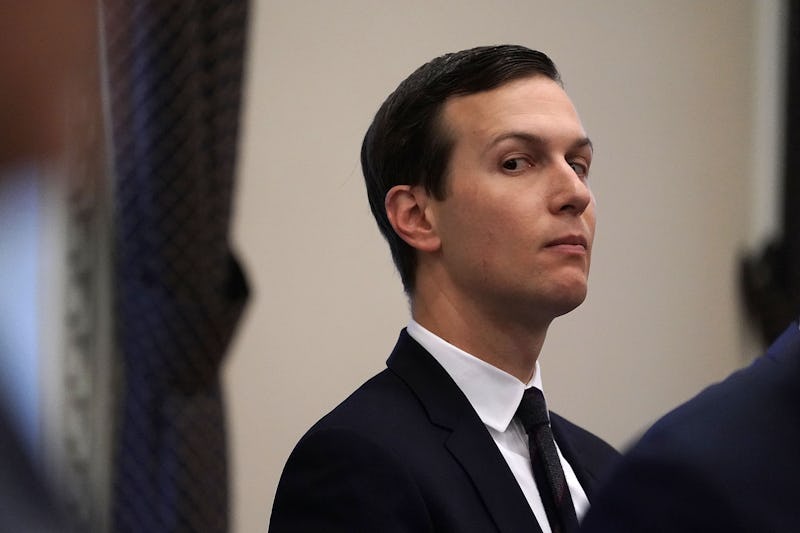 Alex Wong/Getty Images News/Getty Images
The Trump administration has certainly not been known for its friendly attitude toward the press. Indeed, BuzzFeed recently reported that senior Trump advisor Jared Kushner once owned the New York Observer and supposedly asked to have critical articles deleted. The outlet noted that Kushner's requests were reportedly made without the knowledge of the Observer's editors and deviated from what are considered ethical journalism practices. Bustle reached out to the White House for comment, but has not received a response thus far.
Kushner owned the New York Observer from 2006-2017. Last year, he sold the paper to the Kushner Family Trust after he joined his father-in-law's presidential administration as a senior advisor. As BuzzFeed reported, while he owned the Observer, Kushner reportedly reached out to the paper's tech team to request the deletion of several articles after they had been published online.
As the outlet indicated, one of these articles included a story about a 2010 settlement between the New York State Attorney General's Office and Vantage Properties, a property management company in New York. The latter had been accused of illegally removing some residents from their homes. At the time of the settlement, one of Vantage Properties' lawyers, Orin Snyder, told the New York Times that the company welcomed the clarification of housing rules that the settlement provided. As Snyder stated to the New York Times,
This is a sector that for decades has been filled with tension and uncertainty about the rules between landlords and tenants ... What we have now is really an unprecedented set of guidelines, ground rules, that govern the landlord-tenant relationship, and Vantage is and has been enthusiastic.
Another story which Kushner reportedly requested be removed included a 2012 article on NBA Commissioner Adam Silver and his recent apartment purchase. As BuzzFeed reported, Kushner and Silver are friends. The outlet also noted that an NBA representative declined to comment on its story regarding Kushner's reported deletions.
As Slate reported, Austin Smith identified himself as the software developer who removed the stories, reportedly per Kushner's request. The outlet noted that Smith briefly wrote about the issue on the website Y Combinator the day before BuzzFeed's story was published. In response to a question on a forum asking, "What is the most unethical thing you've done as a programmer?," Smith wrote:
After Jared Kushner originally bought the New York Observer, I was hired to lead the tech team, which I did for a year and a half in house then for three more as a vendor. He asked me, out of band, to blackhole articles critical of his commercial real estate colleagues and I complied.
BuzzFeed interviewed the former editor of The Observer, Elizabeth Spiers, who indicated that, as editor, she had not known that Kushner was reportedly demanding the story deletions. "If I had known about it, Jared and I would have had a big problem," Spiers said to BuzzFeed. "Jared's such a coward. Went directly to Austin because he knew I wouldn't do it," she added. Spiers also noted that, since he was not a member of the editorial staff, Smith would have been obliged to say yes to Kushner when he reportedly requested that Smith delete the stories.
As BuzzFeed noted in its report, covertly deleting articles after their publication is typically considered bad practice in the field of journalism. It remains to be seen whether or not Kushner will comment publicly on the reported deletions and lend further insight into the issue.