Jared Kushner's Dad Is In Talks To Build This Skyscraper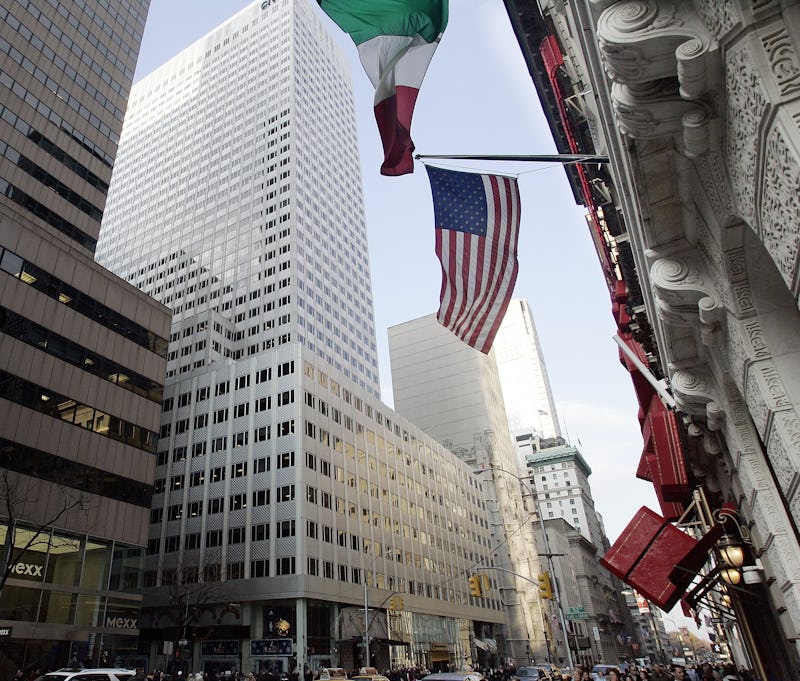 Stephen Chernin/Getty Images News/Getty Images
Skyscrapers are generally phallic in shape — just look at Manhattan. The island is covered with rectangular and even cylindrical towers that cut into the air. Walk up and down Fifth Avenue if you doubt this fact. Their shape is just par for the course generally, any architect will tell you there are few other options to use a small footprint of NYC real estate to house hundreds of businesses, condos, and shops. But now Jared Kushner's dad wants to build another building in New York and it is extremely phallic looking — to put things nicely.
Whether the structural demands call for its current look or not, there's no denying what it resembles. The sketches of the building designed by renowned Iraqi-British architect Zaha Hadid feature a wide base that then cuts way to a thin long shaft that widens out toward the top. Describing it more precisely might get me in trouble, so just look at the picture. It's not your typical skyscraper. I would argue that it's also beautiful in its own way. Hadid was an extremely talented architect. But did she design the Kushners' building this way as an intentional commentary on modern businessmen? Maybe this is actually art.
The question now, though, is whether the skyscraper will actually be built. The total price tag is reportedly between $7.5 and $12 billion, and there seems to be several problems regarding financing. The Wall Street Journal reported that the biggest investor was allegedly Anbang Insurance Group, a Chinese company reported to have close ties to the political and economic elite in Beijing. However, an Anbang spokesman wrote in an email to The Journal, "Contrary to recent reports, Anbang has no investment in 666 Fifth Avenue ... Any suggestion that Anbang has signed a contract or made any kind of financial commitment is inaccurate."
But it does seem like they might be in negotiations. A Kushner Cos. spokesperson told the paper that they are in "advanced, ongoing discussions around 666 Fifth Avenue."
The building could pose some ethical questions for Kushner and the Trump Administration, because Kushner has some role in deciding foreign policy as one of Trump's top advisers. However, Kushner, who was until January the CEO of Kushner Cos., the principal developer, has reportedly divested himself of any holdings in the development.
If it does all work out, the building would be on Fifth Avenue. But the current address, 666 Fifth, is a bit ominous and thus it will be changed to 660 Fifth. That, though, will be the last thing people think about if the project is completed. Surely the late Hadid's design will be the topic of discussion until at least 2025, when the project is projected to be finished. And likely for years after that.