Jared Kushner Isn't Condemning Neo-Nazis & Twitter Is Unsettled By It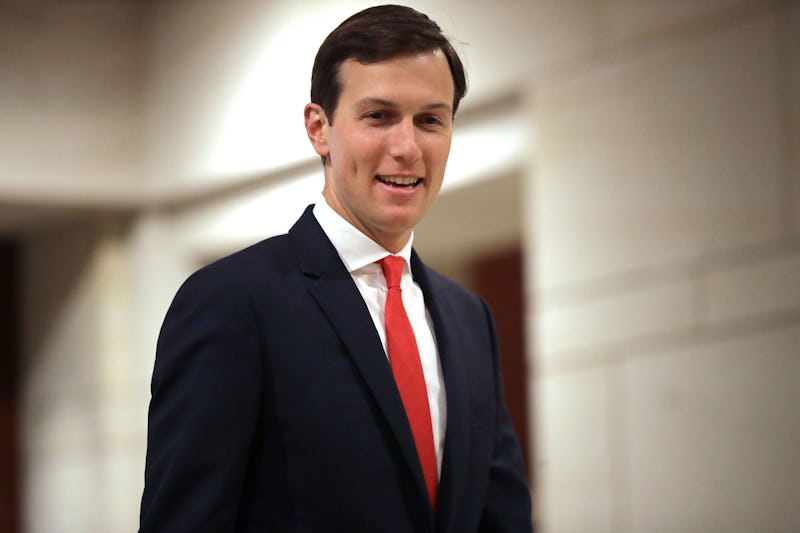 Chip Somodevilla/Getty Images News/Getty Images
Following the weekend protests in Charlottesville, VA., which saw white supremacists and neo-Nazis rallying agains the removal of Confederate Gen. Robert E. Lee's monument and counter-protesters showing up to call out hateful rhetoric, the country's leadership has had the opportunity to make its positions known. President Donald Trump issued several statements that ranged from condemning racism to blaming several sides, some members of his immediate family are Jewish. So: You may be wondering what Jared Kushner said about Charlottesville.
The answer is: nothing. As of Thursday, the president's son-in-law and senior adviser has not made a public statement about the protests. Kushner is a practicing Orthodox Jew, as is his wife, Trump's oldest daughter, Ivanka.
During the "Unite the Right" rally in Charlottesville over the weekend, Nazis carried anit-Semitic signs and chanted "Jews will not replace us," according to the New York Times. One woman was killed when a driver plowed into an assembly of people protesting the white nationalists who had assembled in Charlottesville. A handful of others were injured.
According to AOL, Kushner and Ivanka have been on vacation in Vermont. On Sunday night (most likely because she was observing Shabbat during the day), Ivanka tweeted, " 1:2 There should be no place in society for racism, white supremacy and neo-nazis" and "2:2 We must all come together as Americans -- and be one country UNITED. #Charlottesville." Kushner, however, has not said anything publicly.
Ivanka's remarks on social media came a day after her father spoke about Charlottesville and did not condemn white supremacists Nazis, or the KKK but rather pointed to "many sides" for the cause of violence. The president received pushback for his initial comments and on Monday denounced racism, Nazis, and hate. Then, during a press conference on Tuesday, he blamed the alt-left, claiming "they came charging with clubs in their hands swinging clubs." Donald also defended the "Unite the Right" protesters by saying not all of them were Nazis and white supremacists.
Glenn Thrush, a reporter for the New York Times, tweeted Tuesday, "Per sources: Ivanka/Jared among those pushing Trump to more forcefully denounce neo-Nazis, KKK and white nationalists over the weekend..."
Kushner and Ivanka have long been thought of as a team who could moderate the president on certain issues. Donald has given both of them major roles in the White House.
It's not terribly surprising that Kushner has stayed quiet. After all, he's stayed mum in general following the election, choosing only a few outlets to speak to and giving public statements only when necessary. Whether he will eventually speak about Charlottesville is something that the country will just have to wait to find out.