How Jason Aldean Used His First Concert Since The Las Vegas Attack To Inspire Fans To Keep Fighting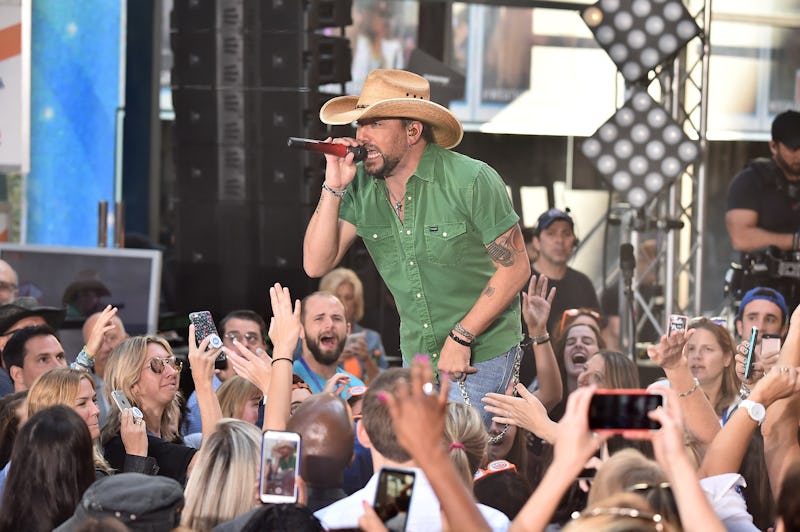 Theo Wargo/Getty Images Entertainment/Getty Images
After enduring such a traumatizing event, this country star is bouncing back to give America hope and make his fans proud. At Jason Aldean's first show since the Las Vegas attacks during his concert on Oct. 1, the singer told off domestic terrorists and preached about the power of not succumbing to fear. Fittingly titled the They Don't Know Tour, the singer resumed playing on Oct. 12 in Tulsa, OK after canceling three shows in Los Angeles, San Diego, and Anaheim, CA, following the massacre. A few songs in, Aldean addressed the crowd with words they, and everyone, needed to hear.
"Every day that goes by, we think about the 58 people that lost their lives, I don't really count that assh*le who was doing the shooting as 59," he said. "I count the 58." Immediately, the crowd cheered in a celebratory roar.
He then directly addressed terrorists like the gunman responsible for the massacre deemed one of the deadliest mass shooting in American history:
"These people are gonna continue to try and hold us down, continue to try to do things to us that are gonna make us live in fear and be scared, and not go out and do what it is we wanna do... To those people, I say: F*ck you, we don't really care.
Needless to say, the crowd went wild over Aldean's bold statement. Although the singer admitted he and his band were struggling figuring out how to play the show, he walked the walk in not letting the senseless act on Oct. 1 overcome him. As always, he wanted the show to be a celebration, a place fans could escape daily problems, "drink beers, and let loose." He reportedly even cracked a beer open and got covered in it while chugging it, according to The Rolling Stone.
Aldean's actions and statements were proof that community and love of the arts will always overcome hate. Throughout his five-minute speech, he continuously thanked the crowd for joining together and allowing him to play as a form of therapy to move forward from what happened.
And what happened was traumatic. While Aldean was mid-song at the Route 91 Harvest Music Festival on Oct. 1, a gunman opened fire on the crowd from the 32nd floor of a nearby hotel, killing 58 and injuring over 500.
As such, his first performance since the tragedy was not only a defiant act towards domestic terrorists, but also a tribute to those lost. "I wanna play a show for you guys that the people in Las Vegas came to see and didn't get a chance to," Aldean told the crowd. "From here on out, turn this sh*t up and let's get it going."
The show opened with "They Don't Know" and included "The Only Way I Know" with appropriately-themed lyrics like "Straight ahead, never turn around/Don't back up, don't back down." Aldean has seemed determined to perform powerful anthems since the shooting. On Oct. 7, he sang Tom Petty's "I Won't Back Down" on Saturday Night Live, as a tribute to the fallen rock icon (who passed away Oct. 2) as well as the Vegas victims.
Aldean's return to the stage on his tour left fans with more inspiring words. "Sometimes this country can be really divided," he said. But the performer recognized the love and support he witnessed over the last week since the shooting and encouraged even more in the future. "If we could do that on a daily basis, the world would be a better place."
Thanks to this show, Aldean rallied fans and music lovers to refuse to give up on the power of song or on each other.