Jason Derulo Makes Accusations Against An Airline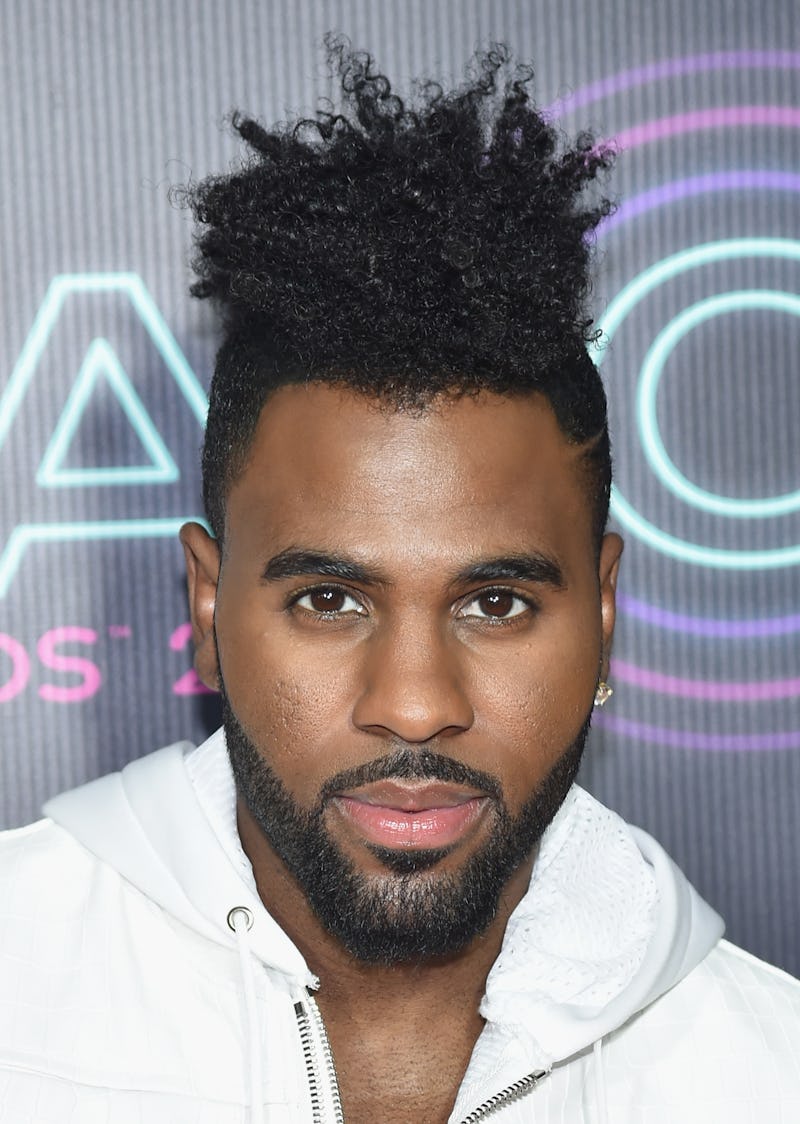 Michael Loccisano/Getty Images Entertainment/Getty Images
If you follow Jason Derulo on Instagram, you might have noticed that he went live on Wednesday straight from the airport. And now, he's sharing his side of what happened when he and his friends boarded a flight in Miami, and what made him decide to broadcast to fans. Although no charges have been filed, Derulo is accusing American Airlines of racial discrimination after an argument over checked baggage.
Bustle reached out to American Airlines for comment on this claim, and received the following statement:
American Airlines flight 275 returned to the gate prior to departure. A passenger elected to deplane in order to travel with their checked bags. The passenger was rebooked with his checked bags on a later flight Wednesday evening.
Derulo claimed to People that he and his friends were flying to Los Angeles but had too much baggage to check for them to make their flight. That's when one member of the group decided to stay behind to finish checking their baggage and catch up on a later flight, and the stayed onboard.
Reportedly, Derulo and his friends held an elite American Airlines status that allowed them to check three bags each for free, but when Derulo received a call from his friend saying there would be a $4,000 as someone they were traveling with needed to check 19 bags, "We were like, 'No, we're not paying that. We've got to turn the plane around,'" according to Derulo.
According to Miami's Local 10 News, an incident reports states, "the captain of the plane needed several passengers removed from the plane."
Derulo alleges the captain of the plane started cursing at him and his friends as they disembarked the plane, and it didn't take long before 15 police officers appeared on the scene.
He claimed to People:
"And that was really upsetting to me because I felt like he was trying to make it seem like we were delinquents, and he was kicking us off the plane, when it was us that asked to get off the plane. I was like, 'Listen, sir, you're not going to talk down to me; I'm not your son. Don't talk to me in that tone of voice.'"
Local 10 News reports that the incident report also includes from an officer: "I attempted to have all the passengers stand off to the side so I could determine what was going on, but they refused and kept walking away. I finally asked all the passengers for identification. At that time they all gave me their IDs."
Derulo claims that everything changed as soon as he started going live, because American Airlines employees realized who he was. He claimed:
"As you can imagine, I'm surrounded by 15 police officers, I'm not going to curse back because I know what's going to happen. So I pick up my phone, and I go live on my Instagram. So I go live, and I start to hear whispers happening, and as soon as they find out who I am, everything changes. Every single person becomes somebody else, and all of a sudden, we're not in trouble anymore."
In addition to speaking with People, Derulo also posted the following caption on an Instagram that appears to be of an airline employee:
.@americanair I spent millions on your airline throughout the past ten years between myself and my entire staff but have still experienced racial discrimination today at miami airport!!! Called 15 police officers on me as if I'm a criminal! It's not ok that when you find out who I am the gears change! F*ck that!! I want answers #conciergekey#conciergekeymember#thecaptainneedstoshowrespecttoo cause he could #cashmeoutsidehowboutdat#notypo#ifiwasanyoneelseiwouldhavebeenarrested
According to a police report obtained by People from the Miami-Dade police department, Derulo and his friends allegedly refused to show their IDs to airline employees or police and one employee claimed that the group "smelled of marijuana and were getting aggressive."
Derulo told the mag that he's just looking to be treated with respect. "At the end of the day, you get what you pay for," he said. "I'm not asking for anything extra, I'm not asking to be taken care of."
Clearly, the stories vary at this point, but hopefully the situation is resolved quickly.