Jason Momoa Talking About Being A Dad Will Make Fans Love Him Even More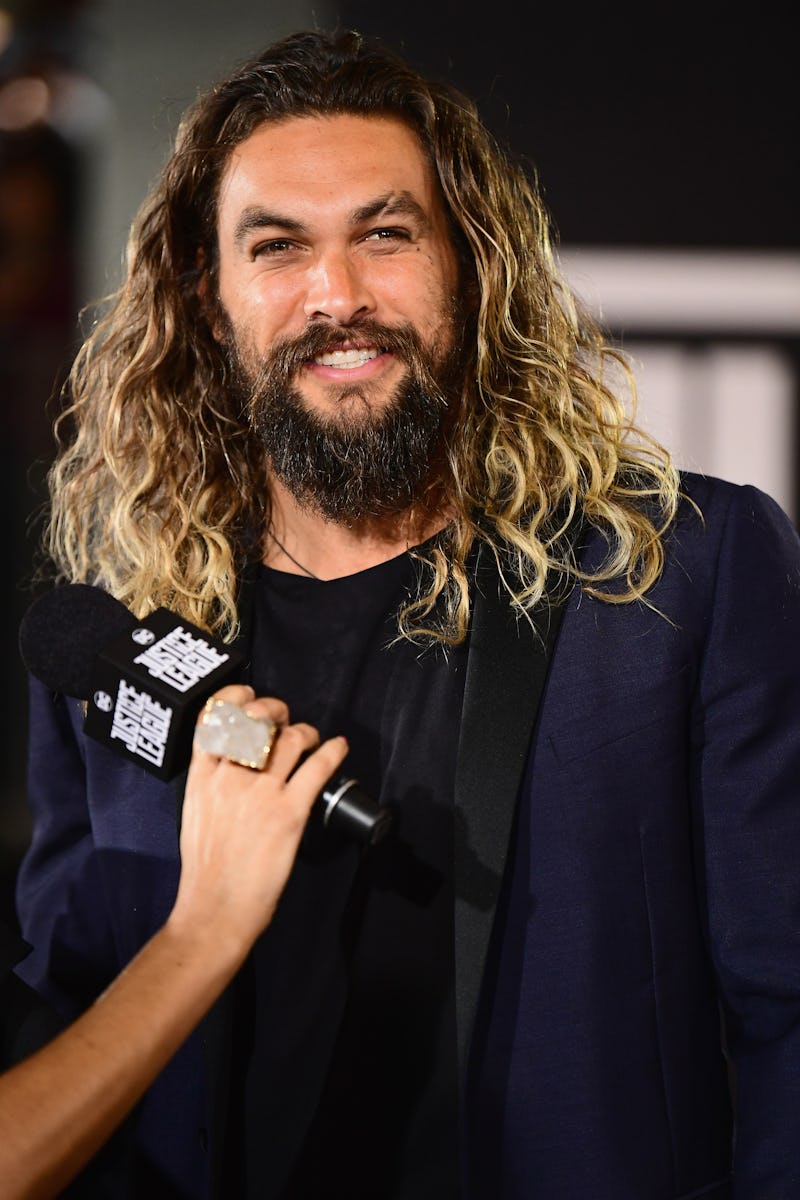 Emma McIntyre/Getty Images Entertainment/Getty Images
Justice League's resident Aquaman, aka Jason Momoa, gave fans a glimpse into his life with his kids in a recent interview with Men's Health. Momoa is focused on being a good dad, and hearing him talk about it shows a soft side to the actor that fans may not have seen before. In case you didn't already swoon over him, these comments will definitely get you on Team Momoa.
The actor's two children with his wife Lisa Bonet, Lola and Nakoa-Wolf, have made the actor get his act together. He told Men's Health, "I really can't tell you what the hell I was doing before I had kids." He explained that before he had kids that he "was pretty reckless and definitely a bit out of control ... I probably love myself more and take care of myself more because I want to stick around."
The former Game of Thrones star went on to gush about his children. "My kids are my greatest piece of art," he said. "It's beautiful. I want it to be the greatest thing I ever do: make good humans." That definitely has to be one of the sweetest things you'll read all day. The actor's devotion to his children makes him that much more endearing and really highlights his turnaround from he says are his former reckless ways.
He also talked about an idea of his that would enable himself and others to become even better parents. The actor suggested a meet-up of fellow fathers where they would talk "about being a good dad". He explained, "Instead of 'This is what a man's supposed to be' ... you can really make something positive." Because of some male-centered stereotypes, men are expected to be a certain kind of father. But, Momoa's idea could help fathers talk through what being a parent really means for them, without concerning the stereotypes out there. Even though he does say that he's "by no means someone to follow", he definitely sounds interested in learning from others.
This interview isn't the first time that Momoa has opened up about how much his family means to him. In a "Canvas of My Life" video for Carhartt, fans got a look into his relationship with his kids. The video shows Momoa with his family as he narrates his own personal journey to stardom and parenthood. He talks about how he teaches his kids all of his passions from skateboarding to painting and gives anyone who watches the video a closer look at how he is as a loving parent.
He starts his narration in the video with, "Ever since I was a little boy, I always wanted to be a father." He goes through his journey to becoming a well-known actor and then shifts focus towards his family. With Bonet, "the love of his life" he says he has three children, Lola, Nakoa-Wolf, and his stepdaughter Zoë Kravitz and "with them, my dreams finally came true." The video is not only beautiful because of the fun clips of Momoa and his fam, but also because of the actor's heartfelt narration through it. You can really tell that his family means the world to him.
In a recent Instagram post, Momoa captioned a photo of himself with his kids with this wonderful Elton John lyric: "I simply love you more than I love life itself". And that's a great way to show just how much his children mean to him. Momoa's relationship with his kids really can't be any sweeter.