Republicans Say This State Rep "Disgraced Himself" On Sacha Baron Cohen's Show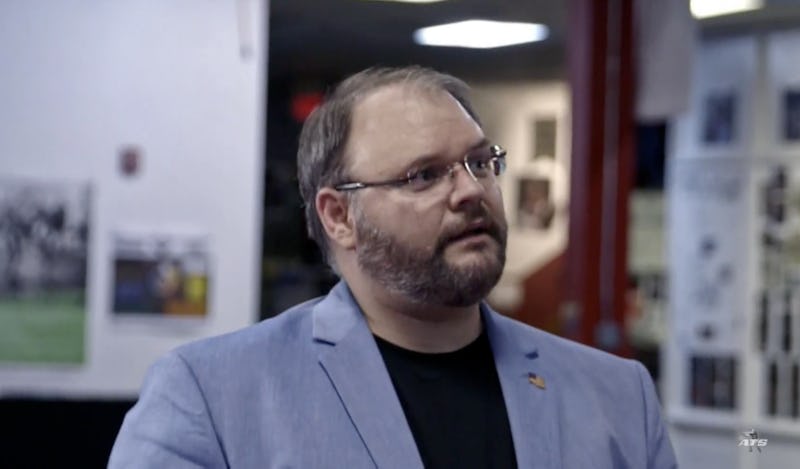 Who Is America?/Showtime
If Who Is America? builds on each episode's antics, you won't be able to watch until the end of the season — and those who have already been interviewed ought to worry. Republican lawmaker Jason Spencer was trending on Twitter, with some asking the controversial Republican to step down for his behavior on the Sacha Baron Cohen Showtime show.
Earlier in the week Spencer had admitted that Cohen had tricked him into yelling "provocative language," but that is an understatement. In what was explained to Spencer as a training video for elected officials to help them survive terrorist attacks, he engaged in racist, homophobic, and Islamophobic strategies, as suggested by Cohen's alter ego, the fake Israeli terrorism expert Col. Erran Morad. He bared his behind, yelled the N-word, and more.
That led the Twitterverse and other politicians to ask for the lawmaker to step down. Spencer currently serves as a state representative in south Georgia. He already lost in the Republican primary and will be out of a job soon, albeit not soon enough for many. Political leaders in Georgia have asked that he resign immediately, including Georgia House Speaker David Ralston, a Republican.
"The actions and language used on this video are reprehensible. Representative Spencer has disgraced himself and should resign immediately. Georgia is better than this," Ralston said in a statement.
The appearance on Who Is America? is just the latest thing Spencer has done to cause an outcry. The state representative, who first was elected in 2010, has a laundry list of offensive actions that even members of his own party have condemned.
In 2016, he introduced a bill to ban the wearing of veils in public by Muslim women. He later withdrew the bill after an outcry. The public was particularly offended that it was an amendment to the bill that forbids the Ku Klux Klan from wearing their hoods in public.
Last year, Spencer threatened physical violence against anyone who was looking to remove Confederate monuments or statues. A woman lawyer and former state Democratic representative and Spencer were arguing about the matter on Facebook when he threatened her safety.
"Looks like you are afflicted with the same poison you claim to fight against. I can guarantee you won't be met with torches but something a lot more definitive. People in South Georgia are people of action, not drama," Spencer wrote online. He added that people taking down the monuments "will go missing" in swamps.
As for his actions filmed on Monday's show, Spencer had a response. "Sacha Baron Cohen and his associates took advantage of my paralyzing fear that my family would be attacked," Spencer said in a statement. He further detailed why he complied with Baron Cohen's requests:
My fears were so heightened at that time, I was not thinking clearly nor could I appreciate what I was agreeing to when I participated in his "class". I was told I would be filmed as a "demonstration video" to teach others the same skills in Israel. Sacha and his crew further lied to me, stating that I would be able to review and have final approval over any footage used.
He also said he would not be stepping down, given that he has just five months remaining to his term.
Also featured on the second episode was an interview with former Vice President Dick Cheney, who talked about waterboarding; an interview with journalist Ted Koppel on the size of Trump's inauguration crowd; and a stunt with The Bachelor's Corinne Olympios in which they convinced her to take partial credit for ending the Ebola outbreak.
Spencer's segment may be the most offensive so far, but it's far from the last.