Another 2020 Candidate Has Jumped In The Race & He's Making Climate Change A Priority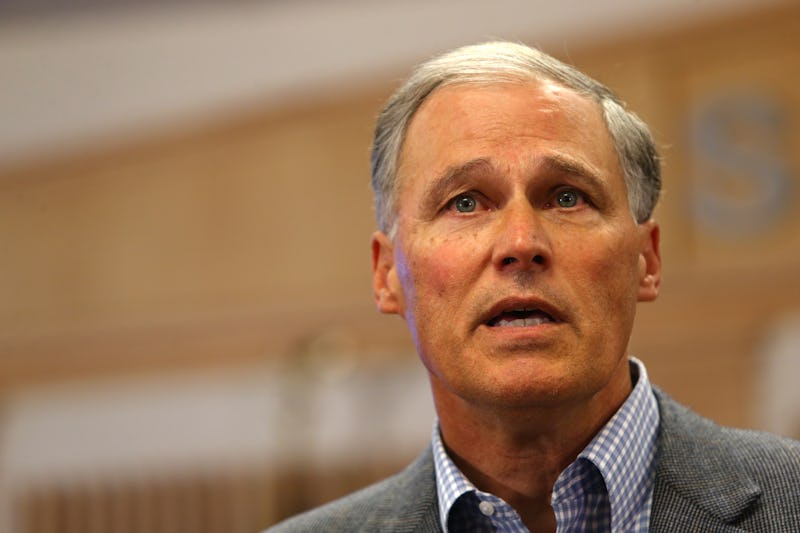 Karen Ducey/Getty Images News/Getty Images
Yet another Democratic candidate has entered the 2020 race. On Friday, Washington's Gov. Jay Inslee announced that he's running for president and that climate change will be his main priority. Though he doesn't share the national familiarity of some Democrats in the 2020 pack, Inslee stands out as the only candidate so far with an explicitly environmental focus.
"We're the first generation to feel the sting of climate change," Inslee said in his announcement video. "And we're the last that can do something about it."
"We went to the moon and created technologies that have changed the world," Inslee continues. "Our country's next mission must be to rise up to the most urgent challenge of our time: defeating climate change. This crisis isn't just a chart or graph anymore. The impacts are being felt everywhere."
Inslee hasn't published his full platform yet — his campaign website says it's coming soon. But he has released his plan's four core principles: moving to 100 percent clean energy and net-zero pollution from greenhouse gases; job creation in the sectors of industry and manufacturing, infrastructure, and clean technology; ending subsidies and handouts for fossil fuel interests; and prioritizing the environmental needs of communities that are minority, low-income, indigenous, or have been affected by climate-related disasters.
Inslee has been heavily invested in fighting climate change since 1988, when a NASA scientist famously addressed Congress to warn about the effect of greenhouse gases on global warming. He won his first term in the House of Representatives four years later, in part by advocating for the reduction of carbon emissions.
Steadfast, Inslee continued to press the issue. According to Rolling Stone, he introduced a bill in 2005 that offered large-scale solutions to climate change, including reducing U.S. dependence on fossil fuels, increasing funding for clean energy technology, and capping levels of greenhouse gas emissions. Rolling Stone's Andy Kroll writes that during his time in the House, Inslee was considered to be "one of the fiercest climate warriors on Capitol Hill."
Inslee is the first major Democratic candidate to advocate for getting rid of the Senate filibuster. In a Vox interview published Friday, the governor called the filibuster "an artifact of history" that "would prevent climate change legislation of any dimension from moving through the Senate." Under current Senate rules, a member may endlessly filibuster to delay the vote on a bill. The obstruction can only be stopped with a 60-vote "cloture" motion, which means that legislation sometimes needs the support of 60 senators (as opposed to a simple majority) in order to actually pass.
Many progressive activists are pushing Democratic presidential candidates to come out in support of eliminating the filibuster. They argue that the rule will stymie any attempts to pass bold legislation. Inslee is now the first to actually do so: Elizabeth Warren has said she's open to it, Kirsten Gillibrand and Kamala Harris have said they have conflicting feelings, and Booker and Sanders have said they're against it, according to The Washington Post. On the day he's launching his campaign, Inslee is already leading the pack on this issue.
"I'm the only candidate who will make defeating climate change our nation's number one priority," Inslee said in his Friday announcement video. "We can do this."