Jay Z References The Twins On '4:44'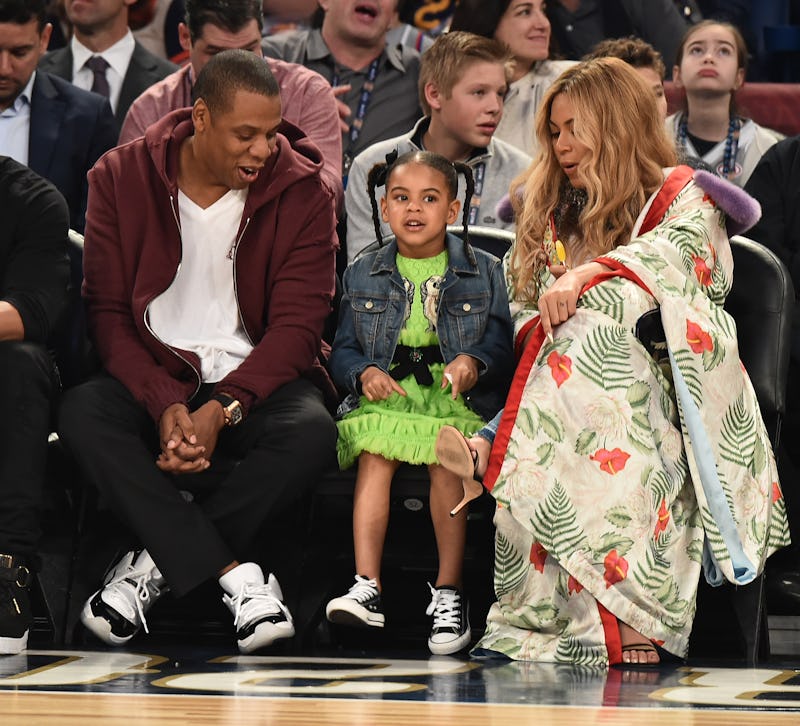 Theo Wargo/Getty Images Entertainment/Getty Images
From the moment Beyoncé stopped the world with her second pregnancy announcement, rumors resurfaced about how they were conceived, just as they had with Beyoncé's first pregnancy. But on his new song "4:44," JAY-Z confirms the twins were conceived naturally. As the rapper offers an apology to his dear wife for mistreating her, he raps:
"Look, I apologize, often womanize/ Took for my child to be born/ See through a woman's eyes/ Took for these natural twins to believe in miracles."
It is fitting for the Brooklyn rapper to refer to the twins as "miracles" given that Beyoncé revealed she suffered a miscarriage in her 2013 HBO documentary, Life Is But A Dream. The singer found music to be "the best form of therapy," and JAY-Z must agree because on the song "4:44" he says, "I still mourn this death, I apologize for all the stillborns/ 'Cause I wasn't present, your body wouldn't accept it."
He goes on to seemingly lament how heartbreaking it would be, "if my children knew," about him cheating. "I don't even know what I would do/ If they ain't look at me the same/ I would prob'ly die with all the shame." Risking not only his relationship with Beyoncé but also his children is simply not worth it. But he doesn't stop there. JAY-Z took several opportunities to rap about the twins and Blue throughout his album, 4:44.
JAY-Z says on "Family Feud," "My wife in the crib feedin' the kids liquid gold," implying that Beyoncé is at home breastfeeding their twins. Yet while Beyoncé is being the best mother she can be, the rapper reflects on being a better father.
On "Kill JAY-Z," he says, "But you gotta do better, boy, you owe it to Blue/ You had no father, you had the armor/ But you got a daughter, gotta get softer." The rapper, whose real name is Shawn Carter, grew up without his father in his life. This loss caused him to develop a tough exterior to hide his pain. But after becoming a father himself, he had to let his guard down to be a better man for his children.
In the song, "The Story of O.J." JAY-Z talks about collecting art that is worth millions of dollars. However, rather than spend it frivolously, he says, "I can't wait to give this sh*t to my children." He also references how his mentality about money shifted since having kids.
On "Smile," JAY-Z says, "Ours was 'F*ck you, pay me/ Now it's, 'F*ck payin' me, I pay you/ Put the rest away for Blue." Instead of getting caught up in making money and being beholden to employers, JAY-Z has become a boss himself and has a savings account for his daughter.
JAY-Z continues to explore his maturity on "BAM." Rather than get into fights with other rappers, he says, "I can't take no threats, I got a set of twins/ Those were just the words you'll never hear again." Instead of battling with his fists or wasting his words on rappers doubting him, he is essentially suggesting that he's in "Formation" because as Beyoncé says, "best revenge is your paper."
4:44 may just be JAY-Z's most revealing album to date. He offers insight into his marriage and his personal growth as a father. From an irresponsible youth striving to make ends meet to a successful businessman worth a combined billion dollars with his wife, JAY-Z proves that his legacy embodies the American Dream. Most importantly, with his children and wife by his side, he is unstoppable.