Jean Blanc Created A 'Bachelorette'-Themed Perfume & His Announcement Video Is, Uh, A LOT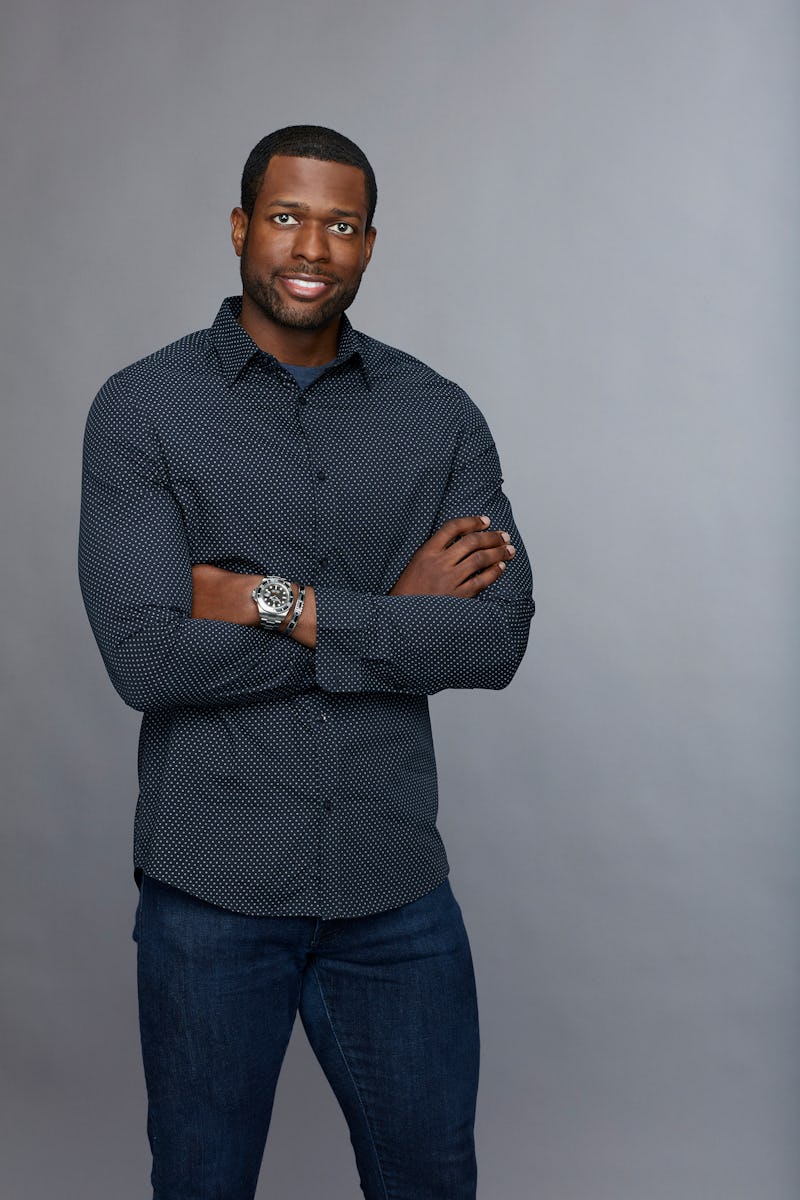 Craig Sjodin/ABC
Watching awkward goodbyes on The Bachelorette kinda comes with the territory, but Jean Blanc's elimination during Monday night's episode really raised that bar to a whole new level. But if you thought that meant this particular contestant was gone completely from your life, think again. Jean Blanc is back and he wants to make all your fragrance dreams come true. Jean Blanc from The Bachelorette has created a perfume for women, which he just recently announced in a video on his Instagram page.
The perfume, called Toujours Rose (which apparently means Forever Rose in French), is supposed to be "the longest lasting rose-scented fragrance ever created," according to Blanc's video. The former suitor goes on to say how this creation is a passion project of his that he's been working on for several months. Those interested in buying a bottle for themselves need only to make their way to the Jean Blanc Boutique website, which goes into a little more detail about what the fragrance is and how to get it. "This signature scent worthy perfume captures the essence of a confident and modern woman," the official description on the site read. "It is a fresh, floral, and feminine fragrance. This alluring perfume embodies all of the delicate traits of all strong females everywhere."
Of course, fans won't be able to help but notice the convenient timing of all this, considering Blanc was just sent packing on the series after giving Becca a perfume that he'd made just for her. Plus, if you factor in how things went down during their final conversation together, this fragrance launch catered to women may definitely raise a few eyebrows.
Here's how it all played out on The Bachelorette: Blanc was frustrated with the fact that he had yet to have a one-on-one date with Becca and was hoping he'd be able to make more of a lasting impression on her at the group date cocktail party that evening. Well, he got his wish, but not in the way he was hoping. The guy definitely came on a little strong, telling Becca:
"I've been doing a lot of thinking, and I really haven't felt like this in a long, long time. I just wanted you to know I'm truly falling for you, and I'm falling in love with you, and I'm just putting it out there."
Needless to say, Becca was slightly taken aback by how fast his feelings were progressing, especially considering they hadn't really had many interactions with each other yet. Since the feelings weren't mutual, the Bachelorette opted to part ways with the "Colognoisseur" so as not to waste either of their time. It was at that point during their goodbyes that Blanc awkwardly asked for the perfume he gave her back and said that he hadn't actually meant the things that he'd just said about falling in love with her, revealing, "I just thought that's where you wanted to take things."
Needless to say the exchange was extremely cringeworthy and caused many viewers to doubt Blanc's real intentions for joining the show, which may only grow more prominent now that he's actually launched this fragrance meant to embody "strong females everywhere." What exactly does "here for the wrong reasons" smell like? We may be about to find out.
Shortly after the episode, Blanc took to Instagram to express his thoughts over his journey on the show, including how he didn't feel he was properly portrayed at the end:
"love is a two way street....I wish I was met half way when I took a step forward. I am utterly distraught and heartbroken. I truly was falling in love with Becca, just because I did not cry does not mean I was not in a state of depression. No I did not ask for my gift back. There is a lot that was not shown, like my limo ride home, where I was truly able to articulate my thoughts . I need to take time out and reflect as well as pray about this situation."
The whole situation seems a little fishy — let's just hope that's not the smell of Blanc's perfume.