This Designer Is Bringing Customizable Plus Size Leather Jackets To The Market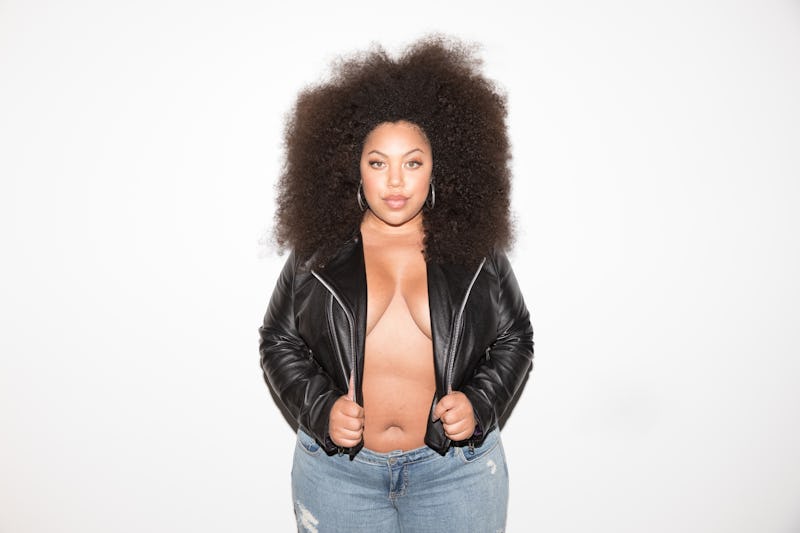 Courtesy Jeff Cafone
A couple of years ago, Jeff Cafone picked up his grandmother's old sewing machine from the 1950s. Having recently decided to eschew a career in music, he found himself in need of a new creative outlet. Sewing, he figured, was a hobby he could carry out in a small Manhattan apartment without too much noise or mess.
Cafone began making himself denim jeans and jackets, until stumbling upon some leather on the back shelf of a fabric store. "I thought, 'I'd love to make something out of that one day,'" he tells Bustle. In Cafone's words, "Leather is, quite literally, a different animal. It's a totally different skill set, different machines, more expensive, and definitely more difficult. I knew that if I ever wanted to make my hobby into a business, this was the way to go. It's something that not everyone was doing, and not everyone could do."
Two years ago, he started a bespoke, made-to-measure leather jacket business for customers of all shapes, sizes, and genders. What he soon realized was that the luxury and quality of his pieces weren't something his plus size customers were especially used to. "I've never had access to something of this quality that looks and feels like this," plus size women, in particular, would say.
"I honestly didn't think too much about it at first," Cafone admits. "That's not my life. I'm a male, for starters, not a plus size woman. But I was getting that feedback more and more, so at a certain point I decided, 'OK, let me take a look at why people are telling me this. What is the state of plus size fashion?' My mind was totally blown. I was shocked at the lack of quality pieces and the complete absence of luxury brands." It's a gap in the market that the designer knew he wanted to help fill, which is why he is now launching his first ready-to-wear plus size collection in sizes 12 to 30, aptly titled All 67 as an ode to the 67 percent of American women who wear plus sizes. His are investment pieces, no doubt, and emblems of a kind of luxury long assumed to be off-limits to plus size women.
Cafone's initial collection, which launches on Sept. 4 and is now available for pre-order, is centered around a tan suede moto jacket, a pebbled black moto with an optional detachable shearling collar, and a vegan leather option. He has also designed some staple knitwear pieces, including a cropped hoodie, a pearl stick sweater with lace detailing, and an Italian fleece T-shirt with terrycloth backing. The collection is made in northern Portugal at the same high-end factories doing Moschino, Dior, and Acne, among others.
"I think encouraging plus size women to see their bodies as something worth investing in is no bad thing," plus size writer, blogger, and social media editor Bethany Rutter tells Bustle after seeing Cafone's new line. "Plus size bodies aren't a work in progress or a stopgap on the way to being thin, so the more options we have to dress them beautifully, the better, I think."
Rutter, who adds that leather and suede biker jackets are something "my plus size friends and I have found hard to get right in the past," makes a very intriguing point. Thanks to the sheer lack of high-end goods in the market, plus size consumers aren't generally encouraged to invest in quality garments. Not until they've "lost the weight," anyway.
By specifically catering to plus size shoppers, Cafone is doing his part to add choice to a facet of fashion that undoubtedly needs more of it. "If you look at straight size fashion, there's an overabundance of options," he says. "Every style, subculture, and demographic is represented across the entire spectrum of price and quality. However, with plus you're grouped together solely by the size of your body, not your individuality. That's crazy to me, and I don't think it's the future [...] My bet is that three, four, five years from now, we're going to see the higher end of the plus market fill in with more contemporary options. I want to be there. I want to own that. I want to be a catalyst for that change."
Although Cafone's pieces may not be what the average shopper would call budget-friendly, he considers the line to be "affordable luxury." With jackets ranging from approximately $589 to $749 (or $489 to $589 at his pre-order discount price) and knitwear ranging from $49 to $149 (or $39 to $119 if pre-ordered), these are undoubtedly the kinds of pieces you buy to last a lifetime — and Cafone is certain that they will.
"I'm aware that quality comes at a higher price point than what the market is 'used to,' but I believe that all women deserve to invest in themselves. They should have the same access to trendy luxury options that are near-ubiquitous in straight sizing," he adds. "I'm setting prices to be competitive with straight size brands like All Saints, but at a much higher quality. My return and exchange policies will be very generous, and I plan to listen to the community in order to continually improve."
It's clear that many consumers are already intrigued. Among Cafone's fans are Orange Is The New Black's Danielle Brooks and Lea DeLaria. By a stroke of luck, Cafone met one of the women on the show through music. "At the time, I had never made a leather jacket before," he jokes. "I was still playing around with denim and faux material to hone my craft. But when the opportunity came [to fit members of the cast], I said, 'Oh yeah sure, I make the best leather jackets.' [...] It was a great experience fitting women of all different shapes, sizes, ethnicities, and sexualities. Some of my earliest sizes originated from some of the Orange girls, and I branched out from there. Danielle in particular had a huge influence on me deciding to go exclusively into plus."
Lydia Okello, style editor and fashion blogger of Style Is Style, is also fully on board with the new line. "It's affirming to see designers utilize the need for access to luxury items [in plus]," she tells Bustle. "I've worked in various facets of the fashion industry for 10 years, and I've been told time and time again that 'larger sizes just don't sell.' As more designers enter the luxury plus market, successes will lead to acceptance and size inclusion."
Something that may help Cafone on the way is that he is already cognizant of tailoring garments to plus size bodies, rather than sizing them up from straight size measurements. "I've heard that a lot of companies simply extend their size range up, and that will never work properly when you get into the upper sizes," he muses. "When I set out to create the best plus size moto jacket, I basically started from scratch. I used what I learned from fitting custom clients with a wide range of body types. We started with a size 18 fit model, and then expanded the size range down to a 12/14 and up to 28/30."
He also incorporated a few details to allow the jacket to fit multiple body types. "The back of the jacket has a gentle arch up starting at the side hip and extending across the lower back," he adds. "This allows women with larger hips, or a high butt to comfortably zip the jacket without it catching and bunching up. I also paid close attention to the upper arms and biceps, giving people with bigger arms a better range of motion, but without looking baggy and floppy."
It's seemingly small details such as these that make his pieces even more worthwhile. It's details such as these that make his pieces worth the investment. Cafone will also continue to design bespoke pieces on a limited basis to customers who can meet for one-on-one fittings in New York City.
As fashion, beauty, and lifestyle blogger Stephanie Yeboah tells Bustle, "The introduction of luxury plus size clothing is a great addition for those who can afford it." However, she notes that plus size clothing tends to be on the expensive side as it is, and purchasing luxury items isn't something that can realistically be on everyone's radar.
Although undeniably true, what Cafone is doing is adding options. The straight size market sells clothing at all price points and for every style imaginable, yet the plus size market is not even close to being able to claim the same. Sartorial equality means just that, though: An equal playing field. Every option possible for those who want them, because there will always be someone who wants them.
There will always be customers who crave high-end, luxury apparel. Jeff Cafone's plus size collection just made that a little more accessible for the plus size ones.