Jeff Sessions Is Almost Confirmed As AG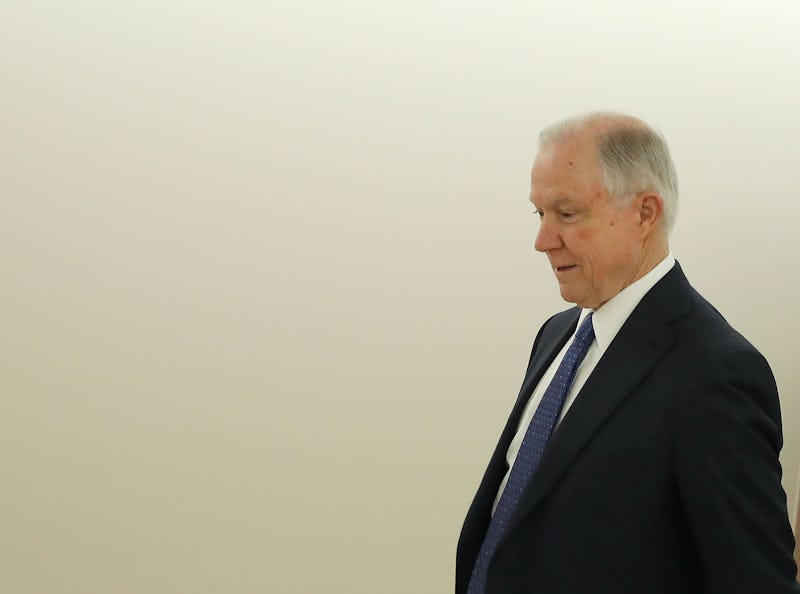 Mark Wilson/Getty Images News/Getty Images
The Associated Press reported on Wednesday morning that the Senate Judiciary Committee approved Senator Jeff Sessions' Attorney General nomination. According to CNN, Sessions only passed through the committee on a thin, party-line margin — all 11 Republican members voted to confirm the nomination, while all nine Democratic members voted to oppose it. Sessions' confirmation will now proceed to a simple majority vote by the full Senate, likely sometime in the next few weeks.
Although Sessions has passed this first hurdle toward becoming the next Attorney General, the next step could be his last. Senate Democrats and the American public have voiced unprecedented opposition to Sessions' appointment (his hearing marked the first time a sitting Senate testified against a fellow current Senator in a presidential nomination). Throughout his career as Alabama state Attorney General, Sessions advocated for prison chain gangs, fought against a political movement to ease institutional racism in the state's judicial selection process, and drastically loosened restrictions on corporate influence in politics. He was also infamously blocked from assuming a federal judgeship by the Senate in 1986, on the grounds of his troubling racial record. Senate Democrats only need to flip three Republican votes to block the nomination, and the widespread disapproval of Sessions' appointment may make that easier than with other nominees.
However, the Democrats will have to carefully weigh their options in moving forward, as most Trump nominees left to be confirmed represent unthinkable losses for the Democrats. Secretary of Education nominee Betsy Devos has faced similar ire from the party and the public, as well as Treasury Secretary nominee and former Goldman Sachs executive Steve Mnuchin and Housing and Human Services nominee Tom Price. Partisanship being what it is in the Senate, the chances of being able to block all these problematic nominations without also having a majority is very small, so the Democrats will likely have to pick and choose their battle. Given how much hesitancy the party has shown towards Sessions, he seems a likely candidate to invoke the party's full resistance.
Given all the chaos at the Department of Justice right now, finding a new Attorney General is a top priority for the Senate. However, Sessions' record is so unnerving that it doesn't seem prudent to confirm him. The confirmation vote could be a defining moment for the Democrats throughout the next four years — whether they can secure the political and moral high ground to oppose this pivotal nomination could determine the party's congressional efficacy for the rest of Trump's term.