Sessions Rescinds Memo To Reduce Private Prisons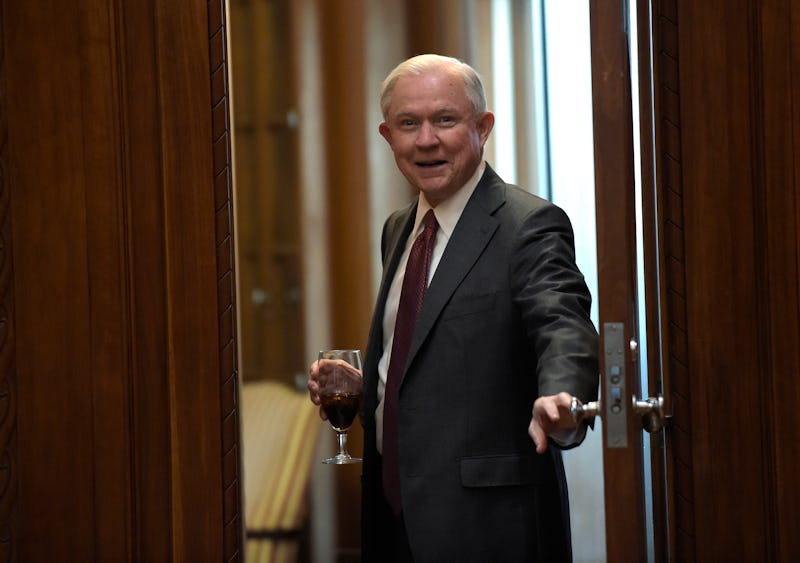 Pool/Getty Images News/Getty Images
In a move signaling his potential support for private prisons, Attorney General Jeff Sessions has rescinded an Obama-era memo that directed the Bureau of Prisons not to renew private prison contracts. Sessions claimed that the prior administration's policy "impaired the Bureau's ability to meet the future needs of the federal correctional system" in a new memo sent to the acting head of the Bureau of Prisons (BOP) on Tuesday.
"I hereby rescind the memorandum dated August 18, 2016, sent to you by former Deputy Attorney General Sally Q. Yates," Sessions wrote in the one-page memo. "The memorandum changed long-standing policy and practice and impaired the Bureau's ability to meet the future needs of the federal correctional system." Sessions directed the Bureau to return to its previous approach in using private prisons to help manage the population of federal inmates.
Under President Barack Obama, the Department of Justice implemented new policies in 2016 geared at phasing out the use of private prisons following concerns over their safety and security. "Time has shown that they compare poorly to our own Bureau facilities," Yates said of private prisons in her Aug. 18, 2016 memo. "They simply do not provide the same level of correctional services, programs, and resources; they do not save substantially on costs; and as noted in a recent report by the Department's Office of lnspector General, they do not maintain the same level of safety and security."
Yates' memo – and the Obama administration's new policy – followed an audit from the Justice Department's watchdog agency of so-called "contract prisons," used by the government to hold what was at that time roughly 12 percent of the total federal prison population. According to the Inspector General, privately run federal prisons "incurred more safety and security incidents per capita than comparable institutions [run by the government]." The report noted that although the private prisons audited had fewer reported incidents of positive drug tests and sexual misconduct, they "confiscated eight times as many contraband cell phones annually on average as the BOP institutions" and had "higher rates of assaults, both by inmates on other inmates and by inmates on staff."
A rapid increase in federal prison population in the late 1990s initially led to overcrowding at government-run facilities, causing the federal government to turn to privately operated correctional institutions. While Yates had argued that a decreasing prison population reduced the government's need to contract with private prisons, current Attorney General Sessions appears to have a different opinion on the matter. "This will restore BOP's flexibility to manage the federal prison inmate population based on capacity needs," a spokesperson for the Department of Justice reportedly told NBC News in a statement regarding the memo.