Jeff Sessions Has Been Confirmed As The New AG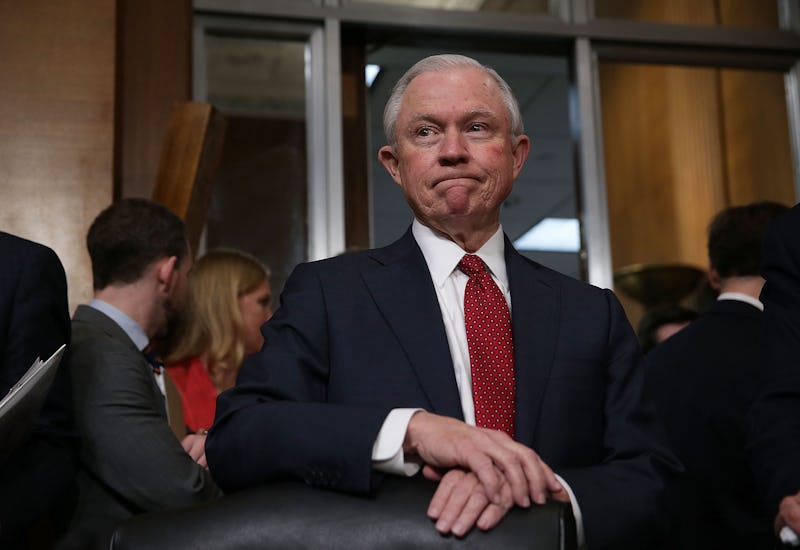 Alex Wong/Getty Images News/Getty Images
After months of anticipation, controversy, and argument, yet another of President Donald Trump's key cabinet appointments just got confirmed. Alabama Sen. Jeff Sessions is now attorney general, after a vote in the Senate gave him more than the 51 votes he needed. His success comes despite the ardent opposition of many parts of the Democratic Party and America's left wing, and enduring questions about his widely alleged hostility to voting and civil rights.
Sessions cleared the vote by a final tally of 52 in favor, 47 against, and Sessions himself simply stating "present." He will be the 84th attorney general of the United States.
In other words, the country has a new top cop, and one whom progressives, voting rights advocates, and racial justice demonstrators can't feel very good about. The night prior to his confirmation, Massachusetts Senator Elizabeth Warren attempted to read a letter by Coretta Scott King, the late widow of Dr. Martin Luther King Jr., which called out Sessions' history of opposing voting rights. And although Senate Majority Leader Mitch McConnell successfully kept Warren from reading it on the Senate floor, his intervention has only put a charge into its claims against Sessions and the attention it's received.
Sessions will begin the job immediately, and foremost on the minds of many progressives will be his positions on racial justice and voting rights. Also, it'll be consequential whether he follows the example that former deputy attorney general Sally Yates did before Trump fired her for refusing to defend his immigration and refugee ban last week ― whether he'll refuse to enact orders from the president that he considers to be unlawful.
Given the immense tumult already caused by that executive order, raising the specter of a controversy-ridden administration in the years to come, the pointed, prophetic question Sessions asked of Yates during her confirmation hearing in 2015 is worth keeping in mind for the rest of his tenure: "...if the views the president wants to execute are unlawful, should the attorney general or the deputy attorney general say no?" That choice is up to him now.