Jennifer Garner Just Wore The Exact Same Dress Meghan Markle Wore The Day Before Her Wedding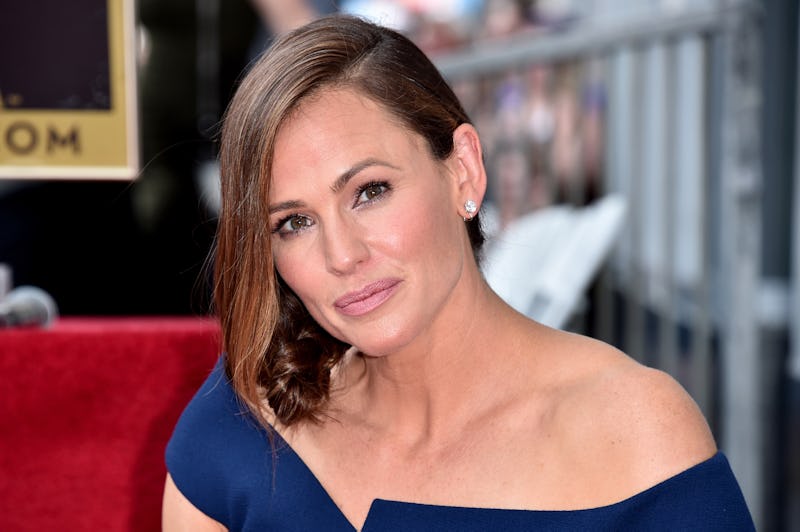 Alberto E. Rodriguez/Getty Images Entertainment/Getty Images
What do Jennifer Garner and Meghan Markle have in common besides the fact that both are beautiful and both have been actors in America? Oh, just a great taste in dresses — that's what! Jennifer Garner wore Meghan Markle's navy blue, pre-wedding dress for her own massive occasion! The ladies both wore this frock at critically important events in their respective lives. Of course both looked smashing.
During the ceremony in which she received her star on the Hollywood Walk of Fame, Garner slayed the navy blue, off-the-shoulder, slightly geometric, and asymmetrical Roland Mouret Barwick dress. Royal watchers and celeb fashion lovers recognized it as the same chic and structured dress that Markle was photographed in the night before her wedding.
Both Garner and Markle styled the fit and flare, wool crepe dress a bit differently. But each presentation was unique and absolutely stunning.
Garner wore her hair in a bedhead-like, faux bob, with her normally long brown locks tucked underneath. You very likely stopped, did a double take, and asked yourself, "Wait... did Jennifer Garner hack off her hair and get a lob?"
Meanwhile, across the pond and earlier this spring, Markle wore her hair in long, loose, and flowing waves with the exact same frock.
It goes to show how universally wearable this silhouette and style is. It's also further proof that the Meghan Markle effect is indeed real, a thing, and legit.
Garner was all sorts of va-va-voom in the sapphire dress. She paired hers with ankle strap, closed-toe dark heels. The dress really did call attention to her shoulders, arms, and legs. That's because it's structured without being stiff. Garner's wavy locks added a dose of fun and were a contrast to the tailored shape.
Here's a look at Markle in that same dress. She was also stunning and classic at once in this piece.
This particular vantage point showed off all of the angles and the deceptively simple details. This is no ordinary navy blue dress. It has such a unique cut.
Congrats to Garner on her star on the Hollywood Walk of Fame.
Here's another front view of Markle when she wore the same dress. She paired hers with contrasting, closed-toe, gray pumps.
The Duchess-to-be looked amazing when flanked by her mother Doria Ragland the night before she and Harry swapped vows.
On Selfridge's site, the sculpted and sublimely sexy dress is listed with a $1,465 price tag. Unfortunately, it's also totally sold out. It indicates that this dress was once offered in red and white options, as well. If you're totally in love with how beautiful both Garner and Markle looked while wearing this piece and were totally coveting your own, you're out of luck at the moment. Despite not being able to procure an investment dress such as this for yourself, you can still marvel at Garner and Markle.
So, yeah, Garner and Markle were basically twinning — albeit three months apart and on different continents. But a fabulous dress is a fabulous dress — and the Roland Mouret Barwick frock was a fabulous fashion moment for each of them.