Nope, Jennifer Holliday Isn't Performing For Trump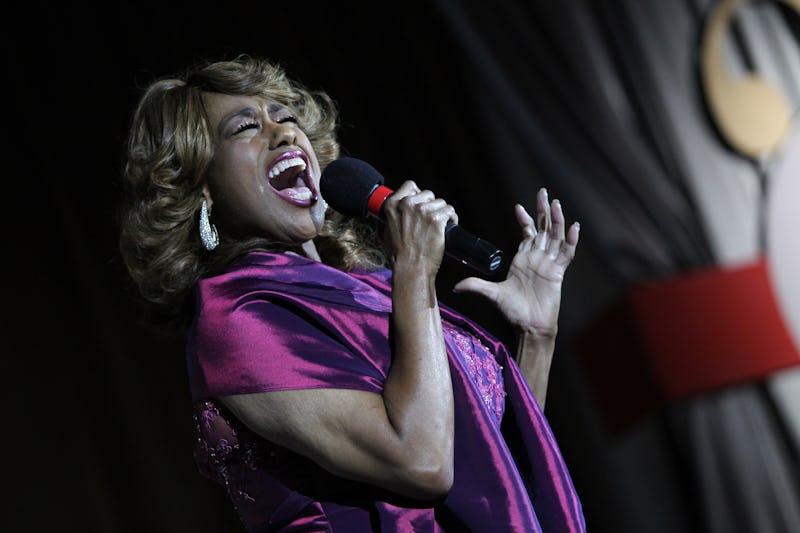 Paul Morigi/Getty Images Entertainment/Getty Images
Despite conflicting reports about the Dreamgirls star, Jennifer Holliday is not performing at Donald Trump's inauguration, her publicist confirmed to Bustle. On Saturday morning, Holliday published an open letter about canceling the performance on TheWrap. The Broadway star admitted she reconsidered her decision after reading an article on The Daily Beast, which focused on why Holliday performing would be "heartbreaking to gay fans." In response, the singer apologized for, what she called, a "lapse of judgement, for being uneducated on the issues that affect every American at this crucial time in history and for causing such dismay and heartbreak to my fans."
Holliday's publicist told Bustle via email,
Jennifer did write the letter in the middle of the night and it's authentic. She is definitely not performing and the inauguration committee is aware of her decision not to perform.
In her open letter, Holliday states that her original decision was "simply keeping in my tradition of being a 'bi-partisan songbird'" and refers to the fact that she has performed for both Democrat and Republican presidents — Reagan, both Bushes, and Clinton. She claimed that the inauguration was presented to her "as the 'Welcome Concert For The People'" and explained that it was her patriotic instincts that led her to initially accept the position. She wrote, "I thought, For America! I was honestly just thinking that I wanted my voice to be a healing and unifying force for hope through music to help out deeply polarized country."
On Friday, Holliday's rumored decision to play Trump's inauguration ceremony had been met with consternation and confusion on social media, with the New York Times describing the singer as "startled and disheartened ... by the venom that greeted the news of the participation." The paper also reported that "Ms. Holliday sounded certain about the choice," though they also quoted her spokesman as suggesting in an email "that the decision was not set in stone." Holliday's open letter suggests that while she wanted to perform for "healing" reasons, she was also open to being educated as to why it would be considered a betrayal of the LGBT community.
Directly addressing the LGBT community, Holliday explained her change of heart in Saturday's letter and wrote,
Please know that I HEAR YOU and I feel your pain. The LGBT Community was mostly responsible for birthing my career and I am deeply indebted to you… You have loved me faithfully and unconditionally and for so many years you provided me with work even though my star had long since faded.
Holliday is best-known for originating the role of Effie White in Dreamgirls on Broadway back in the early '80s and remained with the show for almost four years after it first opened in 1981. Her recording of the ballad "And I'm Telling You I'm Not Going" brought her fame when it made it onto the Billboard Hot 100 chart and earned the singer her first Grammy Award. As the aforementioned Daily Beast article already stressed, "the role of Effie White and the song 'And I'm Telling You I'm Not Going' were internalized, rallied, and championed by the gay community, particularly at that time in the '80s."
Holliday herself seemed more than aware of the support she had from the gay community. In a 2014 Pride Source interview, she stated:
"They're the ones who carried the legacy of Dreamgirls way beyond with impersonations and pageants, so it lived in the gay community for many, many years. Otherwise it would not be a movie. It wouldn't have been anything if it had not been for the gay community."
As such, Holliday's initial decision to play for the president-elect — who in February 2016 stated that if elected, he'd consider appointing Supreme Court Justices who would overturn marriage equality — seemed shocking. And Trump's tension with the LGBT community didn't stop there. He selected Indiana governor Mike Pence to be his vice president — a man who has a long history of anti-gay stances, including signing the Religious Restoration Freedom Act in 2015, which some argued allowed business owners to discriminate against LGBTQ customers when citing religious grounds to refuse them service. Pence has been a longtime opponent of gay marriage and the campaign that got him elected to congress in 2000 was full of seemingly homophobic statements, including advocating that profits from a program to help those with HIV/AIDS should be given to organizations "which provide assistance to those seeking to change their sexual behavior." In case that's not enough, Trump has appointed a cabinet, which the Boston Globe pithily referred to as a "who's who of homophobia." So it's no wonder that the LGBT community seemed so shocked, hurt, and angry by Holliday's original decision to play for Trump.
Still — hats off to Holliday for being so responsive to her critics and for taking the time to reconsider her position. In her letter, Holliday says, "Thank you for your posted comments both the good supportive ones as well as the ugly hurtful ones." To err is human — and to reconsider playing Trump's inauguration is even more so.