Jennifer & Josh Welch's Relationship Is A Real AF Example Of How Addiction Affects Dating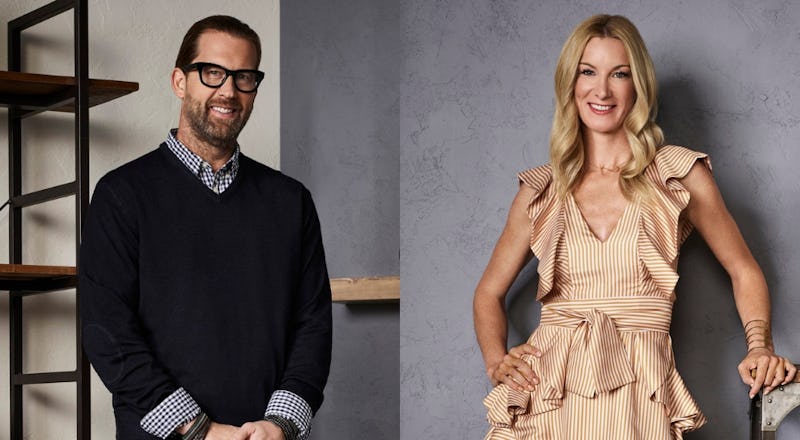 Tommy Garcia/Bravo
Relationships can be really, really tough, but Jennifer and Josh Welch's relationship timeline proves that, sometimes, all those hardships are worthwhile in the end. The couple that now stars in Bravo's Sweet Home (and formerly led Sweet Home Oklahoma) has experienced enough ups and downs for all of us in their 10-plus years together. Through it all, they've both stayed strong for themselves, for each other, and most importantly, for their two children.
Josh has openly struggled with substance abuse, and in 2012, he decided to resign from practicing law rather than fighting disciplinary action brought against him by the Oklahoma Supreme Court for allegedly bribing a police officer.
"My sobriety and family mean more to me than being a lawyer," he told The Oklahoman in a statement. "The resignation speaks for itself, and I really cannot add anything to it beyond what it says. I accept full responsibility for my actions, and do not blame anyone else for my conduct. I have an enormous amount of regret and remorse about what happened. I look forward to moving on to a new chapter in my life."
According to The Oklahoman, Josh entered an Alford plea for a misdemeanor charge, which means that he accepted the sentence while still asserting his innocence. He was fined $500 and put on probation for two years.
Afterward, Jennifer filed for divorce, telling People in 2017 that Josh's relapse had been the main reason for their split. She said that at first he didn't want to go to rehab, but after back-to-back stays at two California facilities in 2015, she could tell he was back to his old self, so she decided to give things another shot. Currently, the couple is living happily under the same roof, but aren't yet ready to tie the knot again. Here's a more specific breakdown of what led them to where they are now, and when it all happened.
The Couple Met In 2000
Although it may not seem that long ago, Josh and Jennifer met 18 years ago, according to People.
They Had Their First Son In 2002
Dylan, who is now 15 years old, was born in 2002.
They Got Married In 2005
When Dylan was three, the couple wed in Santa Fe, New Mexico, per People.
They Welcomed Another Son In 2006
Roman is their youngest child at 11 years old and he loves their family dog, Tubbs, almost as much as Jennifer does.
Josh Resigned From Practicing Law In 2012
As reported by The Oklahoman, he resigned after being accused of offering to pay an Edmond police officer $500 to not show up at a client's driver's license revocation hearing.
The Couple Officially Divorced In 2013
"He relapsed and we had a really candid conversation. 'Do you want to go back to rehab? Do you want to start therapy again?'" Jennifer told People in the aforementioned interview. "And he didn't — he didn't want to." That's when she knew she had to file for divorce. "I was heartbroken. I was devastated, but I knew I had to protect as much as I could: the children, our finances, our home," she said.
In 2015, Josh Went To Rehab & Everything Changed
"When he came back from rehab and I could tell that he was sober again and I could see the light in him, I could see his soul again, I missed him. I missed that guy," Jennifer told People, noting that this is when she decided to "give it another try."
Now, They're Back Together — Kind Of
Since Josh got sober again, he has moved back in with Jennifer and the kids, and they're one big happy family. But Jennifer doesn't seem interested in getting remarried. "It's just like, 'No! We've already done that,'" she told AOL News. "I see the tradition aspect of it, but I bought into the whole fairytale and it didn't come out the way I wanted. I'm really happy now, though. I like this now."
It may not be a perfect love story, but it certainly is real. Watch the couple live and work together when Sweet Home airs on Bravo at 10 p.m. ET on Fridays.