J. Law's 'Red Sparrow' Nude Scene Made Her Nervous — Until Her Director Did This One Thing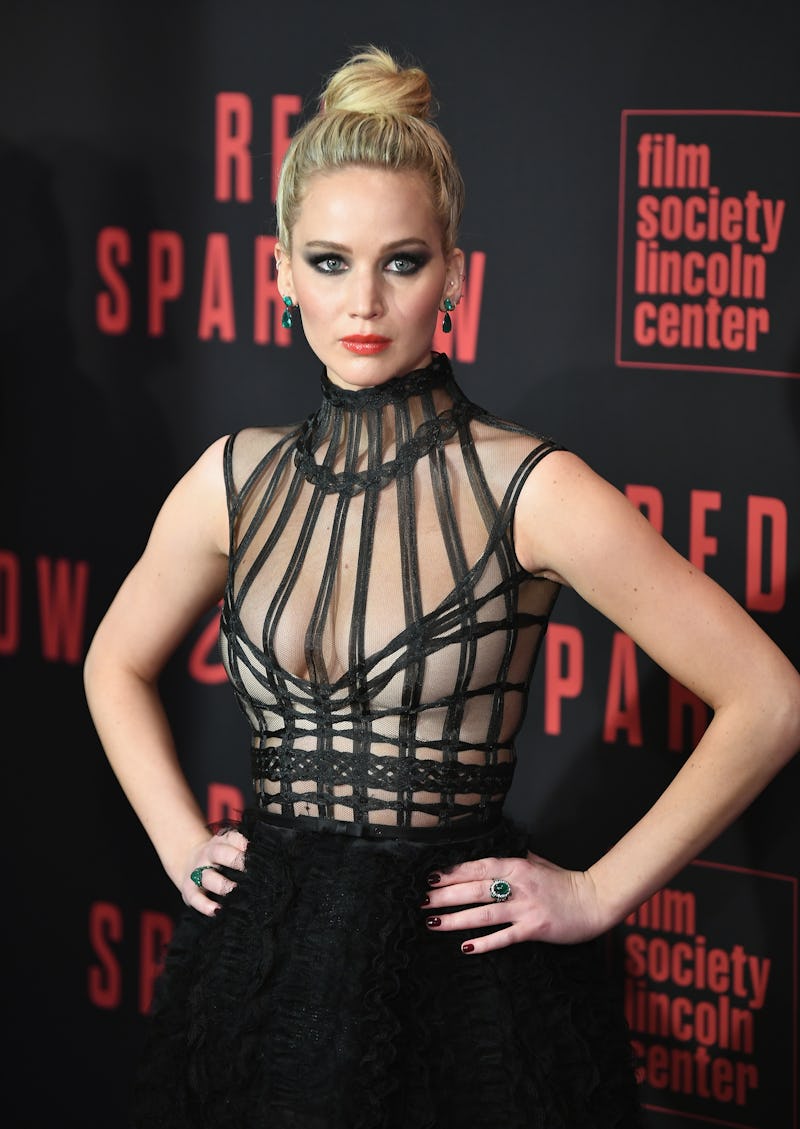 Dimitrios Kambouris/Getty Images Entertainment/Getty Images
Fans will get to see a lot of J. Law in her new movie, and that's exactly what she wanted. In her new Vanity Fair cover story, Jennifer Lawrence comments on her Red Sparrow nude scene — even though she shouldn't have to. But, what Lawrence says about the nude scene — her very first — shows that it was an empowering way for her to take back her body after private nude photos of her were leaked four years ago.
"Red Sparrow really scared the hell out of me because I get nude," Lawrence told Vanity Fair, even admitting she was hesitant to undress for the role in which she plays a former Russian ballerina turned international spy who uses her body as a weapon. "I tried to do the movie without nudity," she said. "But realized it just wouldn't be right to put the character through something that I, myself, am not willing to go through."
The truth is, Lawrence had gone through something similar in her life. In 2014, Lawrence, along with other female celebrities, had their iCloud accounts hacked and their personal photos stolen. It resulted in the leak of Lawrence's nude photos, which were intended for her then boyfriend Nicholas Hoult. In a statement to Buzzfeed shortly after the leak, a spokesperson for Lawrence called the hack a "flagrant violation of privacy."
In a 2014 interview with Vanity Fair, Lawrence went one step further. "It is not a scandal. It is a sex crime. It is a sexual violation," she said, adding:
"I can't even describe to anybody what it feels like to have my naked body shoot across the world like a news flash against my will. It just makes me feel like a piece of meat that's being passed around for a profit."
While having your private photos stolen is a crime — all three hackers were sentenced to prison — Lawrence told Vanity Fair she worried about the criticism she might get for choosing to be nude onscreen. "My biggest fear was that people would say, 'Oh, how can you complain about the hack if you're going to get nude anyway?,'" she explained.
But, Lawrence decided that she couldn't worry about what other people thought, she had to do it for herself. After all, this time it was her choice. "I got something back that was taken from me," Lawrence said. "And it also felt normal." She chalks that up to Red Sparrow helmer Francis Lawrence, who directed her in three of the four Hunger Games movies.
Lawrence said it was all about how he looked at her while shooting the nude scene. She said:
"He looked me right in the eyes like I had clothes on and then all of a sudden I was like, 'Oh, O.K., it's just like I have clothes on.' Everybody here is professional. You're still at work. One look just made me comfortable. It didn't make me feel naked."
As a woman in Hollywood, Lawrence hasn't always gotten that kind of professionalism. Last year at the Elle Women in Entertainment event, Lawrence talked about how, when she was first starting out, she was asked to stand in a "humiliating" nude lineup of actors so that a female producer could judge her body. Lawrence said the producer told her she "should use the naked photos of myself as inspiration for my diet."
In a post #MeToo and #TimesUP world, it's no surprise that Lawrence would want to be more open about this nude scene. Throughout her press tour she's mentioned it, even joking with Marc Maron on his podcast WTF that it's a reason to see the film.
But, every time she talks about it, she's quick to focus on how empowering it is for a woman to take back control of her body. In an interview with 60 Minutes, Lawrence said, "I realized there's a difference between consent and not. I showed up for the first day [on Red Sparrow] and I did it and I felt empowered." She was able to get something back that she had lost after the photo hacks. "It's my body, it's my art, and it's my choice," she said. "And if you don't like boobs, you should not go see Red Sparrow."
By talking about it, Lawrence is also taking back the narrative that surrounds her body. Lawrence shouldn't have to defend her personal choices onscreen or off. She made this clear when she said the viral Red Sparrow cast photo being called "sexist" because she was wearing a sleeveless high slit dress in 40 degree weather while her male castmates wore jackets wasn't actually sexist at all.
But the reason she's been so vocal about this nude scene is because she wants people to know that she's not looking for permission, she's done letting anyone control her or her body.