Jennifer Lopez's Reaction To Falling Mid-Concert Shows Exactly Why She's A Star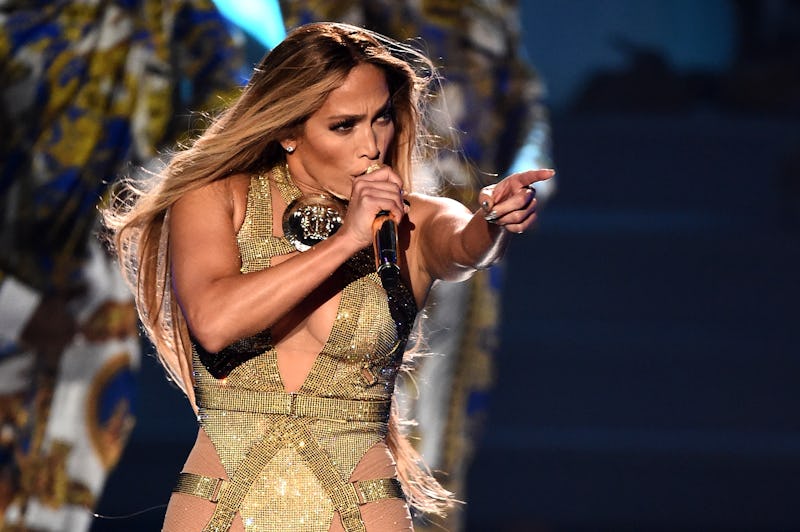 Michael Loccisano/Getty Images Entertainment/Getty Images
She's a multi-hyphenate icon and one of the most talented performers on the planet. That doesn't mean she's not allowed to slip up — pun intended — every now and again. Jennifer Lopez fell on-stage while performing in Las Vegas on Saturday night, E! News reported, but she immediately recovered from the spill like a total pro. In fact, there's a good chance that most people in the audience didn't even see it happen. That's how fast she was.
The blink-and-you'll-miss-it moment happened on September 22 during one of J. Lo's final All I Have residency shows in Las Vegas. The 49-year-old star has been performing there for the last three years, so a minor spill was bound to happen at some point, right?
In a video of the fall, Lopez can be seen skipping around the perimeter of the stage during "Dance Again" and bending down to give the crowd some high-fives. It's unclear whether she actually slipped on something or just lost her balance, but she stumbles for a bit before falling onto the stage. As soon as she fell, however, she popped right back up without missing a beat. A fan on Twitter (@jlogreenknews) caught the moment on video, and you have to admit — her reaction time to the unexpected fall is seriously impressive.
The whole thing was kind of reminiscent of a similar incident between a fan — the wind-blowing kind — and another iconic pop star. Back in 2013, the one and only Beyonce was performing "Halo" during a show in Canada. According to Us Weekly, Bey was headed down to the pit of fans — the literal Beyhive — for a duet with a special member of the audience.
As Queen B bent down to get closer to the Hive, her hair got sucked up into one of the massive wind-blowing fans on stage. Most people would have probably screamed, cried, or panicked at the very least, but nope, not Beyonce. She just sat there — super chill, super calm — and continued to sing while she and her security got her hair loose. It's endlessly impressive.
Beyonce and Lopez's mid-song slip-ups happened as they were trying to do something nice for their fans. J. Lo was trying to connect with her fans via some quick high-fives when she took a spill, and Beyonce was on her way to give one special fan a moment in the spotlight when her hair got caught. Luckily, neither one of the stars sustained injuries from their incidents. And both went on to interact with fans as if nothing had happened. It's almost as if how singers react to unforeseen, on stage accidents, is the true test of stardom.
Lopez only has a few more shows to go in Las Vegas before she wraps up her All I Have residency on Sept. 29. Fans will likely get to see plenty more of the triple-threat star over the next few months, though, as she's made it clear she won't be slowing down any time soon. Lopez's rom-com with Milo Ventimiglia, Second Act, hits theaters on November 21, which means she'll probably be making the rounds on TV for all kinds of promotional events. Between now and then, though, hopefully take some much-deserved time-off to kick back, relax, abstain from running high-fives.