Jennifer Lopez Gave Tinder Dating Advice In The 'Wedding Planner' Sequel Of Your Dreams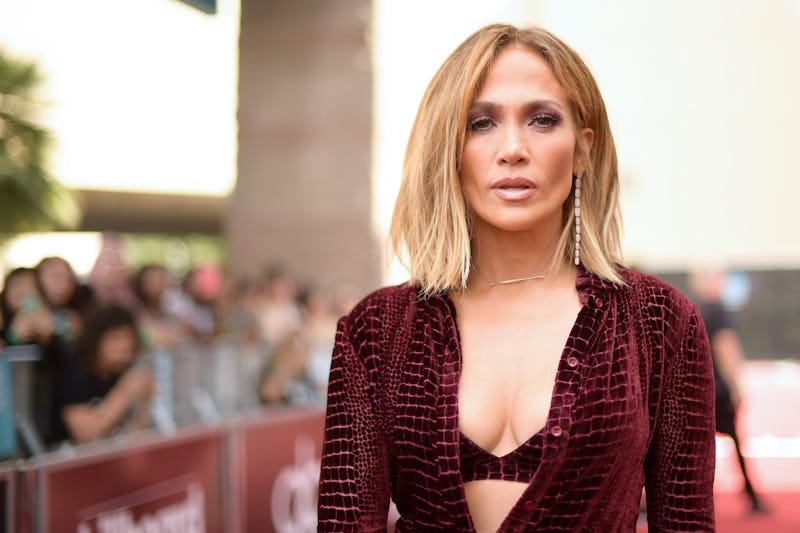 Matt Winkelmeyer/Getty Images Entertainment/Getty Images
The dating world can be a scary place sometimes, which is why it's nice to get a little guidance every once in a while. But what if that advice was coming from one of the biggest names in the music industry? One lucky Tinder user just experienced that firsthand. As part of a new video for Tinder's "Swipe Sessions," Jennifer Lopez offered dating advice to a Tinder user, Brooke, in the hopes of helping her to find a perfect match. Lopez, who is currently dating former Yankees player Alex Rodriguez, does her best to provide helpful, constructive tips to Brooke throughout the clip and it will definitely give all rom-com lovers flashbacks to Lopez's character, Mary Fiore, in The Wedding Planner.
If you're unfamiliar with the movie (do any of you really exist out there?) then here's a brief summer: Mary is one of the best wedding planners in the business, though it leaves her very little time to focus on her own love life. That all changes when she meets Steve (played by Matthew McConaughey). The only problem is, he turns out to be the groom for one of the weddings she's planning. In the film, Lopez isn't exactly an expert on true love and relationships, but she is a hopeless romantic, and her character always seems to know the right thing to do when it comes to following her heart. Apart from Selena, it's definitely one of the best roles of Lopez's acting career, which is why it was so great to see her back to fixing other people's love lives.
Right off the bat, the "Love Don't Cost a Thing" singer suggested that Brooke make a few pivotal changes to her dating profile and provided guidance on the type of man that Brooke should be on the lookout for. "Guys, until they're 33, are really useless," Lopez remarked while browsing through the matches shown on Brooke's phone. She also tried to convince Brooke that wood-chopping skills aren't really all that necessary in a relationship — or at the very least shouldn't be all that high up on the priority list.
The best part, though, came about midway through the conversation after Brooke swiped right on a possible match. In order to get a better handle on the type of person this guy was, Lopez is shown telling Brooke exactly what to say to him, which instantly brought back memories of when her character in The Wedding Planner fed the best man his wedding toast speech at the start of the film.
The scene itself doesn't appear to be online (though if you own the film, might as well just go back and watch the whole thing in its entirety), but here's a little snippet of what she whispers into her headset for the best man to say in The Wedding Planner:
"May you have enough happiness to keep you sweet, enough trials to keep you strong, enough hope to keep you happy, enough friends to give you comfort, enough determination to make each day a better day then yesterday."
Of course, in real life, Lopez didn't go so far as to start planning Brooke's wedding, though the topic of marriage and nuptials did come up near the very end of the video. Brooke even suggested that Lopez perform at any future wedding that she has, but the singer declined and jokingly stated that it would be "way too expensive." But hey, you can't blame a girl for trying, right?
Basically, the main takeaway from this all should be that Lopez deserves a talk show ASAP where she gives out random dating advice to various people each week. Just based on this one clip, her tips are pure gold and are sure to help others find themselves in long-lasting relationships. It may not be quite as good as an actual Wedding Planner sequel, but it's definitely the next best thing.