Every Single Outfit J Lo Wore During Her Iconic VMAs Performance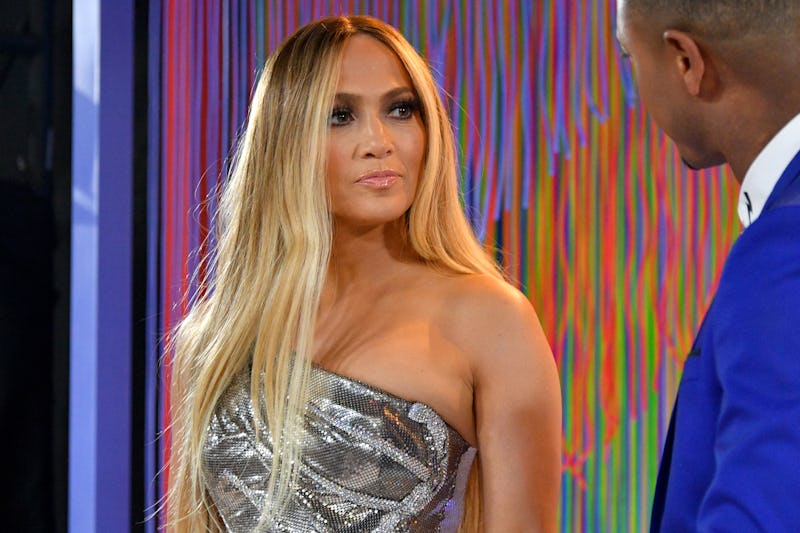 Dia Dipasupil/Getty Images Entertainment/Getty Images
It is not a bigger night for anyone than this singer, and her outfit shows it. Jennifer Lopez wore head-to-toe silver to the MTV Video Music Awards, looking like the chicest tin man you've ever seen. She is already a winner in the biggest possible way, and her outfit proves it.
If you've been following up with the VMAs news up until the show, you'll know that this nigh is really all about Lopez. The singer is being presented with the Michael Jackson Video Van Guard Award at the show. This is arguably the biggest awards, besides Best New Artist. Speaking of, Lopez was nominated for Best New Artist 20 years ago, at the 1999 VMAs.
The singer has walked her fair share of red carpets since the 1999 awards show, but this could be the best outfit yet. Lopez stepped out onto the red carpet in an all-silver that was complete with a thigh-high slit. Lopez is no stranger to the color. She loves to wear silver and compliment it with some glitz, so she can shine like the star that she is.
She paired the look with silver shoes to match and accessories that shined bright. Somehow all of the diamonds didn't take away from her overall look. It was her hair that was the cherry on top of a fantastic outfit. Lopez wore it long and slightly waved. Because sometimes not doing a whole lot is just enough.
The Video Van Guard Awards is not the only reason that the star is at the awards show. Lopez was also nominated for Best Collaboration and Latin Video for "Dinero." There's no word on whether or not she will win those, but, let's be honest, the star is already a winner. Lopez has won 120 and been nominated for 341 awards in her time at as singer, but this is the biggest moment thus far.
You are guaranteed to see the star for a second time tonight, and she will be wearing a different out. Lopez will be performing at the event to go along with her big award, which the honoree does every single year. Fingers crossed that she will bring some of her throwback style with it to make for an even more epic night.
Lopez knows how to bring the drama to every single red carpet award, but her VMAs outfits are always brighter and more cutout than usual. In the past, the singer has brought super shimmery outfits to the red carpet. She often sprinkles in some bold animal prints and bright colors in there too.
Her most iconic VMAs outfit of all times was in 2000. She wore an all white two-piece outfit complete with pigtails and a white bandana. Although this year's outfit was a bit more subtle than that, it's still an epic fashion moment.
If this is only the first look of the night, there's no telling what the performance will be like. One thing is for sure though — Jennifer Lopez is an icon.
And then there were all the epic outfits from her on-stage performance outfits. She basically gave a mini concert and rocked tons of different looks all in the process.
Power Print
Yes, her and her backup dancers matched. Yes, she still stood out.
2.Sparkly Bodysuit
Off came the dress and out came the bodysuit. With sparkles, matching tights, and heels, the fact that she performed in this was epic.
3. Big, White Jacket
Is there any other way to perform a '90s tribute?
4. Jenny From The Block
Her final outfit was a tribute to her "Jenny From The Block" days. She finished out the performance in the look and it was what she accepted her Video Vanguard Award in.
She's still got it.