'Sweet Home' Star Jennifer Welch's 5 Best Tips For Decorating On A Budget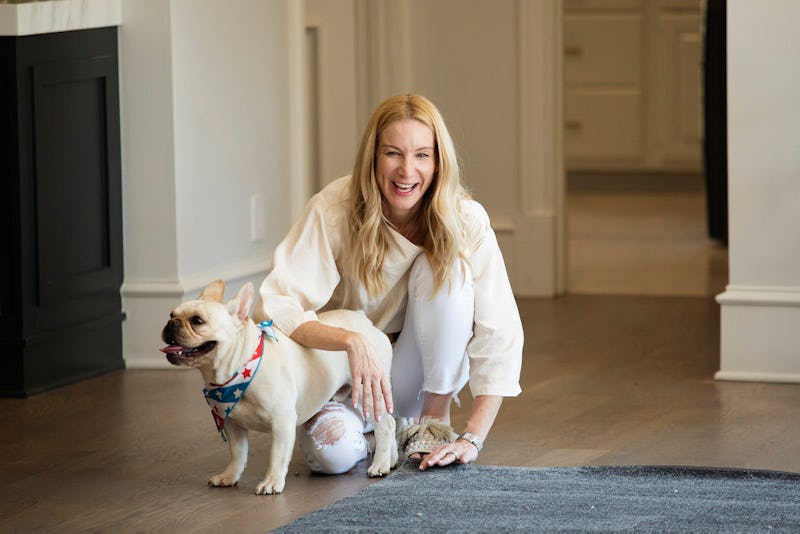 Bravo
Jennifer Welch is super busy. Her Instagram bio directly says so. But that's to be expected, considering she's juggling two children, starring on Bravo's Sweet Home, and running her own business, Jennifer Welch Interior Designs. The coolest thing about Jennifer's beautifully chaotic life, though, is that much of it is spent creating and designing gorgeous spaces that help people relax and feel comforted. So really, she's busy helping other people live their best lives, which seems fine by her.
You may recognize Jennifer from another Bravo reality show, Sweet Home Oklahoma. When she received a phone call after the show's second season, she braced herself for a cancellation notice.
"When the producer called to tell me that [they wanted to make Sweet Home], I thought they were calling to tell us to say that Sweet Home Oklahoma was cancelled," she told AOL News. "And I was okay with that. But then he told me about doing a new season based around my design business, and I was speechless. And it takes a lot for me to be speechless. I never saw it coming."
She went from joking her way through Oklahoma City on SOH to now sharing that same sarcastic wit along with some of her best interior design tips on Sweet Home. And if you're as design-obsessed as she is and can't get enough, here are some of her best tricks to tide you over until the next episode airs.
On Picking A Trend:
Proceed with caution. Everyone knows trends aren't forever, but sometimes, floor tile is. "Four to five years from now, that trend is going to be replaced by 75 hundred more," Jennifer said in a Bravo behind-the-scenes interview. "Do not get all of your draperies or your sofa in a trend, because that is an investment that you will have for, more than likely, five to 10 years."
On Hanging Art:
Jennifer says hanging wall art too close to the ceiling is a rookie mistake. "Bring your art down," she said in another video. Remember that the next time you find the perfect visual centerpiece on Etsy.
On Choosing A Paint Color:
Invest time and effort into paint swatching to make sure you choose the right color for your space. "Get a paint brush and go put your paint on in the room that you're going to have painted that color," Jennifer continued. "Because inevitably, it will change from the paint store to your home."
On House Plants
"Do not use silk flowers," Jennifer said in the video. "They're awful. Either go get real ones, or don't have any." So if you haven't had luck caring for plants in the past, it might be in your best interest to skip the florals.
On Throw Pillows:
According to Jennifer, nothing says unoriginal and unprofessional like keeping the accent pillows that come with a couch. "Throw them away immediately," she said in the same video. "Mix it up. Get some pillows that blend with the sofa fabric, that blend nicely. But don't do that matchy-matchy store-bought sofa. It doesn't look curated."
Although these tips are great, if you've seen some of Jennifer's exceptional work, part of you is probably wishing you could just hire her to do it for you — technically, you could, but she's only looking to book clients that have at least a six-figure budget. ("I don't take a project on period unless it's hundred-thousand spend or more," she told AOL. "That's just where I'm at.").
If you're still interested, you can fill out her contact form on her website, but if that price point is a little out of your range, you can count on more tips and lots of laughs from the interior designer herself on when Sweet Home ares Fridays at 10 p.m. ET on Bravo.