Jeremy Corbyn Wants 4 More Bank Holidays But It's Actually Super Complicated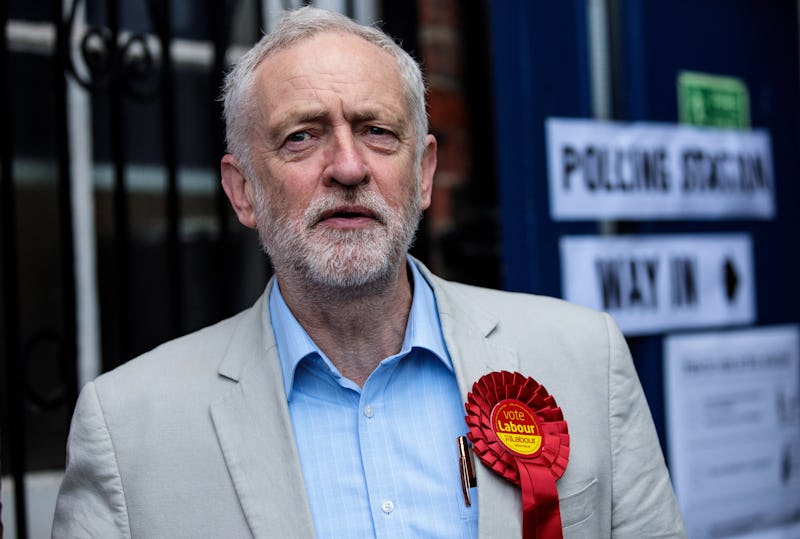 Jack Taylor/Getty Images News/Getty Images
Jeremy Corbyn wants to introduce four new bank holidays, with Labour proposing time off for everyone to mark the patron saints of England, Wales, Scotland, and Ireland. The party promises the move will definitely happen should they win the next General Election. Now, this probably sounds like it should be a roundly well received proposal. I mean, who doesn't want four extra days off work every year? But low and behold, there are some who aren't on board with the Jeremy Corbyn Bank Holiday scheme one bit.
But first, the case for more Bank Holidays. The UK has just eight, the second lowest public holiday entitlement across the globe, shared with Hungary and The Netherlands. Workers in India and Colombia enjoy the biggest share globally, with 18 public holidays. It's the lowest of any EU or G20 country. Only Mexico is worse off, where workers get just seven days of public leave.
Corbyn took to Twitter to reiterate the holiday proposal, which first made an appearance in Labour's 2017 manifesto. He wrote: "Bank holidays are an opportunity to relax and spend time with family and friends." But the replies were seriously mixed, proving that the debate around bank holidays is seriously divisive.
One user @1StevePearse replied to Corbyn's tweet with: "Another 4 days off that small businesses can ill afford. How do you propose paying for workers to take this time off, loss of production, sales etc?" However user @RJ_Derby responded "Work/Life balance has been proven to be a contributory factor to productivity. Like has already been pointed out, we're not even in line with the worlds (sic) leading economies when it comes to bank holidays. You're looking at it through your Anti-Corbyn goggles."
Corbyn believes that after eight years under a Tory government, the introduction of four new Bank Holidays could prove to be a unifying move. "If we win the next election, St George's Day will become a national holiday for Britain's workers," Corbyn told a CWU conference in Bournemouth in April 2018. "It will be a day where we can all show our pride and celebrate our country's tradition of fairness, inclusivity, and social justice."
He has claimed that there is an economic argument for giving workers more time off, too. "The Bank of England has looked at this and says there is a benefit that can be measured either way," Corbyn said during an appearance on the Andrew Marr Show in April. "Obviously there is less production on Bank Holidays when people are not working, but there's also more spending on those days, and they've said there's assessments you can make in both ways, and they reckon generally speaking it's roughly neutral."
The Daily Mail later reported that Corbyn's assessments were based on a 2012 comment from a member of the Bank of England's Monetary Policy Committee, citing widely reported contradictory figures from the Centre for Economics and Business Research think-tank in opposition.
Concerns about the proposal include some being worried about what this might mean for service and hospitality workers, NHS staff, and other employees that might not ever see the benefits. Those who are self-employed, freelance, or on zero-hour contracts, for example, are unlikely to be able to take the time off. It has been suggested that a more helpful policy might be increasing the amount of statuary annual leave, or ensuring workers take their full leave entitlement, at times of their own choosing. "Corbyn should look at increasing the current right to 5.6 weeks paid leave to say, six weeks," argued columnist Anna Macey in a piece for the Guardian, "which would be the equivalent of four 'extra' public holidays."
The proposed Bank Holidays would be held on March 1 to mark St David's Day, on 17 March to mark St Patrick's Day, on April 23 to mark St George's Day, and on November 30 to mark St Andrew's Day. It would bring the number of UK public holidays to 12, in line with Austria, The Czech Republic and Brazil. The Twitter debate continues.