Jess & Reagan Help Cece On 'New Girl'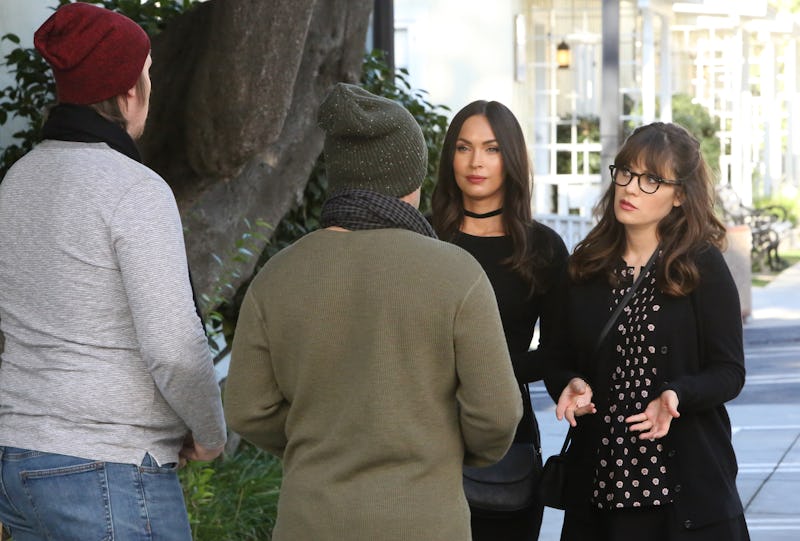 Patrick McElhenney/Fox
I was definitely hesitant at the first, but the more I see of Reagan on New Girl, the more I like her, and the latest episode has given me even more reason to be glad she's back on the show. On Tuesday night's new episode, "Cece's Boys," Reagan and Jess team up to help Cece find more models to represent, and even though they might not have a lot in common, they actually ended up making a pretty good team.
Now that Cece's finally getting her agency off the ground, she needs more models than just Donovan and she's on a super tight deadline, since there's an audition coming up she needs to bring everyone to. So Reagan and Jess go scouting at (where else?) the bar. Even though Cece was looking for typical model types, they only managed to find one of those and two more guys they who definitely weren't models. They wrangled up two guys who looked basically like what you'd get if you searched for "dorks" on Google images, so Cece wasn't pleased when they finally got to the audition... even though it was for a commercial for a snack called Sausage Bites that none of the models would touch except for the men that Reagan and Jess brought.
But even though their guys didn't get the job (and they totally should have), Jess and Reagan worked really well together. OK, so maybe Reagan didn't want to consider herself a team with Jess, but they're pretty good at getting stuff done. And after all her career struggles, it's good to see Cece succeeding at something she really enjoys, too. Basically, the women of this show are winning everything this season, and it's the best.
I love the friendship that is very slowly blossoming between Reagan and Jess on New Girl, and I hope that it continues. Reagan's major plot line on the show might have started with Nick, but I love that she and Jess are spending more time together. And if her relationship with Nick doesn't last, I hope she sticks around. Now that Reagan's around more, I don't want to her leave!