Jessamyn Stanley Is a Fat, Black, Queer, Yoga Instructor Who Doesn't Want To Explain Those Labels To You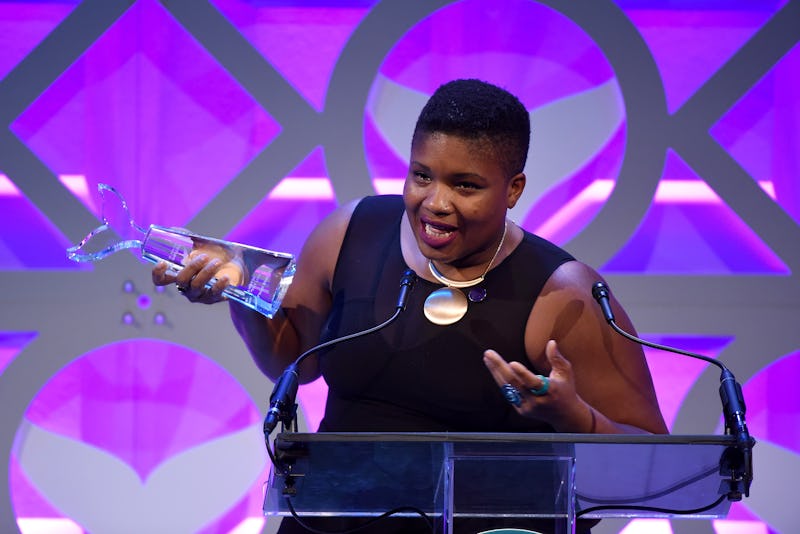 Noam Galai/Getty Images Entertainment/Getty Images
Every episode, The Bodcast tells a different story about living in a marginalized body, in America, in 2017. This week on The Bodcast, host Amanda Richards talks to Jessamyn Stanley, an influencer and yoga industry disrupter, on navigating the labels that others give her — even if they're the same labels she assigns herself.
When you're telling stories about marginalized people, labels have both pros and cons. On the one hand, without labels, it's difficult to know who to make space for. Which communities and persons are threatened? Who needs the biggest platform? What kinds of stories should we be telling, and how should we be telling them?
On the other hand, labels are how these same people are discriminated against in the first place. In the latter case, a label can become a target. Jessamyn Stanley has built her entire brand around the labels she navigates, and how those labels have made her the focus of both welcome and unwanted attention. She's a fat, queer, black woman who has disrupted the yoga industry simply by being a part of it. Her voice is an integral part of the conversation, and she represents just one voice trying to make an impact on a community that previously excluded them.
On this episode of The Bodcast, Jessamyn shares the experiences she's had trying to room for herself, and subsequently for other non-conventional practitioners who have an interest in learning, within the yoga space. She also shares some thoughts on what it's like to be a queer person of color in the wellness industry. Hear the episode below.