Brand New's Lead Singer Has Responded After Being Accused Of Sexual Misconduct With A Minor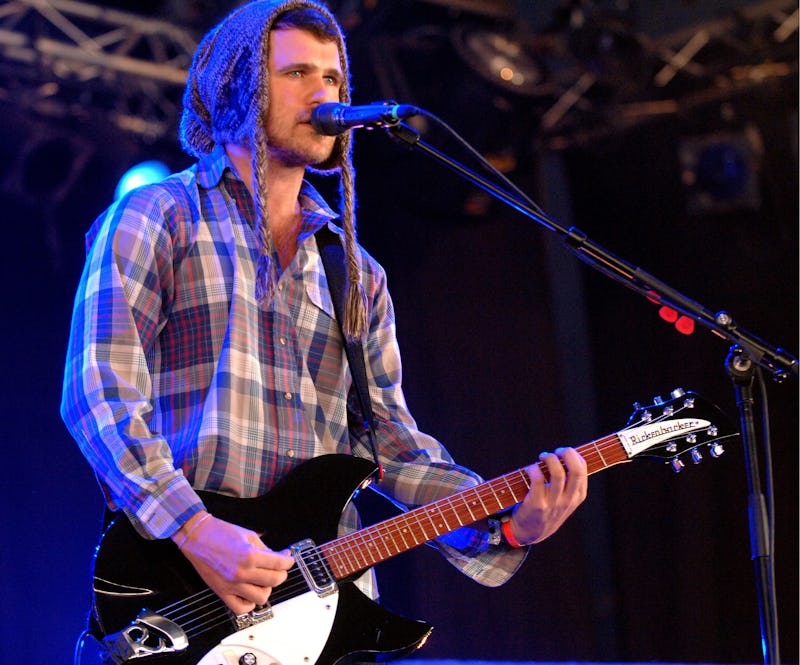 Rob Verhorst/Redferns/Getty Images
Following singer Jesse Lacey's apology after claims of sexual misconduct with underage fans surfaced, Brand New has canceled their remaining scheduled concerts in Europe. "Due to the events of the last few days," a message posted to the band's Facebook page reads, "Brand New will be postponing it's upcoming three shows in the United Kingdom and Ireland." According to a number of outlets, including Variety, the scheduled tour dates have been canceled, not postponed. Bustle has reached out to a rep and manager for the band for clarification, but did not receive a response at the time of publication.
In a now-deleted (or changed to private) Facebook post former Brand New guitar technician Brian Diaz called for alleged victims of Lacey to come forward, according to The Huffington Post. "So while we are on the topic of outing famous and semi-famous creeps, anyone want to speak up about Jesse Lacey from Brand New?" Diaz reportedly wrote in the post on Friday, Nov. 10.
In response, several women replied with accusations of sexual misconduct, including Nicole Elizabeth Garey, who alleged that Lacey forced her to watch him masturbate over Skype and allegedly asked her to send him nude photos when she was a teenager, The Huffington Post reports.
"He solicited nudes from me starting when I was 15 and he was 24," Garey alleged, according to Uproxx. "Manipulated the hell out of me, demanded specific poses/settings/clothing, demeaned me, and made it clear that my sexuality was the only thing I had to offer." According to Uproxx, Garey also claimed to have screen shots of her Skype video calls with Lacey.
The day after Garey's accusations, Lacey posted an apology note to the band's Facebook page that reads in part:
"The actions of my past have caused pain and harm to a number of people, and I want to say that I am absolutely sorry. I do not stand in defense of myself nor do I forgive myself. I was selfish, narcissistic, and insensitive in my past, and there are a number of people who have had to shoulder the burden of my failures. I apologize for the hurt I have caused, and hope to be able to take the correct actions to earn forgiveness and trust."
As Jezebel notes, Lacey doesn't address any specific incidents in his message, but rather apologizes for different types of past behavior (including cheating on his wife) in a more general way. Bustle has reached out to a rep for the band and its manager for comment from Lacey on specific allegations, but did not receive a response at the time of publication.
In the Facebook post, Lacey writes that he "developed a dependent and addictive relationship to sex," and that he has been unfaithful in "many, if not most" of his relationships.
"I am sorry for ignoring the way in which my position, status, and power as a member of a band affected the way people viewed me or their approach to their interactions with me," Lacey's post continues. "And I am sorry for how often I have not afforded women the respect, support, or honesty that they deserved, and which is their right."
Lacey's touring bandmate Kevin Devine decided to pull out of the tour in response to the revelations about Lacey, as he announced on Twitter. In a note shared to his own Facebook page, the guitarist addressed the accusations, saying, "I believe that it is critically important to really listen to & hear people who speak out about abuse of power & sexual misconduct." UK supporting act, indie band Martha, had also previously pulled out of their scheduled dates.
According to The Fader, Brand New had shows scheduled between November 16 and 19 in London, Glasgow, and Dublin. As the band's Facebook message noted, refunds will be issued to fans who had purchased tickets to one of the canceled concerts.
The now-canceled UK dates were the final tour dates in support of their new album Science Fiction, and Lacey had previous stated that the group intended to disband in 2018, NME reports. The band had also suggested that Science Fiction would be their last album.