Jessica Simpson Announced She's Pregnant Again With The Cutest Photo Of Her Kids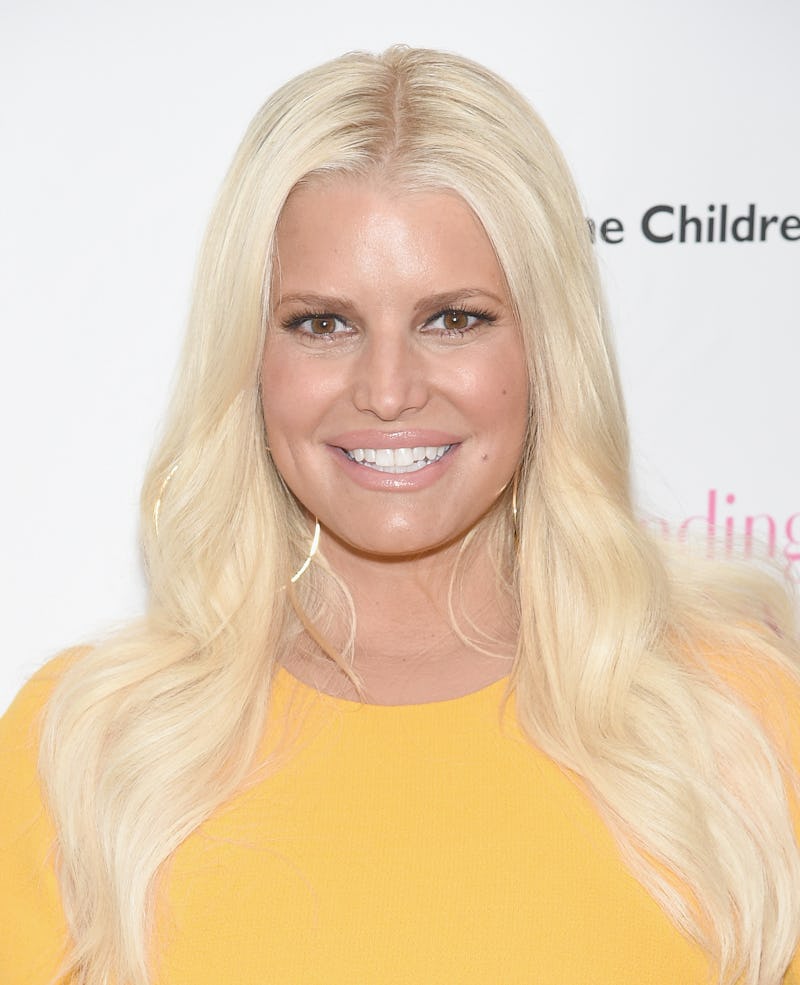 Dimitrios Kambouris/Getty Images Entertainment/Getty Images
Congratulations are in order for Jessica Simpson and her husband Eric Johnson. Jessica Simpson is pregnant with her third child, and she shared the news in the cutest way possible. In an Instagram post on Tuesday, the singer shared a photo of her daughter Maxwell and son Ace (rocking coordinated red-and-black outfits) holding up two big, black balloons with the caption, "SURPRISE..."
She didn't let the suspense go on for too long, though. About a minute later, she revealed exactly what the surprise was. Simpson shared another photo of the kids with a big, black balloon popped a bunch of smaller pink balloons floating in the air. Yes, that does mean exactly what you think it does: The family of four has a baby girl on the way.
Along with the second photo, the mom-to-be wrote,
"This little baby girl will make us a family of five. We couldn't be happier to announce this precious blessing of life."
Awww! This is such exciting news. As of this moment, Simpson has not commented on the announcement and there is no word on how far along she is in the pregnancy, but maybe she will share more information in the near future.
Simpson's fans are probably a little surprised by the pregnancy news, based on comments she made throughout the years. In a 2015 interview with Entertainment Tonight, Simpson discussed her daughter Maxwell playing with sister Ashlee Simpson Ross's daughter Jagger. The mother of two shared, "And Maxwell is just obsessed! She has baby dolls, she wants to be a mom already. She's a care taker!"
In that same interview, she backtracked and squashed the rumors of adding to her family. The Texas native declared, "No more kids on the horizon." She even said, "That would freak me out a little bit." Clearly her tune has changed in the past three years.
Just a year later, Simpson was asked about the possibility of having more kids (yet again) in an interview with Extra. She seemed more open to the idea since she said, "I mean, maybe in my 40s, but I'm only 35 so I got lots to do in between."
If it seems like Simpson gets asked about having children on an annual basis, it is because that actually is a yearly tradition. During a May 2017 appearance on The Ellen DeGeneres Show, Simpson told Ellen Degeneres "I'm not pregnant."
She even added, "We got an IUD, nothing's gonna get in that uterus." She also had a pretty adorable reason for not adding to her brood at the time. The former reality TV star explained, "I have two beautiful children, and I'm not having a third." She declared, "They're too cute … you can't top that." How about a third equally cute child then?
In an April 2018 interview with Entertainment Tonight, Simpson admitted that she and her husband "don't really know" if they would like to have another child. However, she did seem a little bit more open to the idea and admitted, "We always practice." Practice makes baby, at least in this case.
During that same interview Simpson remarked, "But it would definitely have to be a miracle." Even so, she did discuss the upside of not having a baby in the mix. She revealed, "Today, we got to go on this trip without the kids, [and usually] we don't go places without the kids." She added that the child-free trip allowed the two of them to give each other "all of the attention."
Just a month later, Simpson welcomed a new addition to her family... a dog named Dixie. Maybe this was her way of prepping her kids for a new baby or giving them a "baby" to take care of when Simpson has to give extra attention to her future daughter. Or maybe the family just really wanted a dog and the timing was coincidental. Either way, the family was clearly open to expanding.
Simpson may have been "freaked out" by the idea of having a third child last year, but clearly she's come around to the idea and she's very excited to add to her family.